Hillary Clinton And Bernie Sanders Battle Going Down To The Wire
With less than a week to go before the Iowa Caucuses, Hillary Clinton and Bernie Sanders are fighting a closely-pitched battle that will depend largely on turnout.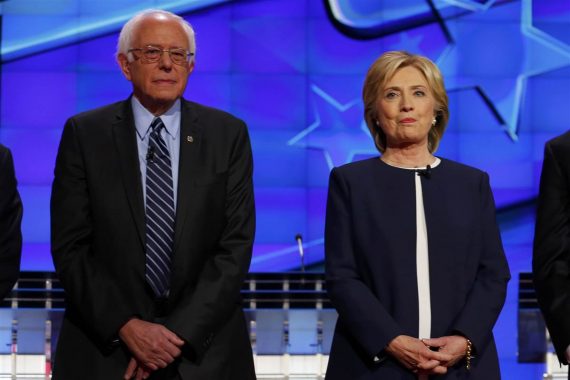 With less than a week to go to the Iowa Caucuses, a new poll shows Hillary Clinton with a lead in Iowa as she battles with Vermont Senator Bernie Sanders in what could be the contest that sets the tone for the early part of the Democratic race for President:
Des Moines, Iowa (CNN) Hillary Clinton has a 6 percentage point lead over Bernie Sanders in Iowa, a new poll out just one week before the state's caucuses shows.

The Fox News survey shows Clinton with 48% support to Sanders' 42% and former Maryland Gov. Martin O'Malley's 3%.

The poll is the first since mid-December that meet's CNN's polling standards and shows Clinton with a sizable lead over Sanders. It could signal that momentum is swinging back in Clinton's direction after Sanders surged into the lead in early January.

However, Sanders remains the front runner in New Hampshire, the first primary state, with a 56% to 34% advantage over Clinton, according to a Fox News poll of the Granite State.

And Clinton's national lead among likely Democratic primary voters has narrowed — but is still clear. She's up 49% to Sanders' 37%, a third Fox News poll showed.

The Democratic nominating contest has tightened in recent weeks, with Sanders' singular message of addressing income inequality breaking through.

Clinton still holds significant advantages as the contest shifts from Iowa and New Hampshire to Nevada and South Carolina, two states with much larger minority populations — among whom Clinton leads.
The new poll showing Clinton in the lead pushes back against other polling in the Hawkeye State that has been released since the beginning of the new year that has shown Bernie Sanders either closing the gap that Clinton had opened up in the final months of 2015, or even leading in the state. At this point, though, the state appears to be something of a toss-up, with Clinton holding less than a one point lead in the RealClearPolitics polling average, although the Pollster average shows Clinton lead as being slightly larger than that. As with the Republican fight in the state between Donald Trump and Ted Cruz, though, the ultimate outcome may depend on whether or not the upstart candidate, in this case Sanders, can get supporters to the caucus locations on a cold February night. This is most notably demonstrated by the fact that restricting the most recent polls to people who had participated in caucuses in the past showed Clinton with a real advantage in much the same way Cruz has the advantage among past caucus goers on the Republican side. The question, therefore, will be which campaign can get its supporters out to caucus next Monday night. Of course, this is much the same issue that Clinton faced eight years ago when she faced off against Barack Obama and John Edwards. Back then, a highly organized Obama campaign was able to get first-time caucus goers to show up and pull off a surprise victory for their candidate that put him on the road to the nomination. Whether Sanders has the type of organization capable of pulling off what Obama did is something we won't know until the results start coming in Monday night.
While the fight in Iowa remains close, that isn't true at all of the fight in New Hampshire, where Sanders has held a lead in every major poll released since the start of the year, and where he has been performing strongly since August of last year. In the RealClearPolitics average, Sanders has a 14,7 average lead in the Granite State, and in the Pollster average the lead is roughly the same. This suggests that a win in Iowa, even a narrow one, may be Clinton's only hope in pulling off a victory in New Hampshire. If Clinton wins in the Hawkeye State, she may be able to use the momentum that creates to pull New Hampshire Democrats back to her in sufficient numbers to pull of a win like she did in 2008 after having come in third in Iowa. Alternatively, if Clinton loses both Iowa and New Hampshire then she will have to deal with weeks of stories about a campaign in crisis and Democrats worried that they might throwing the election away as voters rally around a candidate who, unlike Barack Obama, cannot possibly win a General Election. These would be some dark days for the Clinton campaign if they came to pass, but fortunately for her she has a backstop that seems unlikely to fail.
Nationally, Clinton still has a massive lead over Sanders, as the new Fox News poll suggests. In the RealClearPolitics average she maintains an average lead of 14.6 points, for example, and in the Pollster average the lead is even larger. This suggests that the success that Sanders is seeing right now in New Hampshire, and the threat he poses in Iowa, would most likely be short-lived and not withstand the campaign going forward. In South Carolina, for example, Clinton has a more than thirty point average lead over Sanders according to both RealClearPolitics and Pollster, and the same is true in other states such as Nevada and Florida, both of which will play an important role in the race in the immediate aftermath of Iowa an New Hampshire. If these numbers hold up even under the barrage of back-to-back wins by Sanders in Iowa and New Hampshire, then Sanders will fizzle out and Clinton will ride to the nomination with relative ease going forward. Obviously, though, Clinton would prefer not to have to worry about backstops, and avoid the inevitable questions that would arise if she loses the first two questions. This is why the outcome in Iowa is arguably more important for Democrats yet again this election cycle than it is for Republicans.