Hillary Clinton Hints She Won't Run In 2016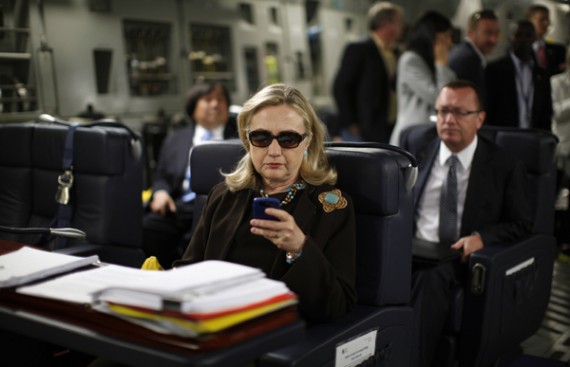 In the run-up to the 2012 elections we saw speculation, all of it utter nonsense, that Hillary Clinton might replace Joe Biden on the Democratic ticket or even that Obama would step aside and let Hillary run in his place. With those possibilities out the window (they always were, of course) the next Hillary-related speculation will focus on 2016 and the question of whether or not she'll run for President again. She's only be 69 in 2016, so it's not beyond the realm of possibility, but the Secretary of State is hinting again that electoral politics is not in her future:
U.S. Secretary of State Hillary Rodham Clinton said Monday she has no desire to make another run for the White House but hopes to see an American woman president in her lifetime.

Politely turning aside questions about her political intentions at a town hall event in Kolkata, Clinton said she really wanted to see "that final glass ceiling" broken.

Clinton, who sought the Democratic nomination four years ago and barely lost to Barack Obama, noted that the American political process is difficult and heavily dependent on fund raising, which makes it hard for any candidate to succeed.

Still, she told her audience, "I think that there will be an election that will elect a woman."

(…)

"I would like to come back to India and just wander around without the streets being closed," she said. "I just want to get back to taking some deep breaths, feeling that there are other ways i can continue to serve."
Of course, it's unlikely that anyone is going to just drop the Hillary speculation, which is likely to continue for several years. In fact, you're likely to see many potential Democratic candidates sitting on the sidelines waiting to see what Hillary, and yes even Joe Biden, decide to do about 2016. Quite honestly, if Hillary does run and the Obama Administration is leaving office with a relatively good reputation then it's hard to see any Democrat beating her in a primary. Of course, we said that four  years ago, didn't we?