Hillary Clinton Hurting 2014 Democratic Candidates?
Some on the left are saying that Hillary Clinton isn't doing enough to help Democrats in 2014.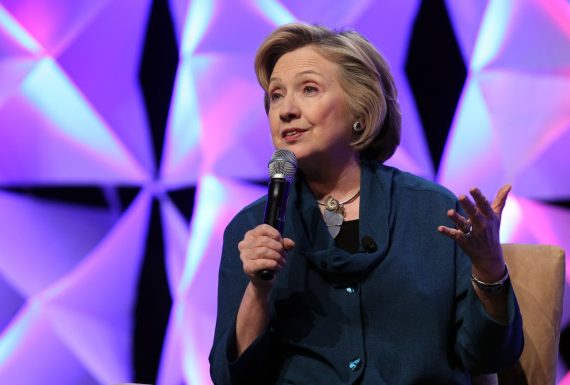 Brent Budowsky echoes a refrain I've heard from many on the left regarding the nasceant Presidential campaign of Hillary Clinton, namely that she isn't doing enough to support the Democratic Party's candidates in 2014
Politically, Clinton's prime directive for 2014 should have been to use her considerable intellect to devise substantial policies for income equality in the spirit of the most profound and popular public figure of our age, Pope Francis, and to go all out to save the Democratic Senate in the midterm elections.

If Clinton does not relish the prospect of being investigated for the next two years by what I have called the Republican house of inquisitions, she might ponder the pleasantries of being investigated as well by the likes of Sen. Ted Cruz (R-Texas) in a GOP-controlled Senate wielding the partisan power of the gavel and subpoena. Democrats — above all, Clinton — must clearly understand they face a dire state of political emergency.

In a recent CBS poll, voters favor Democrats over Republicans 41 percent to 37 percent, but enthusiastic voters favor Republicans 47 percent to 40 percent. In short, Democrats move from plus 4 to minus 7, losing 11 points because GOP voter enthusiasm now overwhelms Democratic voter enthusiasm.

Consider Senate campaign polling from Real Clear Politics, which today mostly tabulates polls from registered voters, not likely voters. If we add 11 points per race, or even 5, to Republican numbers when polls shift to likely voters, the mortal danger to Democrats becomes alarming.

Clinton should have spent all of 2014 working hard to support Sen. Kay Hagan (D-N.C.), Sen. Mary Landrieu (D-La.), Sen. Mark Pryor (D-Ark.), Sen. Mark Begich (D-Alaska), Sen. Mark Udall (D-Colo.), Alison Lundergan Grimes in Kentucky and Michelle Nunn in Georgia. She has not. For the first eight months of 2014, Hillary Clinton has done virtually nothing to save the Democratic Senate. Now, her piling on criticism of Obama, whose unpopularity in red states is already a grave danger for Democrats, only helps the GOP cause.

Even more damaging to Democrats, and self-destructive for Clinton, is that her line of attack against Obama in the Atlantic interview wields national security arguments against Obama usually aimed against Democrats by Dick Cheney, neoconservatives and hyperpartisan Republicans.

Clinton's talking points against Obama gives Republicans ammunition against Democrats, drives Obama's negatives higher, divides Democrats against one another, alienates many liberals from Clinton, and further depresses Democrats when the party desperately needs dramatically increased enthusiasm, not new Democratic divisions and deeper Democratic depression that will keep more Democratic voters home in November.

Republicans rejoice and Democrats are appalled when Clinton is praised by Newt Gingrich for attacking Obama for policies devised when Democrat Clinton was Democrat Obama's secretary of State.

Hillary Clinton should distinguish herself from President Obama. I would not recommend her using neoconservative-sounding arguments, which remind a vast and unenthusiastic Democratic base of her six years of support for Bush 43's Iraq war and her penchant for political calculation, to promote her candidacy for president. But whatever case she makes should be made AFTER this year's midterm elections, not before.

Clinton should stop all criticism of Obama and any Democrat, concentrate aggressively on saving the Democratic Senate, ask Ready for Hillary to spend ALL its cash on hand to support Senate and House Democrats, and develop inspiring programs for income equality and other issues vital to voters.
Budowsky's complaints, as well as those from others on the left, including those who have pointed out that people who have been mentioned as 2016 candidates such as Elizabeth Warren have spent much time campaigning for Democratic candidates already, bring to mind a few observations.
First of all, even though there are now less than three weeks left until the General Election, it is still relatively early in the process. Most Americans are far too busy with their summers and getting kids ready for school to be paying much attention to the midterm elections at this point. Once Labor Day has passed, and even more so after Congress is out of session at the end of September. There's more than enough time for Clinton herself, and her husband (who has already campaigned for candidates in states like Kentucky), to get out and do the kind of high profile campaign events that they would be most valuable at. Last year in Virginia, for example, both Clinton's spent considerable time campaigning for Terry McAuliffe but most of that time was spent during the last two weeks or so of the campaign, in no small part because their appearances were also meant to be "get out the vote" rallies. While not dismissing the value of fundraising, those are the roles that Clinton would seem to be the most valuable in at this point, especially in states like North Carolina, Arkansas, Georgia, and Kentucky. While I doubt that Hillary Clinton will spend most of her October on the campaign stump, I'd be rather surprised if she wasn't out there a considerable amount of the time, not only for the candidates on the ballot but also because such campaigning would obviously be helpful as a prelude to her own campaign. So, to that extent Budowsky's complaints strike me as being a bit premature.
The other side of the coin, of course, is that the individual candidates that Budowsky talks about no doubt want to be careful about how they use someone likeatHillary or Bill Clinton as a surrogate on the campaign trail. Not so much because of problems that might develop but because of the risk that the surrogate could overshadow the candidate. For example, any political rally that Hillary Clinton shows up at going forward is likely to end up drawing press attention as much for what it means for a potential 2016 Presidential run as anything else. When you're a candidate in a tight election race, you want the press clippings to be about you, not about the person campaigning for you. Because of that, the Clinton's are the kind of surrogate that most campaigns would want to use sparingly and strategically.
As for Budowsky's other point, I'm not certain how much Clinton's criticisms of the President's foreign policy are going to have all that much of an impact on Democratic candidates. In no small part, this is because foreign policy is generally not an issue that motivates voters very much. The larger factor, though, is that voters in red states that are inclined to vote against a Democratic Senate candidate because of President Obama aren't going to have their opinion impacted very much by what Hillary Clinton has to say about the President's foreign policy. Additionally, to the extent that the President's policies are unpopular you aren't seeing Democratic candidates in these red states being all that eager to associate themselves with them in any case. So, on balance I'd say that Hillary's criticisms aren't going to hurt Democrats any more than the President is already hurting them.
The final thing to keep in mind, of course, is that Clinton is only going to do those things that are in her interest. This is true of any Presidential candidate, of course, but even more true for the Clintons. It's no mistake that both of them spent so much time in an important swing state like Virginia last year, for example, and I wouldn't be surprised to see most of their campaign stops located in states that have implications for the primary or General Election in 2016 have the most emphasis on their calendars in the fall. Expecting any candidate to put the interests of the party before their own is naive, but expecting the Clintons to do it is just ignoring reality.