Hillary Clinton Interviewed By F.B.I. Regarding Private Server Investigation
In a sign that the ongoing F.B.I. investigation into her use of a private email server and handling of classified information is coming to an end, the former Secretary of State was interviewed by Federal Agents today.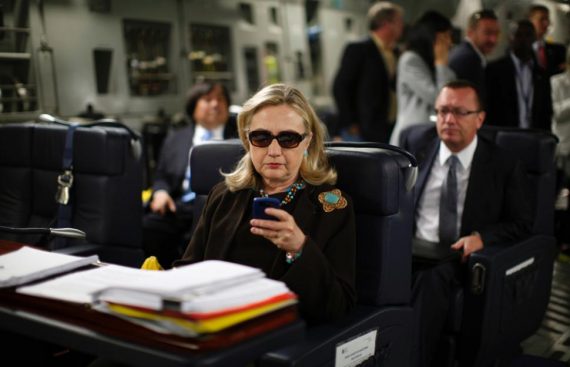 In a sign that the ongoing F.B.I. investigation into her use of a private email server and the subsequent handling of classified information while she was Secretary of State may be nearing an end, Hillary Clinton sat down today for an interview with F.B.I. agents:
The F.B.I. interviewed Hillary Clinton on Saturday morning for its investigation into whether she or her aides broke the law by setting up a private email server for her use as secretary of state, her campaign said.

"Secretary Clinton gave a voluntary interview this morning about her email arrangements while she was secretary," Nick Merrill, a campaign spokesman, said in a statement. "She is pleased to have had the opportunity to assist the Department of Justice in bringing this review to a conclusion."

The campaign declined to elaborate on the substance of the interview, which lasted about three and a half hours at F.B.I. Headquarters in Washington. Shortly afterward, two black S.U.V.s were seen returning to Mrs. Clinton's house in the capital.

The investigation has loomed over Mrs. Clinton's presidential campaign, as Republicans have seized on the issue to question the presumptive Democratic nominee's judgment.

On Friday, the campaign of Donald J. Trump, the presumptive Republican presidential nominee, blasted out an email titled "The Facts on Clinton's Secret Server" that included articles about the emails marked classified that had been sent or stored on Mrs. Clinton's private server.

The central question in the Justice Department effort is whether the actions met the legal standard for the crime of mishandling classified information.

Mrs. Clinton's sit-down with the F.B.I. came amid controversy over a meeting between her husband, former President Bill Clinton, and Attorney General Loretta Lynch, who ran into each other on Monday at the Phoenix airport while Mr. Clinton was fund-raising for his wife's campaign.

To avoid any appearance of political meddling, Ms. Lynch said on Friday she would accept the recommendations of career prosecutors and the F.B.I. director regarding whether to bring charges. She said she had made that decision several months ago, before the criticism surrounding her meeting with Mr. Clinton.

She described the meeting as a casual conversation that did not touch on the investigation. But it added to the Clinton campaign's headaches over the email inquiry, which they had hoped to put behind them before the Democratic convention this month.
More from The Washington Post:
FBI agents interviewed Hillary Clinton for 3½ hours Saturday morning — a signal that the investigation into her use of a private email account while she was secretary of state is drawing to a close.

Clinton campaign spokesman Nick Merrill said in a statement that Clinton "gave a voluntary interview this morning about her email arrangements while she was Secretary," and added, "She is pleased to have had the opportunity to assist the Department of Justice in bringing this review to a conclusion."

The investigation is not over: Agents and prosecutors will now have to compare what the presumptive Democratic presidential nominee said Saturday to other evidence they have gathered, including from interviews with Clinton's aides. But officials familiar with the probe have said meeting with Clinton would be reserved for the end of the investigation.

A Justice Department spokesman declined to comment, and Merrill said in the statement that Clinton would not comment further on her interview, which took place at FBI headquarters, "out of respect for the investigative process."

(…)

People familiar with the case have said previously that charges against Clinton seemed unlikely, though they asserted investigators were still probing the matter aggressively. And the interview with Clinton was always seen as critical. If the former secretary was untruthful with investigators, she could be charged with making false statements. That charge was contemplated in the case against former Army general and CIA director David H. Petraeus, though he ultimately pleaded guilty to a misdemeanor charge of mishandling classified information.
The reports are unclear, but one presumes that Clinton was represented by counsel during the course of this meeting, which was of course entirely voluntarily on Clinton's part since she cannot be compelled to sit for an interview during which she could theoretically incriminate herself. Indeed, anyone who speaks to law enforcement without counsel under circumstances such as this would be incredibly stupid and, whatever else one might thing Hillary Clinton is not that stupid. The reason for this, of course, is that misrepresentations to a Federal Agent are considered a crime independent of the underlying charges that might be brought against a Defendant, and such misrepresentations can be presumed even from seemingly innocent inconsistent statements. Just ask Martha Stewart and Scooter Libby, both of whom were convicted on charges of lying during the course of similar interviews even though they were acquitted of the underlying charges against them. It's also apparent that we likely won't learn anything about the content of this meeting until the investigation is complete and a final report, if any, is issued, which could come at any point now since an interview of the principal subject of the investigation is typically the last step in the F.B.I.'s investigation. The big unknown is when that final report, or any indictments that may result from it, can be expected.
As things stand, nobody can say with any certainty whether or not Clinton or anyone close to her is in serious danger of being indicted in connection with this matter, largely because investigators have managed to keep a fairly tight lid on the investigation so it's impossible to know for sure what they have uncovered or what conclusions they might be leaning toward. In fact, anyone who tells you that they know for sure what will happen is essentially making things up and can be safely ignored. That being said, my suspicion is that unless the Bureau was able to uncover evidence that material that was actually marked classified was exchanged and stored on the server and that Clinton or other users were aware of that fact or can be shown to have taken steps to strip classification language from the material to mask its classified nature, then it's unlikely that we'll see any indictments here. It's true that someone in Clinton's position, as well as her aides, is responsible for protecting the integrity of classified information even if it isn't marked as such, it is obviously much harder to prove knowledge and intent in those cases than it would be with information already marked classified. Additionally, the Bureau and the Justice Department are no doubt well aware of the possible impact indictments could have on the political climate, as such one suspects that they are going to be reluctant to recommend action unless there is clear evidence of knowing wrongdoing by Clinton or someone working for her. Whether any such evidence exists is something we cannot know at this point.
Notwithstanding all of that, Chris Cillizza is right when he notes that the next several weeks are likely to be a high-stress time for the Clinton campaign as they await possible word of what the F.B.I, and Justice Department might do:
Assuming that logic is right, then the next two weeks will be critical for the presidential race. The FBI won't announce anything Sunday or July 4. Which means the agency will have between July 5 and July 25 to make public its decision on the case. That's not a long time. (Side note: I think it is very unlikely the FBI would choose the Republican convention, which opens July 18, to close the investigation. If that's right, then the Justice Department has even less time.)

All of this is moot if the FBI finds that Clinton did nothing criminal in the email controversy. Republicans will still push it as an issue, but for most of the country it will be considered a settled matter.'

However, if there is an indictment or even a harsh scolding in which the Justice Department implies Clinton knowingly and purposely skirted the law, the timing of all of this starts to matter. A lot.

The closer the announcement comes to the start of the Democratic convention, the harder it is for Clinton to control. Clinton's goal throughout this investigation has been to insist that she is totally innocent in this, that the entire email "controversy" is a Republican witch hunt enabled by the media.

If, suddenly, the Justice Department of a Democratic administration shattered that story with just days left before the convention, the negative momentum it would cause might make it tough for Clinton to recover. There would be doubts bordering on panic about What It All Means for Clinton going into the fall campaign, and she would have very little time to turn the story back in her favor.

Why does all of that matter? Because — as any Bernie Sanders supporter will tell you — Clinton doesn't have 2,383 pledged delegates: She has 2,220. This means she needs unpledged superdelegates to put her over the top. If there are major doubts about Clinton's ability to win in November, there could well be a major move of superdelegates away from her. But to whom?

To be clear, Clinton remains, by far, the most likely nominee for Democrats. But, the uncertainty of both when the FBI will make its findings public and what they will say makes the next two weeks the most unpredictable and pivotal of the 2016 election.
Cillizza is right in his central point. If Clinton is indicted, then the race would be thrown into chaos and it would be hard to see how her campaign could continue as if nothing had happened. So, as they say, stay tuned.