Hillary Clinton Makes History As Convention Tone Changes
The second night of the Democratic Convention seemed much calmer than the first, as the Clinton campaign moves forward toward the biggest speech of Hillary Clinton's life.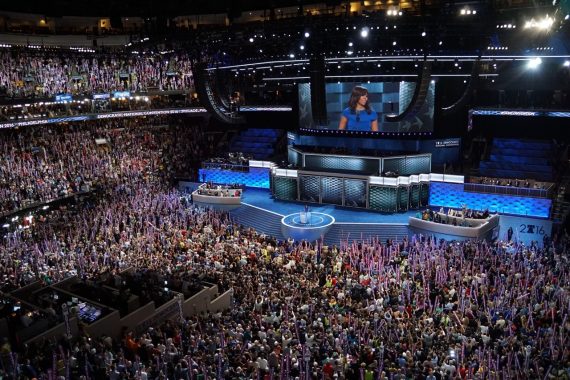 After Monday's session of the Democratic National Convention opened amid discord rooted in both the long primary battle between Hillary Clinton and Bernie Sanders and disdain toward outgoing Democratic National Committee Chair Debbie Wasserman-Schultz, Tuesday's session began and ended on a much more unified note and seemed to set the stage for a remainder of the convention that will set the groundwork for Clinton's campaign to move forward. First up, of course, was the roll call of the states, a tradition in both major parties that seems in current times to serve as as an opportunity for state and local political leaders to appear on national television for a few minutes. The result, of course, was completely expected but that didn't remove the sense of history that was apparent in the room:
PHILADELPHIA — The Democratic convention formally nominated Hillary Clinton for president on Tuesday, making history by choosing a woman to be the first standard-bearer of a major political party, a breakthrough underscored by a deeply personal speech by Bill Clinton calling her "the best darn change-maker I have ever known."

At 6:39 p.m., the hall erupted in cheers and joyful tears as South Dakota cast the decisive 15 votes to put Mrs. Clinton over the threshold of 2,382 delegates required to clinch the nomination.

A sea of delegates waved multicolored signs with Mrs. Clinton's "H" campaign logo, while others fell into hugs and several women jumped up and down with elation.

Vince Insalaco, the chairman of the Democratic Party of Arkansas, where the Clintons built their public profile over two decades, said the choice of the first female presidential nominee was a historic moment.

"I'm so proud to be a Democrat tonight," Mr. Insalaco said, "and so proud that we can call this woman one of our own."

Mrs. Clinton's primary rival, Senator Bernie Sanders of Vermont, played a symbolic role in hopes of unifying the party behind her. After Vermont arranged to go last in the roll call, Mr. Sanders joined its delegation to roars of "Bernie, Bernie" and called on the party to rally behind Mrs. Clinton.

But it was the appearance of Mr. Clinton, shortly after 10 p.m., that stirred the crowd most, as he set out to share a more personal side of the sometimes-reserved former secretary of state.

Unspooling memories of their 45 years together, Mr. Clinton used warm and detailed anecdotes to argue that the couple's political enemies had spent decades creating a "cartoon" of his wife that he was now determined to puncture. Mrs. Clinton is among the most unpopular presidential nominees in modern history, and the former president appealed to the audience to see through the political attacks on her.

"One is real," Mr. Clinton said of the divergent portrayals of his wife, "the other is made up." He recalled the affection of Mrs. Clinton's old friends, her empathy for those in need, and the praise she had won from Republicans as a senator and as secretary of state.

"You nominated the real one," Mr. Clinton said to a long burst of applause. Seeming to realize that he had been speaking for 38 minutes, he added in classically loquacious Bill Clinton fashion, "We have to get back on schedule."

Mr. Clinton's testimony was so personal that he even appeared to obliquely invoke problems in the couple's marriage.

"She'll never quit on you," he said. "She never quit on me."

(…)

Mr. Clinton's task was clear: to humanize his wife but also energize Democrats by flattering those in the hall and villainizing Donald J. Trump, the Republican nominee.

"She never made fun of people with disabilities," Mr. Clinton said, referring to Mr. Trump's mocking of a disabled reporter last year. "She tried to empower them based on their abilities."

Yet as Mr. Clinton recounted his wife's well-chronicled professional accomplishments, he also tried to paint a portrait of a mother who is not as well known. Recounting the day they moved their daughter, Chelsea, into her freshman dorm at Stanford University, Mr. Clinton recounted how Mrs. Clinton kept looking for "one more drawer to put that liner paper in," reluctant to say goodbye to her only child.

The speech was extraordinary in its intimacy and in Mr. Clinton's willingness to use their much-scrutinized marriage as a testament to her character. He began by recalling how he first met his future wife in 1971 at Yale Law School — he so nervous, she full of confidence — and spent almost 15 minutes describing courting her and proposing marriage three times before she said yes. At one point, trying to play a mind game, Mr. Clinton told her that she should move to Illinois or New York and run for office rather than marry him and have other young Democrats eclipse her.

"They mean well, and they speak well, but none of them are as good as you are," Mr. Clinton told her about their political generation. "She said: 'Are you out of your mind? Nobody would ever vote for me.' "
Clinton's speech, of course, was evocative, of course, of the former President's speech at the 2012 Democratic Convention in which he held the stage for more than a hour and gave a forceful, enthusiastic defense of the first four years of Barack Obama's Presidency that many considered to be the highlight of the convention. This time, the speech was both more muted and, in some ways, more more subdued than what we heard four years ago, but that seems to be a deliberate strategy on the former President's part as he seeks not to overshadow his wife while still doing what he can to advance her candidacy among the audiences that he's best suited to speaking to. Based on the reactions to the speech this morning, it would seem that he succeeded once again, especially in the sense that he helped to refocus the convention away from the discord of Bernie Sanders supporters venting their last bit of frustration tied to a long and emotional campaign and toward the final two nights of the convention, which will apparently be focused on laying the groundwork for Clinton's acceptance speech Thursday night and the long campaign to follow.
Before getting there, though, there was much discussion during the roll call of the states of the historic nature of what the party was doing, Eight years ago, Democrats set in motion the process that led to the election of the first African-American President in American history. Yesterday, they selected the first woman nominated by a major party for President, a woman who stands a reasonably good chance of winning the election in November. As I said when Barack Obama was nominated and elected, regardless of how one feels about the political positions of the candidate in question, it's hard to deny the historical importance of breaking through such barriers and what it's likely to mean for the future of American politics in both political parties and what it's likely to mean going forward, While there will no doubt be those who resist, as we have certainly seen from some quarters over the past eight years, it seems fairly clear that the American people as a whole have becoming accepting of the idea that we really do live in an era where anyone can become President, regardless of race or gender. That doesn't mean that prejudice based on these and other criteria suddenly disappears, of course, but it does mean that not every example of opposing a President is an example of racism, and that not everyone who happens to think that President Obama has been, at best, a fair to barely adequate President, believes that for reasons based on his race. Similarly, if Clinton wins in November, it should be remembered that not everyone opposed to her will be doing so because she is a woman. Along with the achievement of becoming President will come the inevitable criticism, and it is as illegitimate to say that the critics are basing their opinions on race or gender as it is to say that someone of a certain race or gender can't be President. Hillary Clinton made history just as Barack Obama did, and she deserves some credit for that. That doesn't means she is immune from criticism now, or that it will be legitimate to use the bias card against those who criticize her should she become President.
With the official work of nominating a candidate behind it, the convention now switches into campaign mode starting tonight with the selection of the Vice-Presidential nominee, along with speeches by Vice-President Biden, President Obama, and running mate Senator Tim Kaine. Biden and Obama are expected to use their time to both boost Clinton's candidacy and attack Donald Trump, something that Obama is reportedly very eager to do as he gets out on the campaign trail on behalf of his party's nominee in a way that few recent incumbent Presidents have done. Kaine, on the other hand, will be tasked with making his first impression on a public that largely doesn't know much about him. It will be his first big appearance on a national stage as Hillary Clinton's running mate, and it will set the tone for how he is perceived going forward. All of that will set the stage for Thursday night and what will arguably be the most important speech of Hillary Clinton's political life. How it comes off will go a long way toward defining what kind of election we have going forward, and whether there's a battle to the end with the most unlikely rival ever or a campaign that turns into rout.