Hillary Clinton "Re-Launches" Presidential Campaign
Hillary Clinton opened a new phase in her campaign for President yesterday with a speech in New York City.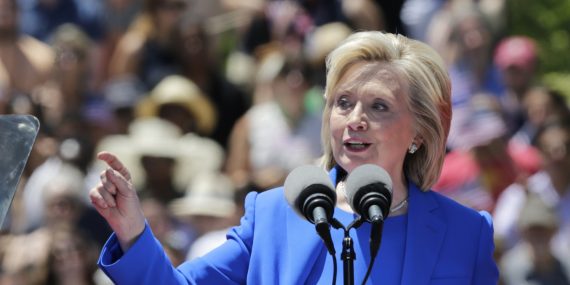 Although she officially entered the race for President back in April, yesterday Hillary Clinton began what her advisers were calling the kickoff of her campaign with a speech at New York City's Roosevelt Island:
Hillary Rodham Clinton, in a speech that was at times sweeping and at times policy laden, delivered on Saturday a pointed repudiation of Republican economic policies and a populist promise to reverse the gaping gulf between the rich and poor at her biggest campaign event to date.

Under sunny skies and surrounded by flag-waving supporters on Roosevelt Island in New York, Mrs. Clinton pledged to run an inclusive campaign and to create a more inclusive economy, saying that even the new voices in the Republican Party continued to push "the top-down economic policies that failed us before."

"These Republicans trip over themselves promising lower taxes for the wealthy and fewer rules for the biggest corporations without any regard on how that will make inequality worse," she said before a crowd estimated at 5,500, according to the campaign.

"I'm not running for some Americans," Mrs. Clinton said. "I'm running for all Americans."

Offering her case for the presidency, she rested heavily on her biography. Her candidacy, she said, was in the name of "everyone who has ever been knocked down but refused to be knocked out."

Mrs. Clinton portrayed herself as a fighter, sounding a theme her campaign had emphasized in recent days. "I've been called many things by many people, quitter is not one of them," she said.

Standing on a platform set in the middle of a grassy memorial to Franklin D. Roosevelt on the East River island named after him, Mrs. Clinton invoked his legacy. She also praised President Obama and her husband, former President Bill Clinton, but declared that "we face new challenges" in the aftermath of the economic crisis.

While some Republican detractors have tried to make an issue of Mrs. Clinton's age (if she won she would be 69 when she took office in January 2017), she sought to embrace it and to rebut the notion that she cannot stand for change or modernity. Offering her campaign contact information, she spoke about the lives of gay people, saying Republicans "turn their backs on gay people who love each other."

In one of the biggest applause lines, she said: "I may not be the youngest candidate in this race, but I will be the youngest woman president in the history of the United States."

Underscoring the point with a riff on an old Beatles song, Mrs. Clinton said: "There may be some new voices in the presidential Republican choir. But they're all singing the same old song."

"It's a song called 'Yesterday,' "she continued. "They believe in yesterday."

Allison Moore, a spokeswoman for the Republican National Committee, called the speech "chock-full of hypothetical attacks, partisan rhetoric and ideas from the past that led to a sluggish economy."

Mrs. Clinton specified policies she would push for, including universal prekindergarten, paid family leave, equal pay for women, college affordability and incentives for companies that provide profit-sharing to employees. She also spoke of rewriting the tax code "so it rewards hard work at home" rather than corporations "stashing profits overseas." She did not detail how she would achieve those policies or address their costs.

Mrs. Clinton spoke to the criticism that her wealth makes her out of touch with the middle-class Americans, saying her candidacy is for "factory workers and food servers who stand on their feet all day, for the nurses who work the night shift, for the truckers who drive for hours."

Uncomfortable with the fiery rhetoric of Senator Elizabeth Warren, the Massachusetts Democrat, Mrs. Clinton offered some stark statistics to address the concerns of the Democratic Party's restless left. "The top 25 hedge fund managers make more than all of America's kindergarten teachers combined, often paying a lower tax rate," she said.

Mrs. Clinton said many Americans must be asking, "When does my family get ahead?" She added: "When? I say now."

In a campaign in which Republicans have emphasized the growing threat of Islamic terrorism and an unstable Middle East, Mrs. Clinton hardly mentioned foreign policy. She did speak of her experience as a senator from New York after the Sept. 11, 2001, attacks.

"As your president, I'll do whatever it takes to keep Americans safe," she said, weaving the skyline and a view of the newly built One World Trade Center into her remarks.

For as much as the content of the speech mattered, the theater of it was equally important. For a campaign criticized for lacking passion, the event gave Mrs. Clinton the ability to create a camera-ready tableau of excitement.

The Brooklyn Express Drumline revved up the crowd assembled on a narrow stretch at the southern tip of the island. And Marlon Marshall, the campaign's director of political engagement, rattled off statistics about the number of volunteers who have signed up and house parties held in the early nominating states. A section with giant screens set up for an overflow crowd stood nearly empty.

But a crowd of die-hard supporters and volunteers from the staunchly Democratic New York area does not exactly represent the electorate writ large. The real test for Mrs. Clinton and how the speech was perceived will be in Iowa, where she was to travel on Saturday evening for several events. Iowa, the first nominating state, shunned her the last time she sought the presidency, in 2008.

"I was disappointed she didn't challenge Obama four years ago," said Dominique Pettinato, a 24-year-old parole officer who lives in Brooklyn.
Although she's been a Presidential candidate for two months now, this is really the first substantive speech that Clinton has given before a large crowd during this election cycle. Until now, she's mostly been involved in small group forums in Iowa, New Hampshire, and South Carolina before audiences that were largely pre-selected by either the campaign or the local Democratic Party. Given the fact that this was happening at the same time the stories about Clinton's use of a private e-mail server and the donations to the Clinton Foundation were unfolding in the press, there was much speculation that Clinton was doing this to avoid the spotlight at the same time that she was running for President. Additionally, the fact that she spent the better part of this time avoiding answering questions from the press was becoming a story all on its own as were her declining favorability numbers. This speech doesn't necessarily solve that last problem, of course, but it does set the campaign on a new track that is likely to stop at least some of the reporting on the scandal stories as the political press covers Clinton rallies in Iowa, New Hampshire and elsewhere.
As for the speech itself, by most accounts it seems to have been a very good one, and a good start to what will likely be a more active part of Clinton's campaign. In it, we can see what are likely to be the major themes of the Hillary Clinton 2016 campaign. Many of them, such as the paeans to income inequality, gay rights, equal pay, and the like are likely to play well the progressives in the Democratic Party who have been pushing Clinton to emphasize those issues. Her appeals to female voters will clearly be a major part of her campaign going forward as well. Perhaps the most interesting thing about the speech was the fact that it was so heavy on policy, something which caused some political reporters covering the event on Twitter to pontificate about how "boring" it was, and how it seemed like more of a General Election speech than a primary speech. Given the fact that Clinton really doesn't have a primary fight to worry about, that's not entirely surprising, but, as Paul Waldman noted, it demonstrates the advantages that Clinton has over whomever her Republican opponent turns out to be:
This speech, like much of what Clinton does now, is about creating a synthesis out of two related goals or ideas. She wants to energize liberals in a way that also wins independents. She wants to advocate an economic agenda that will be substantively compelling and also creates a personal affinity with voters. It's Clinton's good fortune that she has at least the opportunity to do both at the same time.

Presidential candidates come in two basic types: those who can tell a story of personal struggle and those who can tell their relatives' story of personal struggle. For one of the first times, today Clinton told how her mother was abandoned by her own parents and started supporting herself as a teenager. The point of these stories is to tell people, "I'm just like you." I understand your struggles and your challenges, and I'll advocate on your behalf. The truth is that there's absolutely no relationship between whether a candidate was rich as a child or is rich now and what kinds of policies she'll pursue as president.

(…)

[W]hile some of the positions she mentioned have been more fully fleshed-out than others, what it added up to was an extremely progressive agenda: paid family leave, affordable college education, more infrastructure investments, renewable energy, universal preschool, expanding broadband access and a lot more — all of it wrapped in populist rhetoric (the part about 25 hedge fund managers making more than all of America's kindergarten teachers seemed to hit a chord).

And I'd challenge Republicans to look at the policy proposals in the speech and say about any of them, "Oh boy, the general electorate isn't going to go for that." Which highlights one important way in which Clinton's path to the White House is easier than that of her potential GOP opponents. They have multiple areas where the goals of winning over Republican primary voters and setting themselves up to assemble a general election coalition are at odds. They need to sound tough on immigration now, but that will hurt them with Hispanic voters next fall. They need to proclaim that the Affordable Care Act must be totally repealed, when most Americans would prefer to make it work better. They need to oppose things like paid leave, minimum wage increases and imposing restrictions on Wall Street bankers, all of which are extremely popular. And they need to do it all while arguing that they understand regular folks and will be their advocates.
These are many of the same problems that Republicans faced in 2008 and 2012, of course, and the elections of 2010 and 2014 do stand as some evidence that, under the right circumstances, the GOP is able to push past the standard Democratic rhetoric that was laced throughout Clinton's speech. It isn't going to be easy, though, and it's going to take a candidate who makes very few mistakes.