Hillary Clinton Running Away with the Race
The 2008 runner-up has scared off all serious challengers for 2016. Why?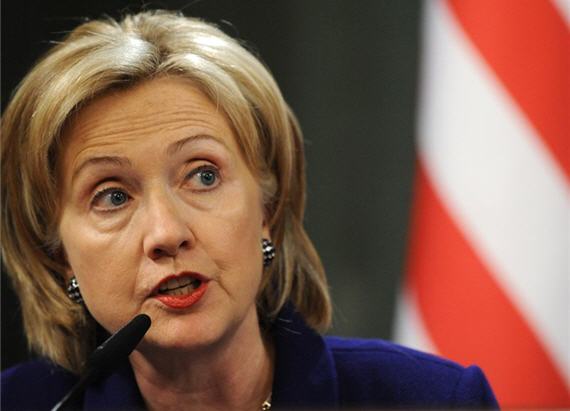 Analyzing a spate of recent articles lamenting the lack of opposition for the 2016 Democratic presidential nomination, Ezra Klein contends, "Hillary Clinton isn't running unopposed. She's just crushing the competition."
[I]n the invisible primary, when the contest is as much a draft as it is a campaign, Clinton is "opposed" by essentially every Democrat fit for the presidency. If the party's powerbrokers didn't want to support Clinton and instead really wanted Sen. Michael Bennet to run, or Gov. Andrew Cuomo to lead the field, they would be working toward that outcome. Instead, they're lining up behind Clinton. In this telling, Clinton isn't winning by default. She's winning by winning. The absence of competition is the product of Clinton's strong, successful campaign to win over Democratic Party elites.
After showing polling data demonstrating that Clinton is not only by far the most well-known potential candidate in either party but also the one with the highest net favorables, Klein continues,
This is the context for Hillary's dominance on the Democratic side: she's in a much stronger position not just than any Democrat going into 2016, but also than any Republican. These are early polls and the numbers can and will change, but look where Clinton is compared to Jeb Bush or Scott Walker. That's a big deal to Democrats, and a big reason they're supporting her rather than looking for an alternative.

[…]

[T]he Democratic Party has a bench. It's just that Clinton is running so strongly in the invisible primary that no one on it thinks it's worth getting in the game.

The question for the Democratic Party is whether Clinton is going to be as strong in the visible primary — and the visible election — as she is in the invisible one. The skills necessary to win over Democratic Party elites may not be the skills necessary to win the election — and if Hillary doesn't face serious opposition in the visible primary, Democrats may not find that out until too late.
This is right as far as it goes. Why it should be, though, is beyond me.
Clinton should have been in a more dominant position in 2008, yet several big name candidates made an actual run for the nomination. Barack Obama, the junior Senator from Illinois, of course narrowly edged her out. But John Edwards, the 2004 vice presidential nominee, was also in the race. So was perennial candidate Joe Biden. Bill Richardson, the New Mexico governor and former UN ambassador and Energy Secretary ran. So did veteran Senator Chris Dodd. And, yes, Dennis Kucinich and even Mike Gravel ran. Not just in the invisible primary. They actually mounted real campaigns, including participating in the debates.  Granted, all but Obama pulled out of the race by the end of January. But they at least made a go of it.
This year, ten months out from the Iowa Caucuses. Here's the list of candidates in the race:
Jeff Boss, conspiracy theorist and perennial candidate from New Jersey
Vermin Supreme, Performance artist and perennial candidate from Massachusetts
Robby Wells, former Savannah State University head football coach, from North Carolina; Reform Party and Constitution Party presidential candidate in 2012
The only other known candidates even in an exploratory phase are former Maryland Governor Martin O'Malley and former Virginia Senator Jim Webb.
Why isn't Biden running again? He clearly wants the job and his profile has certainly been raised by six years as Vice President. He's 72 years old. It's not as if he'll be more viable in 2020.