Hillary Clinton Scores Solid Victory Over Bernie Sanders In Nevada
Hillary Clinton pulled off a strong win that promises to set up a string of victories that will likely leave Bernie Sanders in the dust.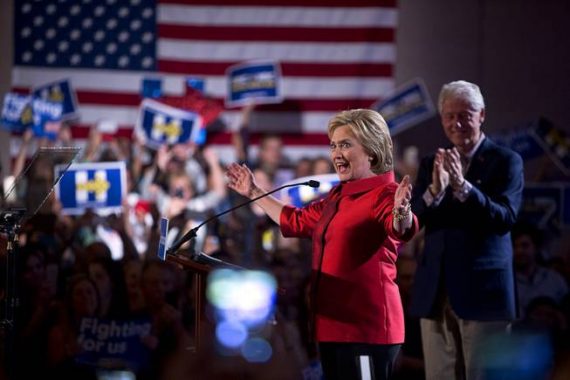 Despite the uncertainty that I spoke of this morning, Hillary Clinton pulled off a clear victory today over Vermont Senator Bernie Sanders in the Nevada Democratic Caucuses, setting her campaign up for a string of victories that will likely mean that the race for the Democratic nomination is effectively over by mid-March:
LAS VEGAS — Buoyed by the support of enthusiastic workers in the city's big casinos, Hillary Clinton defeated Senator Bernie Sanders in the Nevada caucuses on Saturday, thwarting his momentum and proving to an anxious Democratic Party that she maintains strong support among minority voters that she can carry to a general election.

Mrs. Clinton's campaign breathed a sigh of relief on Saturday as the results of the often-unpredictable campaign began to roll in. At a caucus at the famed Caesar's Palace, blackjack dealers, pit bosses, cooks and housekeepers excitedly declared their support for the former secretary of state.

"She'll change immigration. She'll change the economy. She'll change todo!" said Dora Gonzalez, 54, a casino porter at the Bellagio, using the Spanish word for everything

"And she's a mujer!" added her friend Elba Pinera, 51, and originally from Honduras, using the Spanish word for woman.

Mrs. Clinton had for months considered Nevada a haven that would provide a welcome shift from the mostly white electorates of New Hampshire and Iowa. But in recent weeks, Mr. Sanders's populist message began to take hold and polls showed the two Democrats in a statistical dead heat. Her campaign, bracing for another loss, seemed to look beyond Nevada to the contest next weekend in South Carolina.

Still, early organizing in the state and a last-minute on-the-ground push by Mrs. Clinton's campaign and its supporters paid off. And Mrs. Clinton, who is typically a reserved presence on the trail, seemed to embrace the quirkiness of campaigning in Las Vegas, posing for photographs with Britney Spears, who was in town for her show at Planet Hollywood, and even receiving the endorsement of 500 sex workers, mostly from Carson City brothels, who formed the "Hookers 4 Hillary" group.

Less than an hour before the caucuses began, Mrs. Clinton was shaking hands in the employee cafeteria at Harrah's casino. "I need your help this morning, in the showroom at 11 a.m.," she told the predominantly Spanish-speaking workers.

Mrs. Clinton's victory was a serious setback for Mr. Sanders, who campaigned hard in Nevada in hopes that a surge of Latino and black voters would heed his call for a political revolution.

After soundly defeating Mrs. Clinton in predominantly white New Hampshire, Mr. Sanders was under pressure to show that he could attract the broad cross-section of Democrats necessary to win the party's nomination.

Mr. Sanders did prove popular with many Hispanic voters, winning 53 percent of them to 45 percent for Mrs. Clinton in early entrance polls reported by CNN. But he fared poorly among African-American voters, earning support from only 22 percent of them, according to the entrance polls. Sanders advisers acknowledged on Saturday that his weak performance with African-Americans means he could face significant difficulties in the South Carolina primary on Saturday and the Super Tuesday states on March 1, many of which have large African-American populations.

In the five Nevada precincts with the highest percentages of African-American caucus goers, Mrs. Clinton swept, winning all 76 delegates.

The Nevada results were personally important for Mrs. Clinton, who struggled in 2008 to win caucus states, though she prevailed here against Barack Obama. In this campaign, she has won the two caucuses so far, here and in Iowa.

While her public schedule was relatively light, with just one rally per day, Mrs. Clinton poured herself into shaking hands and meeting the mostly minority workers who make the Las Vegas casinos run.

The Clinton family was staying at Caesar's Palace, and their daughter, Chelsea, dropped in on volunteers in the heavily Latino East Las Vegas area and knocked on doors in a working-class suburb.

After weeks of shifting the focus of her message, Mrs. Clinton's campaign seemed to hit a stride here, emphasizing her experience and her commitment to fighting for African-American and Hispanic voters. That message was accompanied by an intense attack on Mr. Sanders, questioning his capacity to deliver on his promises of major change, and also his commitment to African Americans and Latinos.

Herbert Gregory, 69, who has been a cook at Caesar's for 22 years, said Mrs. Clinton's experience as first lady, senator and secretary of state had earned his support.

"She's more qualified than Bernie," Mr. Gregory said as he waited in line to enter the ballroom where the caucus was to begin. "It's very important, because we don't want to see what Obama has done go down the drain."
More from The Washington Post:
LAS VEGAS — Hillary Clinton held off a powerful late challenge from rival Sen. Bernie Sanders in Nevada's Democratic caucus vote Saturday, securing a narrow victory that could help her renew a claim to the mantle of presumptive Democratic nominee.

With more two-thirds of precincts reporting, Clinton held a four-point lead over Sanders — a margin more decisive than her razor-thin Iowa win but much closer than the Clinton campaign had anticipated as recently as a month ago, when it touted polls showing the former secretary of state with a 25-point lead.

Addressing supporters at Caesars Palace in Las Vegas, Clinton delivered the full-throated victory speech that she was unable to give in Iowa two weeks ago, where the race was not officially settled until the next morning.

"Some may have doubted us but we never doubted each other," she said after taking the stage to "Hill-a-ry" chants. "This one is for you."

Sanders prevailed in many rural areas and won Washoe County, where Reno, Nevada's second-largest city, is located. But Clinton racked up a 10-point margin in Clark County, which is by far the state's largest, home to Las Vegas and nearly three-quarters of its residents.

Nevada is the first state to gauge Clinton's support among Hispanics, a growing demographic Democrats will need to win in November. The state, which is home to a well-organized workforce of hotel and culinary workers, is also a key test of labor power.

While entrance polling showed Sanders gaining stronger-than-expected support among Latino caucus-goers, Clinton maintained an overwhelming advantage among African American voters. She will seek to expand on that minority support in Southern and Midwestern states that will vote in the coming weeks, starting with the South Carolina Democratic primary next Saturday.
In the end, Clinton's win over Sanders comes in at about the same five point margin that she beat Barack Obama by in 2008. The difference this time is that it appears from preliminary estimates that Clinton will end up doing far better when it comes to actual convention delegates from Nevada than she did last time. Eight years ago, despite the fact that Clinton received the most votes in Nevada in the caucus Barack Obama actually ended up winning one more delegate than she did after the final calculations were made. Without going into a convoluted explanation for why this was the case, a large part of it had to do with the distribution of the vote throughout the state between not only Clinton and Obama but also the other candidates who were still in the race at the time. This time, the distribution of votes is far more favorable to Clinton and it appears that she will walk away from the caucuses with 21 committed delegates to 15 for Bernie Sanders, with four Nevada delegates designated as "uncommitted" for the time being. Since it is the delegate count that actually matters in determining who wins the nomination, every win by Clinton that adds to her current advantage over Sanders in that regard pushes her campaign closer and closer to the point where victory becomes inevitable and sends a message to Bernie Sanders and his supporters that, notwithstanding his early success, the writing is on the wall as far as the ultimate outcome of this fight is concerned.
It's hard to understate the importance of this win for Clinton's campaign going forward. After two contests in which the Sanders wave seemed to have set the Clinton campaign back on its heels, the former Secretary of State has a solid victory in her pocket that puts her in a strong position to change the narrative of this campaign very quickly. From here, the Democratic campaign heads to South Carolina for a primary next week where Clinton seems to be assured of victory thanks in no small part to her overwhelming support from the African-American community. Assuming that those numbers hold up, and there's every reason to believe that they will, the race then heads to a series of primaries on March 1st, March 8th, and March 15th most of which are in states that seem tailor-made for Clinton in that they are large, diverse, and have a significant African-American and minority population that should help her win nearly all of the contests over the next three weeks. Not all of them, mind you, because Sanders will likely win Vermont's primary quite easily, for example, and could also end up taking Massachusetts and one or two of the western states that hold caucuses rather than primaries. On the whole, though, this win looks as though it is going to set Clinton up for a series of wins that will push her closer and closer to the inevitability that has really always been there, while Bernie Sanders will likely come to realize sooner rather than later that the Democratic nomination never really was realistically within his grasp.
Photo via Las Vegas Sun