House Republicans Gut Defense Sequestration Cuts
Another example of Republican foreign policy taking precedence over fiscal conservatism.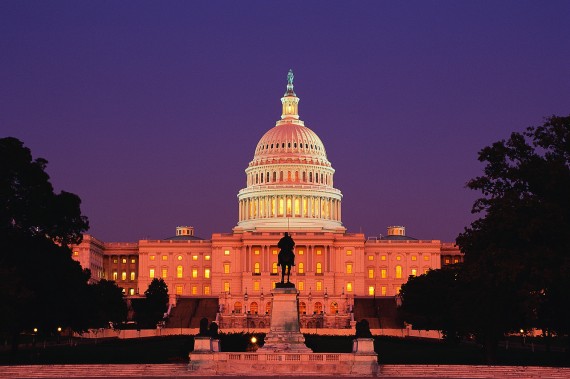 As they've been threatening to do for the past several months, today the Republican controlled Congress passed a bill to eliminate the defense portion of the sequestration cuts agreed to during last year's debt ceiling negotiations and replace them with cuts in non-defense spending:
The House voted Thursday to override steep cuts to the Pentagon's budget mandated by last summer's debt deal and replace them with spending reductions to food stamps and other mandatory social programs.

While doomed in the Senate and opposed by the White House, the legislation, which would reduce the deficit by $243 billion, is a Republican marker for post-election budget talks with the White House.

Members approved the Sequester Replacement Reconciliation Act in a party-line 218-199 vote. As expected, the bill was supported by nearly all Republicans — only 16 opposed it, and no Democrats supported it.

Republicans voting against the bill were Reps. Justin Amash (Mich.), Roscoe Bartlett (Md.), Charlie Bass (N.H.), John Duncan (Tenn.), Mike Fitzpatrick (Pa.), Chris Gibson (N.Y.), Louie Gohmert (Texas), Jaime Herrera Beutler (Wash.), Tim Johnson (Ill.), Walter Jones (N.C.), Raul Labrador (Idaho), Steve LaTourette (Ohio), Frank LoBiondo (N.J.), Todd Platts (Pa.), Ed Whitfield (Ky.) and Frank Wolf (Va.). GOP Rep. James Sensenbrenner (Wis.) voted present.

Republicans cast the bill as a first step back toward controlling federal spending, after years of allowing spending and deficits to balloon.
This isn't entirely surprising, of course. Even before the ink was dry on the debt ceiling deal last August, the defense hawks in the House GOP Caucus were already talking about undoing the defense cuts and while the budget hawks and the House leadership were insisting at the time that the deal had to stay intact. Earlier this year, though, while Republican Senators began leading the effort to rollback the defense cuts and the House leadership soon fell in line, sending a signal that the deal that had been reached in August was effectively dead as far as they were concerned.
None of this is ever going to make it through the Senate, of course, and President Obama has already said he would veto and deal to undo the sequestration cuts unless it was part of a more comprehensive deal on the budget. What this is really about, then, is to set up a negotiating position for later in the year, most likely during a lame duck session after the Presidential and Congressional elections. The Republicans also want to keep this alive for the election, because it plays into the false meme that Obama is trying to weaking the military.
The reality, of course, is that these sequestration cuts don't really amount to much of anything to begin with. What we're talking about here aren't spending cuts, but cuts in the rate of growth of spending. At the end of the ten years over which these cuts would take place, the Pentagon won't end up much worse off than it would have under the budget that was under consideration last August before the deal was made:
Rather than cutting $400 billion in defense spending through 2023, as President Barack Obama had proposed in April, the current debt proposal trims $350 billion through 2024, effectively giving the Pentagon $50 billion more than it had been expecting over the next decade.

With the wars in Iraq and Afghanistan winding down, experts said, the overall change in defense spending practices could be minimal: Instead of cuts, the Pentagon merely could face slower growth.

"This is a good deal for defense when you probe under the numbers," said Lawrence Korb, a defense expert at the Center for American Progress, a left-leaning research center. "It's better than what the Defense Department was expecting."
Under the sequestration cuts, what we're actually talking about is spending $50 billion less in projected spending every year for ten years.  As I noted back in November, if we can't afford to cut that relatively tiny amount from the defense budget, then we're doing something wrong:
If we cannot afford to cut $50 billion a year from the defense budget then we will never get a handle on the exploding Federal Budget deficit, and the idea that the cuts that would have to be implemented would endanger America is the same kind of fearmongering we  hear every time one weapons system or another gets questioned.  You can be sure, for example, that the defense industry lobby has been whispering in the ears of Republicans all over Capitol Hill, because their chief concern isn't what's best for the United States, but what's best for the defense industry.
That's the sad truth of what's really going on not only in this case but with the absurdly astronomical increases in defense spending that Mitt Romney is proposing. None of this is really concerned about what's really necessary for national security. If it was, we'd be talking about global strategies, how best to apply the military to those strategies, and what it would cost to do so. Instead, the Pentagon has become just another vast hole down which a lot of money is being thrown and then, every now and then, some President decides that we may as well use all that money to bomb somebody. How that is enhancing our national security is beyond me.