House Vote On Libya Mission Set For Friday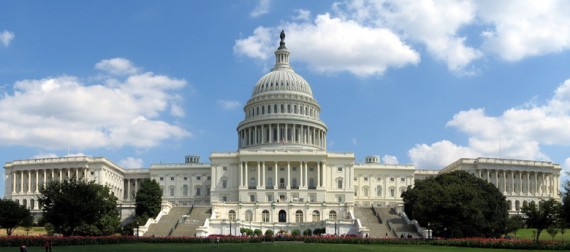 The House of Representatives will be taking a vote on the Libya mission on Friday but what exactly they'll be voting on remains unclear:
House GOP leaders have scheduled a vote on Friday on U.S. participation in the NATO-led effort to topple Muammar Qadhafi, but what lawmakers will be voting on is still unclear.

Top House Republicans are drafting an alternative proposal to a resolution by Rep. Dennis Kucinich (D-Ohio) barring U.S. backing for the NATO campaign, although the language of that Republican proposal was not immediately available.
The House GOP Conference will hold a special meeting this afternoon. Speaker John Boehner (Ohio) has said no decision will be made on what Libya proposals will come to the floor until after that session.

"We're going to have a conversation with our members today and we'll see what they have to say," Boehner told reporters at a Thursday morning press conference. "I expect this issue will be resolved tomorrow."

"Members are a bit wary about the amount of money that we've spent in Iraq in Afghanistan and what we're spending in Libya and as a result really are wondering what's our vital national security interest there," Boehner added. "You know, I think I have a pretty good feel for it, but I really do believe that the president needs to speak out in terms of our mission in Afghanistan, our mission in Iraq, our mission in Libya."

Kucinich's resolution "directs the president to remove the United States armed forces from Libya by not later than the date that is 15 days after the date of the adoption" of the measure. Reps. Michael Capuano (D-Mass.) and Dan Burton (R-Ind.) are co-sponsors of the resolution.

Kucinich believes that President Barack Obama violated the 1973 War Powers Act by failing to obtain congressional approval for U.S. involvement in the Libya campaign within 60 days of U.S. forces beginning combat operations.

Boehner, though, says Obama is "technically" in compliance with the war powers requirements.
A Republican congressman, joined by dozens more Republican co-sponsors, has introduced a resolution expressing "disapproval" of U.S. military operations in Libya — another sign of growing discontent with that campaign on Capitol Hill.

The resolution from Rep. Michael R. Turner (R-Ohio) would allow the House to state simply that it "does not approve" of the Libya operation.

"The president, on May 20, asked Congress for support for his military engagement in Libya. Our resolution is a response: The president has not made the case," Turner said in a telephone interview Thursday morning.

The bill is less drastic than one from Rep. Dennis J. Kucinich (D-Ohio), which had gained surprising bipartisan support before the House's GOP leaders abruptly shelved it Wednesday. The Kucinich bill, if it passed, would have demanded that President Obama remove U.S. forces from Libya within 15 days.

The Turner bill does not make that demand explicitly. Instead, it cites the 1973 War Powers Resolution, which requires that presidents obtain congressional authorization for foreign military campaigns within 60 days of notifying Congress. In this case, that deadline passed last month.

Turner said that the resolution was designed to compel Obama to come to Congress and make the case for the operation — describing what he knows about the Libyan opposition, and what is supposed to happen if strongman Moammar Gaddafi steps down.

"He's going to have to provide us everything that he's yet to provide us with," Turner said.
Or, he could just ignore like he's ignored the War Powers Act. What are you going to do then?
It's good to see some Members of Congress waking up on this issue, but I have to wonder if it isn't a matter of too little, too late.