How The House Republicans Completely Mishandled The Payroll Tax Cut Debate
The House GOP doesn't seem to have any idea what it's doing right now.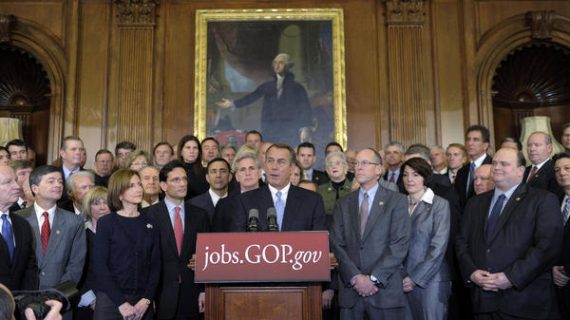 Ed Morrissey asks this question in the wake of the House's rejection of the Senate's Payroll Tax Cut extension:
I have a question — do Republicans on Capitol Hill bother to talk to one another?  If this package was so objectionable, why didn't Boehner work with Mitch McConnell to force the demanded compromise in the Senate?  Only ten Senators voted against this bill, which means that the overwhelming majority of the Republican caucus gave it the thumbs-up.  Under those conditions, Reid's anger is entirely legitimate.  He and McConnell worked out a compromise in which Republicans got the pipeline in exchange for a short-term extension that will get Congress through the holidays, but allows the GOP to push for more in later negotiations. Bear in mind that both parties have taken the same approach on budgeting matters — as they did last year in that bout of brinksmanship.
On principle, I've got to say that the argument for a one year extension is far superior to yet another temporary stop-gap measure, which seems to be all that Congress is inclined to do these days. Even President Obama admits that given that he has spent the last several months saying that only a one-year extension of the tax cut and unemployment benefits would be acceptable. The House passed a one-year extension last week, but when it got to the Senate it got bogged down in the murky question of how to allocate the "Pay fors" that would cover the reduced revenue to Social Security that would have to be covered by the Federal Government's general revenues. So, we ended up with the two month extension and the requirement that the Executive Branch make a decision on the Keystone XL pipeline in 60 days, rather than punting it out to after the election as the President so obviously preferred to do.
Ideally, it would be preferable to extend the tax cut, if it is going to be extended at all, for a year rather than kicking the can down the road to the end of February and guaranteeing that this fight will resume again in mid-January. For one thing, we've seen more than once that delaying final resolution of these disputed matters just leads to another round of brinksmanship disguised as negotiations. Why anyone thinks it will be easier to resolve this in February than December is beyond me. For another, as I noted this morning, the Senate's two-month extension seems likely to pose significant logistical difficulties for businesses and payroll processing companies. So, in some sense, the argument for one year vs. two moths seems like a no-brainer. But, of course, this is Washington where pretty much everything that does gone done rarely involves use of very much brain matter.
Ed continues:
If the House thinks holding this up after getting overwhelming bipartisan approval in the Senate will win them political brownie points, they'd better take another look at the polls.  Obama is moving up incrementally on questions of protecting the middle class, and the GOP now wants to give him the position of fighting for a tax cut that Republicans don't oppose, but won't approve, either.  If they want to fight for principle in opposing the payroll tax holiday, then this makes sense.  If they want to fight to make it permanent so that its limited ability to impact long-term business and budget planning, then it would also make sense.  But blowing up a compromise simply because they object to a shorter-term gimmick over a slightly longer-term gimmick is fundamentally unserious.
At the very least, it seems like that House Republicans have done a horrible job of communicating exactly what it is they want here. Some, like Jeff Flake from Arizona, have taken the position that the tax cut should not be extended at all, which can at least be respected as a policy position. The House GOP Leadership, though, keeps saying that they want to extend the Payroll Tax Cut, because they know that politically they really don't have any other choice in the matter. With the Senate having passed a bill that does just that, albeit on a temporary basis, they have not given anything approaching a good explanation for why they would oppose it under circumstances that make it more likely than not that there will be no extension (and no requirement for the President to make a decision on Keystone XL) at all. At this point, if the tax cut does not get extended, then it will be the GOP that gets blamed for it. Politically, that's just about the dumbest move you can make right before Christmas on the eve of a Presidential election.
Unless the House GOP can find a way out of this, I don't see it ending well for them, largely because it plays right into President Obama's hands:
The fraying of a deal to extend payroll-tax cuts and unemployment benefits gives President Obama a golden opportunity to tar House Republicans as the source of Washington's dysfunction while championing a popular issue.

But the renewed gridlock could still backfire on Obama, who risks being wounded yet again by congressional inaction as he ramps up his reelection bid. Republican opponents on the campaign trail are already blaming him for the mess.

"It's incredibly tricky ground," said Lanae Erickson, deputy director of the Social Policy and Politics Program of the centrist Democratic group Third Way. But "there is an opportunity to capitalize on this and hang it around necks of Republicans," she said. "I think the American people's patience is wearing thin with the tea party, and they're really tired of government being held hostage by them. This is just going to be another nail in that coffin."
It also tends to reinforce the general public attitude about Congress, which was reflected against today in a Gallup poll showing  it's approval rating to be at another record low of 11%. With nonsense like this going on, it's no wonder the public is frustrated. How, if it all, that will manifest itself in 2012 remains to be seen, but the House GOP seems to be playing with fire here.
Photo via Associated Press