How Will 'Mad Men' End?
The final episode airs tonight. How will Matt Weiner will wrap it up?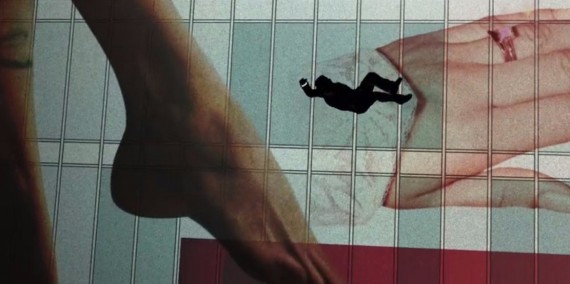 The final episode of AMC's "Mad Men" airs tonight. Naturally, this has spawned something of a cottage industry of predictions about how Matt Weiner will wrap it up.
Writing for Vulture, Matt Zoller Seitz doesn't predict anything, exactly, but expounds on "How the Mad Men Pilot Predicted the Final Episodes of the Series."
Mad Men has always been a show about how individuals and nations move through time, acting and being acted upon, fighting against their conditioning or embracing it, taking two steps forward and one and a half steps back, often not realizing that they've made a different version of the same mistake again until they've settled into it and can't undo it without trauma. Every character that has passed before the series' empathetic but coolheaded lens has tried to write his or her own story, and discovered at one point or another that a large part of that story was already written in childhood; that it's easier to amend or slightly revise than to rewrite from top to bottom. Even the seeming exceptions to this principle, such as the identity thief and smoke-and-mirrors master Don Draper, are not immune.

If you go back and revisit "Smoke Gets in Your Eyes" from season one, the haze dissipates and you can see it all clearly. Almost every recent, climactic development was in some sense predicted there, as was every significant plot point throughout all seven seasons, for every major character
Likewise, Dustin Rowles of Uproxx believes "Matthew Weiner Has Been Telling Us How 'Mad Men' Will End For Years." After an elaborate setup, he concludes,
We know Don will die in the finale, but we don't know if that will be a physical death or simply the death and the rebirth Dick Whitman. I still feel that it's the latter: He gets rid of the suit. He gets rid of Don's job (it appears that he's already left McCann Erickson, and I doubt we'll see him there again). He's homeless (next week's episode is called "The Milk and Honey Route," a reference to a Nels Anderson handbook for hobos); he's divorced Megan. He said goodbye to Betty ("Bye Birdie"). He's a free man, headed west, like Kerouac in On the Road: "Whither goest thou, America, in thy shiny car in the night?"

He's done with New York. He's done with advertising. He's done with Satan (Jim Hobart). He's done with Don Draper. But while Don Draper drowns, Dick Whitman survives. "We're not just selling a place," Don says of "Paradise" back in the sixth season. "You are different… the soul can go in and out of the body, but it usually leaves from the leeward point, into the ocean."

"The copy is all about the Hawaiian legend," Don continues. "'Aloha' means hello (Dick Whitman)and goodbye (Don Draper).'"

How do you get to heaven?" he adds. "Something terrible has to happen." That "terrible" thing was Sterling Cooper being dissolved by Satan/McCann. And now, Don is going to heaven.

"A picture of a hotel, even yours, is easy to ignore," Don told his Sheraton clients, and Matthew Weiner may as well have been speaking to the viewers at home about his finale. "This (a man walking into the ocean), or some version of this, demands your attention." Weiner was warming us up for a finale that sees Don, on the beach, walking into the ocean. Or maybe just his footprints headed into the water.

Does he die, like James Mason at the end of A Star is Born? "No, that's not what this means."
Alex Garofalo sounds a similar theme in "'Mad Men' Series Finale: 6 Questions Before The Show's Last Episode; Will Don Die?" for IBT.
Ever since Season 1, people have been speculating the show's ominous opening credits sequence — featuring a Don Draper silhouette falling from the window of an office building — meant the series would end with the ad man's suicide, or at least his death. However, that solution seems to be a bit simple for a show that has made its bones by subtly defying fan expectation.

In fact, "Mad Men" seemed to poke fun at that fan theory in episode 12, "Lost Horizon," when Don, disillusioned with his new position at McCann Erickson, tests the windows in his office to see if they open. They did not and the scene almost felt like a wink to viewers that the end of Don's story would not be so obvious.

However, Don has always had a fascination with death and disappearing — his Season 6 pitch to Sheraton essentially mimicked Norman Maine's (James Mason) suicide in the 1954 movie "A Star is Born" — so the possibility is not off the table.
Vox's Todd VanDerWerff says, "I think I know how Mad Men is going to end."
I think Don is going to go back to New York. I think Don is going to go back to McCann. I think he is going to win back his job with a brilliant pitch for a McCann client. I think we're going to think we're on the verge of the Don Draper pitch to end all Don Draper pitches.

Picture it, if you will.

Don walks into the room with the client. Everything is on the line. His career. His family. His future. Everyone leans forward (including us). He smiles, launching into his pitch with something like "I'd like to talk to you about family," and then either the door to the room closes (shutting us out) or the screen fades to black.

And out of the blackness, we begin to hear perhaps the most famous ad of the 1970s.

It explains the season's obsession with Coca-Cola (which turns up even in this episode, in the form of the broken Coke machine). It explains the season's obsession with connection. And it explains the long, long wait we've had for a vintage Don Draper pitch. (By my count, we haven't gotten one since the sixth-season finale, which was the Hershey's pitch that lost Don his job.) Why shouldn't the last Don Draper pitch ever be one that gives us a famous ad that feels like it came out of a Don Draper pitch?

What I also love about Eileen's idea is that it has a baked-in, awful cynicism to it, laced with a childlike sweetness. That's an ad about world peace and people coming together in harmony — and it's being used to sell soda. It's the ultimate in commodification of powerful ideas by the wheels of commerce, and it's the ultimate in America's blithe belief that if it could just shut out the bad parts — or share a Coke — with the world, everything would be a little bit better.
Esquire's Jen Chaney proclaims "This Is How Mad Men Will End."
Given Betty's prognosis, which gives her nine months to a year to live, it seems likely that we will see her funeral take place, probably in late 1971. (I am basing this in part, also, on something that Aaron Staton/Ken Cosgrove said when I interviewed him at the beginning of season seven, part two: that the final shot of the series was "more like a funeral.") Either during the service or at some point beforehand, I imagine that Don and, possibly, his kids will watch slides of Betty on a Kodak carousel, some of which will be the same slides Don used in his original Kodak presentation. (Note: I am already crying just thinking about the possibility of this.) In the closing moment of season one's last episode, Don came home to find his house empty, his kids and Betty having left to spend Thanksgiving with Betty's parents. In the final moment of the show's final episode, Don will be alone again—I know, that's a real stretch—possibly outside the house he and Betty once shared in Ossining, New York. He'll sit, looking at it while the final Mad Men closing song starts to play. And what will that final song be?

Well, in this week's episode, the last tune was "Everyday" by Buddy Holly, a hit for the bespectacled singer in 1957, two years before he died in a plane crash along with the Big Bopper and Ritchie Valens. Naturally, then, the last song we hear on Mad Men has to be a song that first charted near the end of 1971, roughly a year before Richard Nixon was re-elected president*; a song that summarized everything that got lost in the 1960s; and a song that explicitly references the death of Buddy Holly: Don McLean's "American Pie." What more fitting way is there to say goodbye to Betty, and the ideals that fell just short of her and Don's grasps, than by singing "Bye bye, Miss American Pie"?
There are a lot of other theories out there, including Lindsay Green's "Where Don Draper ends, D.B. Cooper begins" concept that's been circulating since she advanced it in Medium two years ago.
In 1971 one of the most bizarre and fascinating cases of air piracy in American aviation history — and currently the only unsolved one — was carried out by a man with an alias, wearing a perfectly pressed dark suit and dark sunglasses, with a cigarette in one hand and a bourbon and soda in the other. No one was killed. No one was hurt. No chaos or terror was caused. It was a hijacking conducted without a known motive, by a wellspoken man who then disappeared and was never identified, found, or heard from again. It was as though he never happened.

There's always been something in the air with Mad Men, quite literally. From Mohawk to American, North American Aviation, and Ted's own little two seater, airlines and aviation are about as prevalent on the show as aliases and fake identities. Even when Joan was upset after being served divorce papers from Dr. Harris, it was a model airplane she grabbed and threw at the unassuming receptionist as Don stood in the doorway. Mad Men has been telling us how the story ends from the very beginning. It ends on an airplane.
Feel free to add your own speculation and reflections below.