How Would I Solve the Deficit
Here's my plan for creating a budget surplus of $126 billion by 2015 and $592 billion by 2030.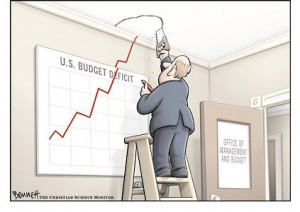 Doug found a nifty toy over at the New York Times that allows the user to fiddle with various spending and tax programs to try and reduce the deficit. The first thing I wanted to see is what if I do everything but Social Security and Medicare, could the budget be balanced? The answer is yes, but it entails some fairly substantial increases in taxes and in the end you only delay the problem with Medicare. Or to put it another way, you'd better select the option that generates the largest revenue gain/spending cut in other areas because the surplus you generate will be necessary to pay for Medicare out past 2030. Such a program would be rather draconian, but the Medicare imbalance is huge.
Focusing just on the short term and trying to reduce the Medicare problem going forward though would allow for a somewhat less draconian spending cuts and tax increases for areas other than Medicare. Here is how it would look:
Foreign and Domestic Spending:
Cut foreign aid in half
Eliminate earmarks
Eliminate farm subsidies
Cut pay of civilian federal workers by 5 percent
Other cuts to the federal government
Cut aid to states by 5 percent
Military:
Reduce nuclear arsenal and space spending
Reduce military to pre-Iraq War size and further reduce troops in Asia and Europe
Reduce the number of troops in Iraq and Afghanistan to 30,000 by 2013
Health Care and Medicare:
Enact medical malpractice reform
Increase the Medicare eligibility age to 70
Reduce the tax break for employer-provided health insurance
Cap Medicare growth starting in 2013
Social Secuirty:
Raise the Social Security retirement age to 70
Reduce Social Security benefits for those with high incomes
Taxes:
The Lincoln-Kyl proposal
Allow expiration for income above $250,000 a year
Payroll tax: Subject some incomes above $106,000 to tax
Eliminate loopholes, reduce rates (Bowles-Simpson plan)
In the end the budget deficit in 2015 would actually be a surplus of $126 billion and by 2030 there would be a surplus would be $592 billion.
Now before anyone thinks that this is great that we could not make some of these changes, I have to stress again that Medicare poses a very serious fiscal problem and that simply having balanced budgets in 2015 or 2030 might not be enough to address the problem. Hopefully some of the changes above would help "bend the cost curve down". Such as the reduction in tax breaks for employer provided health insurance. Right now the growth rate for this tax break is the growth in health care costs. This strikes me as sort of self-fulfilling prophecy. This kind of policy ensures that more and more resources are devoted towards health care which given that resources are finite makes such a demand harder and harder to fill and driving up prices. This in turn would necessitate a tax break over and above economic growth in the following year. Hopefully by breaking the cycle it would slow the growth rate in health care costs.
I'm also not opposed to some of the other proposals, but I didn't like how they were implemented. For example, I'd go for a carbon tax, but I'd like to see it replace or reduce the payroll tax. To the extent that it makes the labor market more efficient (i.e. more workers are hired) and lets people keep more of their take home pay all the better. And to the extent that it reduces carbon emissions, promotes fuel conservation and makes fuel alternatives look more attractive again, all the better. But such an option was not allowed so I didn't select it.
I'd also go for some sort of national sales tax, or value added tax so long as it was revenue neutral. Right now income taxes distort the labor markets. The tax wedge that income taxes drive between the supply and demand curves reduces the number of workers that would be employed. So by switching to a value added tax we might be able to increase the number of workers while still raising the same amount of revenue.
As Doug implied, if politics were a rational process then we'd likely have very different institutions and tax/fiscal structures than we do. Many economists would prefer a consumption/value added tax over the income tax that we currently have. We wouldn't have so many states in trouble with defined benefits pension plans and instead would have defined contribution plans. Instead politics is non-rational (i.e. it isn't about picking the best or even a better outcome) and we get the mess we currently have. So much of the above is really just not feasible. Personally, I see our current situation as one that is unalterable. We'll stay on this unsustainable path until we can no longer sustain it and go off the rails.