Huntsman, Trump, and the Limitations of a Two Party System
All of which leads to a discussion of electoral rules.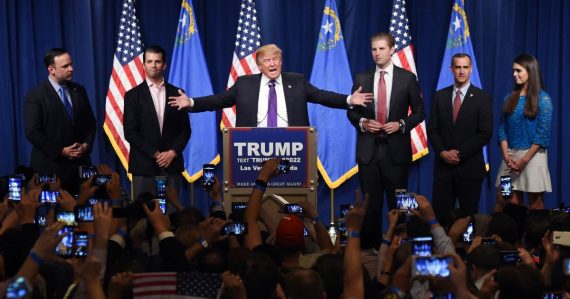 Via CNN:  Jon Huntsman: I could get behind Donald Trump
"If he's the nominee, I'm a Republican and I tend to gravitate towards whomever the nominee is," Huntsman, who lost the 2012 Republican presidential primary to Mitt Romney, told CNN senior political commentator David Axelrod on Axelrod's podcast "The Axe Files."
Readers likely recall Huntsman as being the "too liberal" GOP candidate back in 2012.  So, on the one hand, I have to wonder how much his past association with the Obama administration (he was ambassador to China from 2009-2011) and the negative feedback he received colors his approach to party politics. On the other, he is in the position that a lot of Republicans are going to find themselves over the next several months:  do they stick with the GOP if Trump is the nominee, do they defect to the Democrats, or do they sit out the election?  Unless an independent candidate/new third party movement arises, there aren't going to be any other options.
This allows me to take the opportunity to note that part of the problem is our electoral system.  If we had a popular vote system that required an absolute majority of the vote to win the office (i.e., 50%+1) using either a run-off or instant run-off, there would be a far greater incentives for a third party to emerge.
I would note that such systems are quite common in countries with elected president.  They have two clear advantages:  they do, in fact, tend to generate more choices, and they also produce a winner with clear majority support (a more than reasonable goal for the one and only office that supposedly represents the country as a whole).*
The info below is from A Different Democracy and shows the election systems used by countries in the study with elected presidents and the methods used.  First, it is pretty obvious what an outlier the US is in regards to using an electoral college.  Second, it is likewise obvious that most countries use a majority runoff system.  Third, it can be seen that practically every country has more candidates running than we do.  The "effective number of candidates" is a metric based on the votes won by all the candidates running and it basically an index of how fragmented the vote is (the higher the effective number, the more fragmentation and more fragmentation can only occur with more candidates).  Our 2.28 for 1990-2010 period illustrates that most votes went to two main candidates with a smattering of votes going to third party challengers (and that number is enhanced by Perot 1992 in particular).  Most countries using a run-off have more than 3 effective candidates, and almost all have more than two and half. **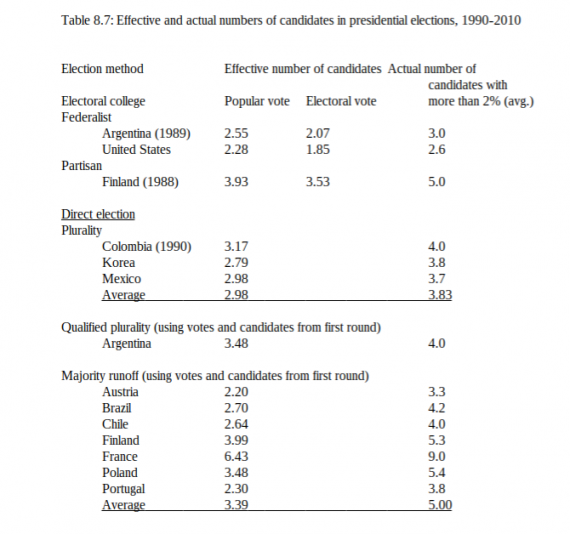 It is important to understand that the reason the system tends to generate more candidates is because in the first stage of two step process a candidate only has to come in second to survive (unless a candidate wins an absolute majority in the first stage and therefore the first stage is the only stage).  This means that there can be two winners, so to speak, and not just one.  As such, voters tend to vote their sincere preferences in the first stage and then find themselves having to compromise in the second.  Such a system means that someone like Trump might find himself not making it out of the first stage, as voters who truly found him unacceptable would have a potential option in that stage beyond simply voting for the Democratic nominee.
All of this is to say that if we used a majority run-off system, conservatives/Republicans unhappy with Trump would likely have better options.  As it stands it is either, Trump, the Democrat, or stay home (which helps the Democrat).  A third party candidate in our system will almost certainly help the Democrat as the Democratic Party will stay united behind its nominee.  (This is going to lead to a lot of rationalization from Republicans about Trump in the coming months).
Speaking as someone who thinks we need electoral reform (in multiple ways), this is good time to point it out.
*Yes, we still elect the president via the states, so even now it is not a truly national election.  However, there is compelling argument that given the fact that a) the electoral college does not function as designed (see here and here), and b) that the presidency became nationalized as an office pretty much from the beginning (the Framers thought national candidates unlikely beyond Washington, but they were wrong about that).
**Austria and and Portugal have numbers similar to the US, but are also not pure presidential systems, which is also true for Finland, France, and Poland–making the best direct comparisons for this discussion the Latin American cases.  That is a different topic, but the bottom line is that that institutional feature in question does have the clear tendency to increase competition and therefore choices.    Heck, even plurality, as per the evidence presented, has a tendency to induce more choice (but the reasons are also linked to other factors in the system).  To get into all of this, see ADD.