I Don't Really Care If GOP Takes Back The Senate
I was never particularly hopeful that the GOP would retake the Senate, but even if it turns out that O'Donnell's nomination prevents it from happening, I can't bring myself to care all that much.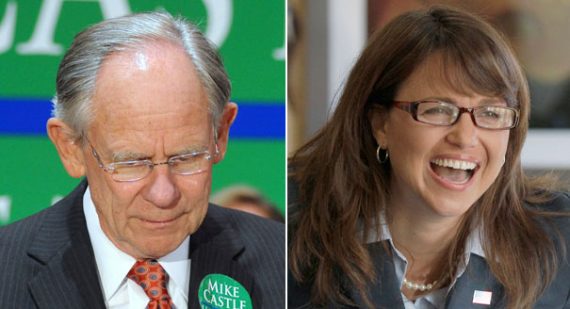 There, I said it. Christine O'Donnell's victory in yesterday's Delaware primary is already considered to be the nail in the GOP's chances of taking back the Senate. I was never particularly hopeful that that would happen anyway, but even if it turns out to be true, I can't bring myself to care all that much. In fact, Castle's prompt refusal to back her after she defeated him serves mainly to reinforce my lack of concern.
First, all spending bills originate in the House, and all bills must pass both, so we have plenty of leverage to keep Obama in check with just the House. Second, even with only 40/41 Senators, the spin that GOP "obstructionism"* is what has really prevented Obama from succeeding has a lot of traction. I remain convinced that Obama is no Bill Clinton; he won't triangulate to shore up his popularity. Rather, he'll double down again and again on the theme he's already fallen in love with: Blaming Republicans. With actual Congressional majorities in both Houses, we'll get a replay of 1995, with John Boehner in Gingrich's role, hurting our chances of retaking the White House in 2012.
I'm a libertarian, but not one of the hard core that seems to exist mainly to make any perfect the enemy of every good. As such, despite his mushiness on some issues I care about, I could say that I had a mild preference for Castle and a GOP Senate over O'Donnell and no GOP Senate. But, as I've already said, nothing I've seen convinced me that Castle was the key to a GOP takeover. And there's plenty to like in O'Donnell's victory.
While it would be nice to control committees and have some power over what does and doesn't get to the floor, the medium- and long-term benefits of the message sent to the GOP establishment that their return to power is contingent on their embracing fiscal sanity and governing in a manner acceptable to the Tea Party wing of the party far outweighs any such advantage.
This is not to say that Tea Partiers are entitled to everything they want or that the ones who have poisoned the Delaware well with such obnoxious falsehoods as that Castle voted to impeach Bush should be given a pass. Coalition politics requires everyone to compromise.
I've seen little to suggest that the GOP leadership thinks it needs to placate the base, though. Rather, we've had the party organs throwing support and money behind one "establishment" candidate after another. Democrat or Republican, it annoys me greatly when the party interferes with the membership's chance to decide who should represent the party in an election. Even on those occasions when they support my candidate of choice, I think they should stay out of it and support the candidate primary voters nominate.
At the risk of being a broken record, the real annoyance this year is their apparent belief that they can just coast to victory on not being the Obama-Pelosi-Reid crew and get the perquisites of power without any of the responsibility of having an agenda to roll back that crew's work. The last thing we want is another profligate, Democrat-lite GOP Congress like the last one that blows up the budget without anything other than their own re-election (for a while, anyway) to show for it. Everything I've seen of Castle suggests he would have been just a cog in that machine. There's plenty of reason to want a GOP Senate instead of a Democratic one, but if O'Donnell losing the general helps shake McConnell & Co. up to the need for real change, this lemon could make some lemonade after all.
UPDATE: Den Domenech at RedState adds a point: I hadn't considered
Conservatives should not tolerate the likes of Mike Castle because of the simple fact that a 51 member Senate with Mike Castle is a Senate where Mike Castle is the most important vote in the room. As Specter and others before him, that Senator will set the terms of policy debates, determining in advance what can succeed and fail….

As a friend of mine in the business of campaigns and elections has said, electing moderates simply to secure a majority for Republicans is a self-defeating proposition. We've seen this play out time and again. Career politicians abhor principle, and adore power and fecklessness.
RTWT.
—
* Who'll give me odds that obstructionism will once again become a virtue when it's Democrats blocking Speaker Boehner's agenda?