If Sarah Palin Runs, She Will Lose
While Sarah Palin continues to tease her supporters about a possible Presidential run, the damage she could do to the GOP becomes even more apparent.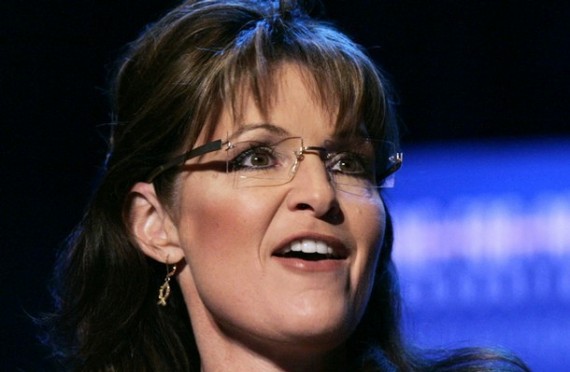 A new Pew Research Center poll provides ample evidence for the proposition that if Sarah Palin decides to run for President, she will not only be defeated, but decisively so:
A nugget from today's Pew poll that deserves a post of its own: Forty-one percent of Republicans and Republican-leaning voters say there is "no chance" they would vote for Sarah Palin in a presidential race.

That's the second-highest rejection rate of any Republican candidate, exceeded only by Newt Gingrich, who was ruled out by 48 percent of respondents.

Palin's poll numbers are comparable to, or even slightly worse than, Ron Paul's. Despite being viewed by many as a fringe or fringe-friendly figure, Paul has 21 percent of Republicans who say there's a "good chance" they'd vote for him, and 37 percent who say there's "some chance."

For Palin, those numbers are 24 percent ("good chance") and 34 percent ("some chance.") A higher proportion of Republicans have crossed her off the list of options, by a 4-point margin.

These are not the only reality-check numbers for Palin this week. A Gallup survey released yesterday showed that in a race that includes all the current candidates, plus Palin and Rudy Giuliani, the former Alaska governor would draw 11 percent of the vote — tying Paul for third place.

What's more, a Public Policy Polling survey in Iowa showed that Palin would start out in fifth place there with 10 percent of the vote, trailing Paul by 2 points and local frontrunner Rick Perry by an 11-point margin.
None of this should be surprising to anyone who's paid attention to the public perception of Sarah Palin outside of the echo chamber of conservative talk radio, Fox News Channel, and the Palinista blogs, Facebook pages, and Twitter feeds, but it's made strikingly obvious by Palin's favorable/unfavorable numbers, which are approaching Charlie Sheen territory at this point: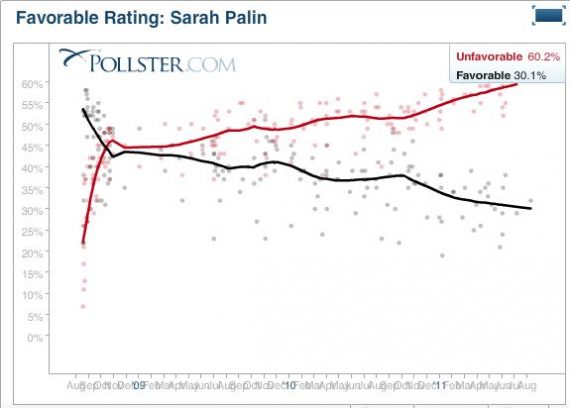 Alana Goodman at Commentary sees these poll numbers as a sign that Palin will decide not to run:
The top priority for most Republican voters is to nominate a candidate who has a chance of beating Obama. If Palin entered the GOP race, her inability to win a national election would get even more publicity than it already has. She would become toxic. As a real live candidate, her performance in the polls could end up making the 11 percent Republican support she's pulling in right now look impressive.

With these numbers, is there even a need to speculate about the Sept. 3 speech?
A normal politician wouldn't run under these circumstances. However, this is Palin we're talking about and, if nothing else, the past three years have demonstrated that her own ego is sufficiently large that it's possible that she doesn't really care if her candidacy tears the GOP apart or, if she somehow manages to in the nomination, that she'd guarantee a second term for Barack Obama by a margin that could be large enough to threaten GOP control of the House. So, who knows what she's going to do.
There's no denying the enthusiasm and loyalty that Palin generates among her supporters. It's identical to the fanatical and mindless adoration that is usually reserved for rock stars and Hollywood celebrities. Bizarrely, ot has even tranferred itself to her family to the point where Bristol Palin appearing on Dancing With The Stars was suddenly a political issue for some people. With supporters like that, it's not hard to see how she could win the GOP nomination. At the same time, though, there are few politicians as polarizing as Sarah Palin. Even a majority of her own supporters don't necessarily think she should be President. If she does walk out of the Republican National Convention in Tampa on the night of August 30, 2012 with the GOP nomination, she's likely to go down in flames along with such memorable names as Walter Mondale, George McGovern, and Alf Landon.