Imagining a Stolen 2024 Election
It's easy if you try.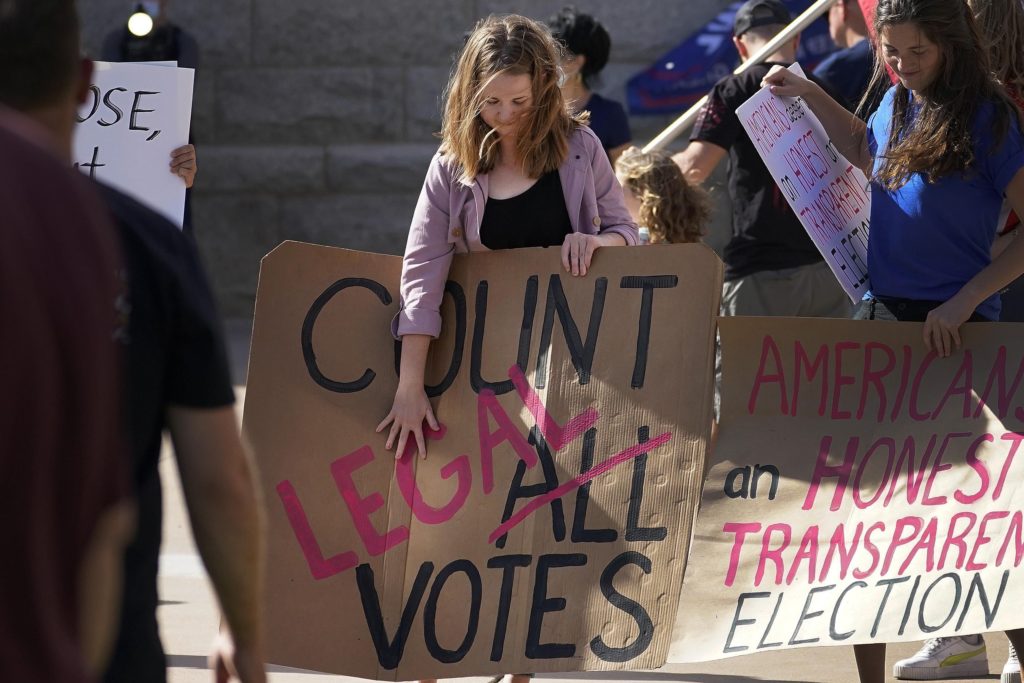 NYT On Politics editor Blake Hounshell takes a deep dive into a question we've been asking for quite some time: "It's 2024. Trump Backers Won't Certify the Election. What Next, Legally?" The premise:
It's a nightmare scenario for American democracy: The officials in charge of certifying an election refuse to do so, setting off a blizzard of litigation and possibly a constitutional crisis.
Rather obviously, this is quite plausible. After all, a Republican President tried to foment exactly that crisis less than two years ago. Thankfully, Republican election officials in every case did the right thing. Alas, they have been ostracized and in most cases ousted for doing so. The guardrails may now be gone.
In Arizona, Kari Lake, a charismatic former television anchor, and Mark Finchem, a state lawmaker, have a very good chance of becoming governor and secretary of state. Both are ardent supporters of Donald Trump and his false claims that the 2020 election was stolen.

On Friday, a group sponsored by Representative Liz Cheney, the vice chairwoman of the House committee investigating the Capitol assault, put $500,000 behind a television and digital ad that underscores the alarm some anti-Trump Republicans share about Lake and Finchem.

"If you care about the survival of our republic, we cannot give people power who will not honor elections," Cheney says in the ad. "We must have elected officials who honor that responsibility."

Another reason for the worries about Arizona in particular: Unlike in other states where Trump has promoted election-denying candidates, several of the politicians who pushed back on his calls to overturn the 2020 results will be gone.

Gov. Doug Ducey, a Republican who resisted Trump's efforts in 2020, is leaving office after his term is up, as is Attorney General Mark Brnovich, an ally in that opposition. Rusty Bowers, who as the Republican speaker of the State House stood with Ducey and Brnovich, lost his primary this year for a State Senate seat. And even Brnovich, who ran unsuccessfully for the U.S. Senate against another election denier, Blake Masters, has shifted his tone about the 2020 election.

"Ducey was a little bit of a moderating factor," said Marc Elias, the Democratic Party's leading election lawyer. But Ducey was also "willing to tolerate a lot of crazy," Elias added.

The governor is backing Lake, as is the Republican Governors Association, actions that Sarah Longwell, a Republican strategist whose group is spending at least $3 million in Arizona opposing Lake and Finchem, called "despicable." Longwell said that Lake was especially dangerous because of her ability to "talk normal to the normies and crazy to the crazies."
This is the frustrating, if understandable part: even the "good" Republican leadership who refused to go along with the Big Lie are nonetheless, with exceedingly rare exception, endorsing Republican candidates who are pushing it. Again, I fully understand why a conservative politician whose only hope for future office is within the Republican Party would refuse to back Democrats. But they're effectively undermining the democratic process in so doing.
The most worrisome scenario, several nonpartisan experts said, is that Finchem and Lake might refuse to fulfill the traditionally ceremonial act of "canvassing" the results of a presidential election under Arizona law, or that the governor could refuse to sign the required "certificate of ascertainment" that is then sent to Washington.

Elias's firm, which has grown to nearly 80 lawyers, would then have to decide whether to sue in state or federal court, or perhaps both, depending on which path was more relevant. But he acknowledged some uncertainty about how that litigation might play out.
Indeed. While I'm more confident than the average commenter here that the Roberts court would stop an obvious attempt to steal the election, there's always the matter of the absurd "independent state legislature theory."
One new factor in 2024 may be an overhauled Electoral Count Act, which is expected to pass Congress after the midterms. It would create a new panel of three federal judges who would rule on election-related lawsuits, with appeals going directly to the Supreme Court. Proponents say the new panel would allow disputes to be adjudicated more quickly.

"It's not actually all that easy to anoint the loser of an election the winner," cautioned David Becker, the director of the Center for Election Innovation and Research, a nonpartisan group.

"The one exception to that is the presidential election," Becker said, in which there's an opportunity for a "corrupt individual" to send a slate of electors to Washington that does not reflect the will of voters. If the national Electoral College results were close, a protracted dispute in Arizona could hamper Congress from rapidly determining the overall winner.
We haven't faced that sort of threat since the Reconstruction period but it's sadly plausible in the current environment.
But Becker said he was more worried about the prospect for political violence fueled by uncertainty than he was about the integrity of the legal system.
After the Capitol riots, that's not just conjecture. It seems almost inevitable that, if Republicans lose in 2024, there will be violence. And, frankly, I'm not sure that, if Republicans win the election but Democrats either win the popular vote or can even plausibly charge that voter suppression was the reason Republicans carried decisive states, there won't be violence.
Neither Lake nor Finchem responded to questions. Finchem has said he would certify the next election "as long as all lawful votes are counted and all votes cast are under the law," while failing to specify what he means by "lawful." Finchem has also said that he couldn't imagine President Biden winning.
Presuming he runs (which I do in fact presume) and remains reasonably healthy through Election Day (which seems likely) he's the odds-on favorite. Re-electing the President has been the default position in American politics for a very long time now.
Secretaries of state also have enormous power over elections, though it's county officials that actually run them.

To take just one recent example: Finchem and Lake both support a return to hand-counting ballots, which election experts say would introduce more errors and uncertainty into the process.

One rural Arizona county controlled by Republicans, Cochise County, initially planned to count every vote in the midterms by hand — only to back down when Katie Hobbs, the Democratic secretary of state who is running for governor against Lake, threatened to sue.

In neighboring Nevada, another G.O.P.-controlled county's plan to count ballots by hand is on hold after the State Supreme Court ruled the process illegal. The Republican secretary of state, Barbara Cegavske, then ordered the hand-counting process to "cease immediately." Her possible successor, the Trump-backed Jim Marchant, might have acted differently.
This has become the Republican position but was the Democratic position in the aftermath of the 2000 debacle in Florida. It's perfectly understandable that hand counting strikes people as more transparent—and that there is more trust in the existence of physical ballots, period—but Hounshell is right: it's a step backward in reality.
One of the Arizona secretary of state's chief tasks is assembling the elections procedures manual that, once approved by the governor and the attorney general, is distributed to county and local officials. Brnovich refused to accept the 2021 manual proposed by Hobbs, so the state has been using the 2019 edition.

The manual is limited to the confines of Arizona election law. But Finchem could tinker with the rules regarding the approval of voter registration, or ballot drop boxes, in ways that subtly favor Republicans, said Jim Barton, an election lawyer in Arizona. He could also adjust the certification procedure for presidential elections.

"You can imagine a lot of mischief with all the nitty-gritty stuff that nobody pays attention to," said Richard Hasen, an elections expert at the University of California, Los Angeles.
There's a lot of conjecture here but imagining a worst-case scenario is the point of the exercise.
Hounshell closes with the aforementioned legal theory:
The justices are expected to rule on a previously obscure legal theory called the independent state legislature doctrine. Conservatives argue that the Constitution granted state legislatures, rather than secretaries of state or courts, the full authority to determine how federal elections are carried out; liberals and many legal scholars say that's nonsense.

If the court adopts the most aggressive version of the legal theory, Persily noted, it could raise questions about the constitutionality of the Electoral Count Act, adding a new wrinkle of uncertainty.

"My hair is on fire" to an even greater degree than it was in 2020, said Hasen, who published a prescient book that year called "Election Meltdown."
Hasen has cried "Wolf!" many times at this point. But those familiar with the story know that having done so doesn't preclude there being a wolf this time.