Immigration And Crime: Facts Are Stubborn Things
The link between immigration and crime rates that many immigration opponents point to simply does not exist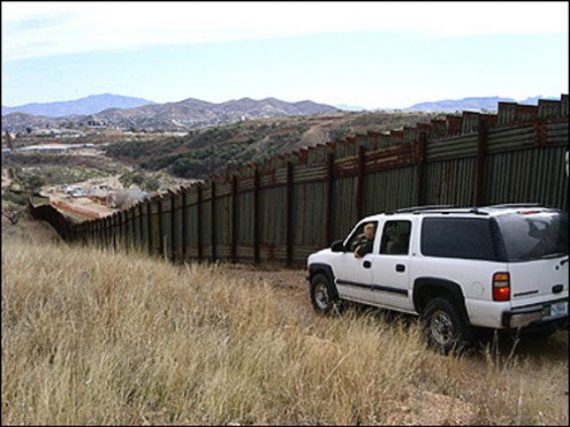 One of the most repeated claims by foes of illegal — and, in some cases, legal — immigration is that the U.S.-Mexico border region has seen an uptick in crime that is directly attributable to people crossing the border illegally. As Steven Taylor has shown in several recent posts here, that claim is not supported by the evidence. Today, Time Magazine reports that, the numbers simply don't support the claim that immigration has led to more crime:
When U.S. District Judge Susan Bolton ruled on Wednesday that key provisions of Arizona's new anti-immigration law were unconstitutional, she could have also declared them unnecessary. That is, if the main impetus behind the controversial legislation was, as Arizona Governor Jan Brewer said when she signed it in April, "border-related violence and crime due to illegal immigration." The fact is, despite the murderous mayhem raging across the border in Mexico, the U.S. side, from San Diego to Brownsville, Texas, is one of the nation's safest corridors.

According to the FBI, the four large U.S. cities (with populations of at least 500,000) with the lowest violent crime rates — San Diego, Phoenix and the Texas cities of El Paso and Austin — are all in border states. "The border is safer now than it's ever been," U.S. Customs and Border Protection spokesman Lloyd Easterling told the Associated Press last month. Even Larry Dever, the sheriff of Arizona's Cochise County, where the murder last March of a local rancher, believed to have been committed by an illegal immigrant, sparked calls for the law, conceded to the Arizona Republic recently that "we're not seeing the [violent crime] that's going on on the other side."

Consider Arizona itself — whose illegal-immigrant population is believed to be second only to California's. The state's overall crime rate dropped 12% last year; between 2004 and 2008 it plunged 23%. In the metro area of its largest city, Phoenix, violent crime — encompassing murder, rape, assault and robbery — fell by a third during the past decade and by 17% last year. The border city of Nogales, an area rife with illegal immigration and drug trafficking, hasn't logged a single murder in the past two years.
This isn't entirely surprising, of course. It's much easier for Mexican drug gangs to commit violence in their home country, where many public officials apparently look the other way in exchange for cash, than it is to cross the border and pull that off in the United States. The most telling example of that simple fact can be found in El Paso:
An even more telling example is El Paso. Its cross-border Mexican sister city, Ciudad Juárez, suffered almost 2,700 murders last year, most of them drug-related, making it possibly the world's most violent town. But El Paso, a stone's throw across the Rio Grande, had just one murder. A big reason, say U.S. law-enforcement officials, is that the Mexican drug cartels' bloody turf wars generally end at the border and don't follow the drugs into the U.S. Another, says El Paso County Sheriff Richard Wiles, is that "the Mexican cartels know that if they try to commit that kind of violence here, they'll get shut down."
Even the claim that Phoenix has become a kidnapping capital doesn't hold up:
It is true that Phoenix has in recent years seen a spate of kidnapping
s. But in almost every case they've involved drug traffickers targeting other narcos for payment shakedowns, and the 318 abductions reported last year were actually down 11% from 2008.
None of this has stopped politicians from using crime to demagouge the immigration issue, of course. Most famously perhaps, is Arizona Governor Jan Brewer's claims about crime in Arizona:
Arizona GOP Gov. Jan Brewer claimed recently that law enforcement has been finding beheaded bodies in the desert — but local agencies say they've never encountered such a case.

"Our law enforcement agencies have found bodies in the desert either buried or just lying out there that have been beheaded," Brewer said Sunday, suggesting that the beheadings were part of increased violence along the border.

But medical examiners from six of Arizona's counties — four of which border Mexico — tell the Arizona Guardian that they've never encountered an immigration-related crime in which the victim's head was cut off.

"That report, which is based on other news reports, suggests that the drug cartels who operate on both sides of the U.S./Mexico border, have not beheaded their victims," said Brewer spokesman Paul Senseman. "Even a cursory check of news stories on the internet suggests otherwise."
Brewer has also claimed that most of the people crossing the border into Arizona are drug mules, a claim which is not supported by the available facts and which was widely derided by other immigration opponents in Arizona and elsewhere.
As John Adams once famously said, facts are stubborn things. In this case, the facts clearly show that immigration has not turned our southern border region into a criminal nightmare.