A Return to AZ Crime Levels
Let's revisit the question of crime levels in Arizona.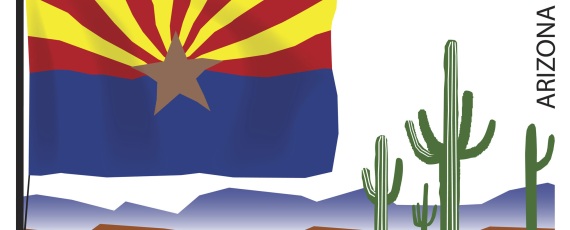 One of the gripes leveled at me in my last post on this topic was along the lines of "you don't live in Arizona, so you can't know what you are talking about" (e.g., here and here).  Setting aside the difficulties to be associated with limiting the ability of persons to have opinions about a place to those residing in said place, let's address this complaint by looking to people in Arizona, since that is what some people seem to want.
Along those lines let me note the following from the Arizona Republic (Violence is not up on Arizona border despite Mexican drug war) which is not only a newspaper in the Grand Canyon State, but quotes people who live there—even better it quotes Arizona law enforcement officials, i.e., persons actually in Arizona with actual specialized knowledge of the situation (yes, I am employing a smidge of Saturday snark).
[Nogales] Assistant Police Chief Roy Bermudez shakes his head and smiles when he hears politicians and pundits declaring that Mexican cartel violence is overrunning his Arizona border town.

[…]

In Yuma, police spokesman Sgt. Clint Norred said he cannot recall any significant cartel violence in the past several years. Departmental crime records show the amount of bloodshed has remained stable despite a substantial population increase.

[…]

Clarence Dupnik, the sheriff of Pima County, said there always has been crime associated with smuggling in southern Arizona, but today's rhetoric does not seem to jibe with reality.

"This is a media-created event," Dupnik said. "I hear politicians on TV saying the border has gotten worse. Well, the fact of the matter is that the border has never been more secure."

Even Cochise County Sheriff Larry Dever, among the most strident critics of federal enforcement, concedes that notions of cartel mayhem are exaggerated. "We're not seeing the multiple killings, beheadings and shootouts that are going on on the other side," he said.
The best one can get for the massive crime thesis:
Tucson Police Chief Roberto Villasenor said his town suffers from home invasions and kidnappings involving marijuana smugglers who are undoubtedly tied to Mexican organizations. However, he added, most of those committing the rip-offs are American citizens.
Emphases mine.
Indeed, the following is worth noting as most of this hysteria is linked primarily to one case:
Since the murder of Cochise County rancher Robert Krentz by a suspected illegal immigrant in March, politicians and the national press have fanned a perception that the border is inundated with bloodshed and that it's escalating.
A rather important fact about this case, however:
according to the Border Patrol, Krentz is the only American murdered by a suspected illegal immigrant in at least a decade within the agency's Tucson sector, the busiest smuggling route among the Border Patrol's nine coverage regions along the U.S.-Mexican border.
Thus, as tragic an event as this was, it is hardly evidence of the massive wave of illegal immigrant-fueled crime and violence that Governor Brewer and Senator McCain (amongst others) are making.
And yes, there was also the murder of a Pinal County deputy sheriff that was linked to a drug trafficker.  Again, tragic, but not a crime wave, either.
Yet we have the Governor of the state claiming that there are beheadings taking place in the state as a result of illegal immigration with no evidence to support the claims.  See:  the Politico (Brewer's beheading claim questioned).
Arizona GOP Gov. Jan Brewer claimed recently that law enforcement has been finding beheaded bodies in the desert — but local agencies say they've never encountered such a case.

"Our law enforcement agencies have found bodies in the desert either buried or just lying out there that have been beheaded," Brewer said Sunday, suggesting that the beheadings were part of increased violence along the border.

But medical examiners from six of Arizona's counties — four of which border Mexico — tell the Arizona Guardian that they've never encountered an immigration-related crime in which the victim's head was cut off.
I have noted before Brewer's predilection for creative exaggeration (to be kind) on this general subject before:   Radically Misdiagnosing the Problem (Jan Brewer and Illegal Immigration).
Regardless of one's opinion about illegal immigration and the proper policy responses thereto, it is unclear to me why people would tolerate being lied to.  This is all about pandering to fears (and increasing them) for electoral gain, not about understanding and solving a problem.  It also takes a serious problem and ultimately undercuts it by ignoring reality and focusing on a fantasy.  Indeed, these pronouncements by Brewer, McCain, et al. indicate either a disconnection from reality or purposeful prevarication for political purposes.  Neither is what one should want from one's elected officials.
One of the odder aspects of the claims being made by Brewer and McCain in regards to violent crime in the state is that is can't be good for tourism.
All of this is really about perception, rather than reality.  As I noted the comments in the above-linked post:
The thing about this discussion is that people forget that perception is fueled by the media-what we see on TV, what we hear people (including politicians) talk about affects what we think is true. It has oft been observed that people frequently think that crime is on the rise because the nightly news heavily covers crime. However, crime has been on the decline in the US for decades-but it is frequently difficult to convince people of that fact.

Or, another example: several summer ago there were several high profile child abductions-this let to a widespread belief that child abductions were on the rise (yet, they were not, in fact, I think in that year they were below average). Another summer it was shark attacks.
This pattern appears to be replicating itself with the AZ crime issue.  The shark angle was also noted, I saw this morning, by John Cole:  The Mexican Shark.
Cole also notes the following from WaPo's Dana Milbank:  Headless bodies and other immigration tall tales in Arizona.
To be clear:  the fact that Arizona isn't experiencing a massive violent crime wave is not an excuse not to address the problems associated with illegal immigration, border security, and drug trafficking.  However, it strikes me as always preferable to make public policy based on actual facts rather than to make them based on an alternative reality.  If one wants an obvious example of this dictum, I would point one to the Iraq war and the weapons of mass destruction chimera.