Indiana Could Be The Last Stand For The 'Stop Trump' Movement
Donald Trump seems poised for another solid victory in Indiana tomorrow, while the effort to stop him from winning a majority of delegates looks to be running out of options.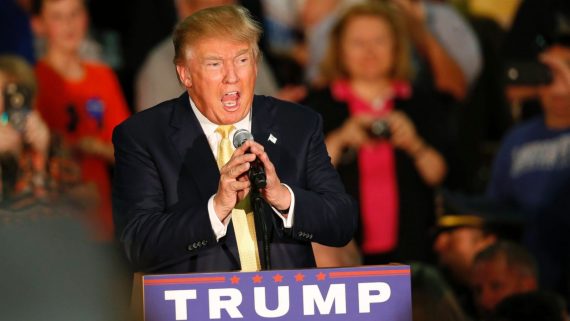 With under twenty-four hours left until polls open, it looks like Donald Trump is headed for a solid victory in the Hoosier State, and that the effort of establishment and mainline conservative Republicans to stop him will suffer yet another defeat:
Donald J. Trump is leading Senator Ted Cruz of Texas by double digits in Indiana, according to a new NBC News/Wall Street Journal/Marist poll, an ominous sign for Mr. Cruz going into the crucial primary there on Tuesday.

A loss in Indiana would represent a near-fatal blow to Mr. Cruz's campaign and would significantly increase pressure on him to withdraw from the race.

The new poll, released Sunday, shows Mr. Trump taking 49 percent of the vote to 34 percent for Mr. Cruz. Gov. John Kasich of Ohio, who has not been campaigning in the state by agreement with Mr. Cruz, receives 13 percent.

If Mr. Trump carries Indiana, which awards its 57 delegates to the statewide winner and to the winner of each congressional district, he will be far better positioned to clinch the Republican nomination on June 7, the last day of primary contests.

Mr. Cruz has mounted an all-out fight in Indiana — convincing Mr. Kasich to withdraw from competing there, naming Carly Fiorina as his would-be running mate at a rally in Indianapolis and criss-crossing the state.

But on Saturday he gave up a full day of Indiana politicking to appear at California's state Republican convention with Ms. Fiorina. There, he declared that "California is going to decide this Republican primary."

Candidates wooing local party activists often make such pronouncements, but Mr. Cruz's trouble in Indiana — which is also reflected in private polls conducted by his campaign, according to Republicans briefed on those surveys — suggests that the remark may represent something more significant: a new rationale to remain in the race after Indiana.

Mr. Cruz's polls show he is not trailing Mr. Trump in Indiana as badly as he was right after dropping five more states late last month, but his supporters are increasingly skeptical about their prospects in Indiana.

Mr. Trump said on "Fox News Sunday" that if he wins in Indiana, the Republican race will be effectively over.

"Cruz cannot win, he's got no highway, he's got nothing, he's way behind," Mr. Trump said.
This result mirrors a series of polls that have come out over the past ten days or so, all of which with the exception of one have shown Donald Trump in the lead. That one exception, from a previously unknown polling firm, showed Texas Senator Ted Cruz leading by fifteen points, but it now appears that this was an outlier and that Indiana is very much a state where Trump is favored to continue the winning streak that began two weeks ago in New York. Now,as we head into the final month of the primary campaign, RealClearPolitics shows Trump leading in the Hoosier State by an average of 7.8 points. The results at Pollster are roughly the same.  If that number holds up, then Trump will be well situated to win the most sizable chunk of the state's  57 delegates and, most likely, getting to within 200 delegates of the 1.237 that he needs to get to a first ballot majority. Indeed, David Wassermann speculates that, due to both Trump's lead in the polls in the Hoosier State, and that Ted Cruz's support appears to be concentrated in one or two Congressional Districts, means that Trump stands to win as many as 50 of the state's 57 delegates.
If that happens, then Trump would seem to be all but officially assured of clinching the nomination, although it would take until the final day of the campaign for it happen. Looking ahead after Indiana, Trump will likely do very well in California and New Jersey, both of which he leads in the polls at the current moment. Between them, these two states have more than 220 delegates at stake. While it's unlikely that Trump will win all of these delegates because of the way delegates are allocated by Congressional District winner, he stands likely to garner a sizable majority from both states and that, along with the delegates he's likely to pick up in the remaining states, should be enough to put him over the top, or at least get him close enough to 1,237 that convincing a handful of uncommitted voters to support him shouldn't be very hard at all. The other factor is that a Trump victory tomorrow is likely to be seen as a significant shift in the race by many in the GOP and the calls to unite around the seemingly inevitable nominee will increase. This is likely to take a lot wind out of the sails of the "Stop Trump" movement, which has been floundering since Wisconsin in any case. All of this means, of course, is that the time for Republicans to decide if they will support Trump merely because he won the GOP nomination is fast approaching. Many people have said they will never support the real estate magnate, but the time is coming when they'll have to follow through on that. How many will actually do so? I have no idea, but it will be an interesting process to watch.