Inside The Trump Implosion
Things aren't pretty inside the House of Trump these days.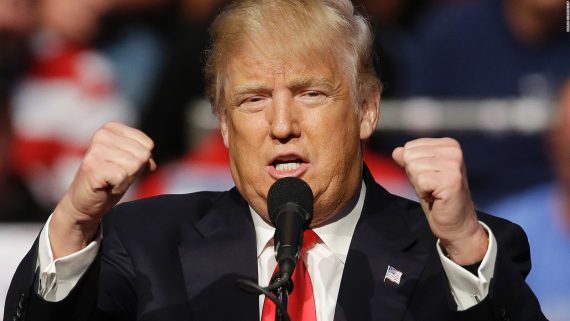 The New York Times Alexander Burns and Maggie Haberman have today's must-read in the form of a behind the scenes look at what appears for all the world to be a floundering Trump campaign:
Donald J. Trump was in a state of shock: He had just fired his campaign manager and was watching the man discuss his dismissal at length on CNN. The rattled candidate's advisers and family seized the moment for an intervention.

Joined by his daughter Ivanka and her husband, Jared Kushner, a cluster of Mr. Trump's confidants pleaded with him to make that day — June 20 — a turning point.

He would have to stick to a teleprompter and end his freestyle digressions and insults, like his repeated attacks on a Hispanic federal judge. Paul Manafort, Mr. Trump's campaign chairman, and Gov. Chris Christie of New Jersey argued that Mr. Trump had an effective message, if only he would deliver it. For now, the campaign's polling showed, too many voters described him in two words: "unqualified" and "racist."

Mr. Trump bowed to his team's entreaties, according to four people with detailed knowledge of the meeting, who described it on the condition of anonymity. It was time, he agreed, to get on track.

Nearly two months later, the effort to save Mr. Trump from himself has plainly failed. He has repeatedly signaled to his advisers and allies his willingness to change and adapt, but has grown only more volatile and prone to provocation since then, clashing with a Gold Star family, making comments that have been seen as inciting violence and linking his political opponents to terrorism.

Advisers who once hoped a Pygmalion-like transformation would refashion a crudely effective political showman into a plausible American president now increasingly concede that Mr. Trump may be beyond coaching. He has ignored their pleas and counsel as his poll numbers have dropped, boasting to friends about the size of his crowds and maintaining that he can read surveys better than the professionals.

In private, Mr. Trump's mood is often sullen and erratic, his associates say. He veers from barking at members of his staff to grumbling about how he was better off following his own instincts during the primaries and suggesting he should not have heeded their calls for change.

He broods about his souring relationship with the news media, calling Mr. Manafort several times a day to talk about specific stories. Occasionally, Mr. Trump blows off steam in bursts of boyish exuberance: At the end of a fund-raiser on Long Island last week, he playfully buzzed the crowd twice with his helicopter.

But in interviews with more than 20 Republicans who are close to Mr. Trump or in communication with his campaign, many of whom insisted on anonymity to avoid clashing with him, they described their nominee as exhausted, frustrated and still bewildered by fine points of the political process and why his incendiary approach seems to be sputtering.

He is routinely preoccupied with perceived slights, for example raging to aides after Senator Marco Rubio of Florida, in his re-election announcement, said he would stand up to the next president regardless of party. In a visit to Capitol Hill in early July, Mr. Trump bickered with two Republican senators who had not endorsed him; he needled Representative Peter T. King of New York for having taken donations from him over the years only to criticize him on television now.

(…)

Sitting with Mr. Rove in the Manhattan apartment of a mutual friend, the casino magnate Steve Wynn, Mr. Trump said he would compete in states like Oregon, which has not voted Republican since Ronald Reagan's 1984 landslide. Mr. Rove later told people he believed Mr. Trump was confused and scared in anticipation of the general election, according to people who have heard Mr. Rove's account.

A few weeks later, when Gov. Chris Christie of New Jersey brokered a meeting at Trump Tower between Mr. Trump and governors from around the country, Mr. Trump offered a desultory performance, bragging about his poll numbers, listening passively as the governors talked about their states and then sending them on their way.

Mr. Trump never asked them for their support, three people briefed on the meeting said.
More at the link, where the authors paint a picture that sounds strikingly similar to historical descriptions of Richard Nixon's last days in office when the President surrounded himself with supporters and yes men who did little but reinforce his own paranoia and belief in the correctness of his actions. Also, keep this article in mind the next time you hear that the Trump campaign is telling reporters that we're going to see a "more disciplined" Donald Trump. Clearly, such a thing is basically impossible at this point. Instead, we're likely to see a repeating pattern of outrageous statements and efforts to reset the campaign that will ultimately prove to be fruitless when Trump once again goes off on his own. With Trump's apparent refusal to follow anyone's advice, including advice from his family members and close associates, it's clear that he's not going to change, and that means we're in for another three months of Trump saying outrageous things, retreating after his campaign once again tries to right the ship, and then reemerging to say something else entirely outrageous. I have to assume that it's quite frustrating for the campaign professionals that have signed on to Trump's campaign since he clinched the nomination. After all, there have been numerous opportunities over the past two months alone during which the campaign could have build a message around a message, whether it's the economy, or Clinton's untrustworthiness, or the state of the world that President Obama and  former Secretary of State Clinton have left us with, but they are unable to do so because their candidate quite simply won't change.
The more interesting thing about the article, of course, is what it reveals about Trump himself. As long suspected, this is a person who is not apt to listen to the advice of others, even when they clearly know more about a given subject than he does. Instead he is more inclined to trust his own instincts even when they are woefully misinformed and quite obviously destined to lead to disastrous results, This is hardly what we need or want in a President of the United States and should be sufficient to disqualify him in and of itself. On a daily basis, Presidents are called upon to deal with situations that they clearly aren't going to be the primary experts on. That's why they have Cabinet members and advisers around them to assist them in making important decisions. A President who isn't willing to listen to advice isn't likely to be a very good President at all, and may well be a considerably dangerous one. At least for the moment, the voters seem to be recognizing that fact.