Iowa And New Hampshire Less Important Than They Used To Be? Not Really
As much as I wish it were otherwise, Iowa and New Hampshire are not losing their influence over the Presidential primary process.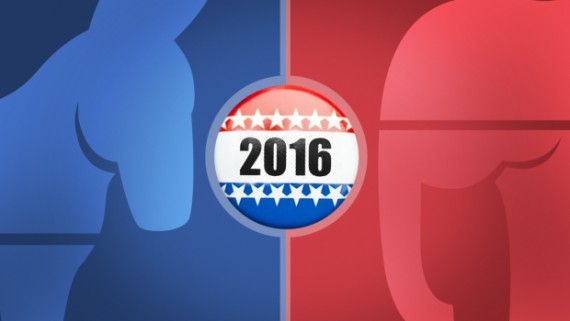 Taegan Goddard posits that the size of the Republican field this year, which hit at least sixteen before the first debate, as well as changes in the way candidates reach voters could mark the beginning of the end of Iowa and New Hampshire as the traditional winnowers of the Presidential field:
The presidential race is a marathon. But without victories early on, few candidates have had the resources to compete until the end. That's why so many candidates drop out after a poor showing in the Iowa caucuses, as both Joe Biden and Chris Dodd did in 2008. Without the springboard of an early-state success, long-term victory becomes all but hopeless.

That might be changing. Indeed, it looks like Iowa and New Hampshire might be supplanted this year. The new presidential power brokers? Fox News and, to a lesser extent, the other television networks.

With at least 14 Republicans officially running for president, and at least two more on the way, Fox News has a plan to limit participation in the first GOP debate, scheduled for August 6. Only the top 10 candidates in an average of the national polls will be allowed to participate. You could be a U.S. senator or governor of a major state, but if you don't make the cut you don't get a podium on the stage.

This winnowing of the GOP presidential field — which is normally handled by the Iowa caucuses and New Hampshire primary — is instead being done by television and national polls instead.

As a result, the candidates are already dramatically changing their strategies to run a national primary campaign so that they do well in the national polls that will decide their debate fate. Instead of visiting Iowa diners and holding New Hampshire town hall meetings, the candidates are making sure they get on national television. For Republicans, this means Fox News.

(…)

Allowing states like Iowa and New Hampshire an outsized role in determining the presidential candidates was never ideal. Both states are unrepresentative of the nation as a whole. But the system did allow a glimpse into how the White House hopefuls handled themselves in intimate campaign settings with real voters.

That's no longer possible if the presidential campaign is waged primarily in television studios and in closed-door fundraising events with wealthy donors.
I am right there with Goddard when it comes to criticizing the absurdly outsized importance that Iowa and New Hampshire play in the Presidential nomination process for both parties. As has been noted innumerable times before, neither one of these states can be said in any way to be representative of the national electorate for either party, and certainly not representative of the electorate that typically shows up for a General Election in a Presidential year. The situation is made even more absurd by the fact that Iowa chooses to conduct caucuses rather than a primary, which as I've noted before leads to far less voter participation, disenfranchises people who can't be in the state on the day of the caucuses, and generally leads to victories by candidates who appeal to a narrow ideological base or a home state/neighboring state sentiment. New Hampshire, with its open primaries, is somewhat better than Iowa in this respect, but still has historically had far more influence on the nomination than is justified by its size or its similarity to the demographics of the nation. Ideally, these two states would not have the influence they do over the process and primaries would be scheduled in some sort of regional format that would allow for a wider group of voters to have a say in candidate selection early in the process. For many reasons, though, not the least of them being that scheduling primaries is something that remains firmly in control of state parties and state legislatures, that's not likely to happen any time soon.
But what of Goddard's hypothesis, is it really true that Iowa and New Hampshire are losing the influence that they once had when it comes to determining who the candidates that "live" and "die" early in the process are? The short answer is that it's undeniable that the process has changed and that national news coverage plays a far bigger role in primary fights than it used to, but the early primaries are still the first real test in front of voters, and that matters for something.
Goddard is right in his observation that, at least this early in the process, the Republican candidates are more concerned with their standing in national polls than they are with the vicissitudes of Iowa and New Hampshire. This year, that's largely the case because the field of candidates is larger than the available spots in the first round of Presidential debates which start one month from today. At least in the short term, the candidates who manage to get into the top ten in the national polls over the next three weeks or so will be the ones who get the expanded coverage that will come with appearing in debates on Fox News Channel and CNN next month. Apparently, there will be some kind of "consolation" round for the candidate who don't make the cut at CNN, but the odds are that whatever program that is will not get nearly the viewership or the coverage of the debate itself. For many of these candidate, failure to make these early debates or those that follow will likely be quite damaging to their campaigns. I suspect that in the months between August 2015 and February 2016 when voting actually starts, we will several of these candidates drop out, and others simply fade away into irrelevance.
This really isn't anything new, though. We saw much the same thing in during the 2012 cycle when the period from August 2011 to the beginning of the voting in January 2012 saw Tim Pawlenty, Herman Cain, and Gary Johnson all drop out of the GOP race before a single vote was cast. So, there was a winnowing before Iowa then, and there will be another, probably bigger, winnowing before Iowa this time. Just as in 2012, though, that doesn't mean that the results in Iowa and New Hampshire, as well as South Carolina, Nevada, and Florida, aren't going to cause the field to shrink even further. In 2012, the results in Iowa and New Hampshire caused Michele Bachmann, Rick Perry, and John Huntsman to all drop out of the race because disappointing performances, leaving a contest between Mitt Romney and a erstwhile challengers Rick Santorum and Newt Gingrich. This time, we're likely to come out the first two states with more candidates still "viable" than four years ago, but there will still likely be a winnowing. If candidates like Chris Christie, John Kaisch, George Pataki, Rick Perry, Cary Fiorna, and Ben Carson, for example, don't break out in either of those states then it's hard to see how they can maintain a credible campaign. Donors will start to look for candidates who actually seem to have a shot at winning the nomination, reporters will be paying less attention to people who are the bottom of the polls, and voters will barely be considering them in deciding who to vote for in the primaries that follow the first big four contests. Some candidates may hold out longer than others, but in the end after February we're likely to see the Republican race reduced to a handful of viable candidates, probably no more than four out of the current sixteen.
As much as I would like to say that Iowa and New Hampshire are becoming irrelevant, reality says otherwise.