Irene Lived Up to the Hype: Nate Silver
The very question is rather dubious.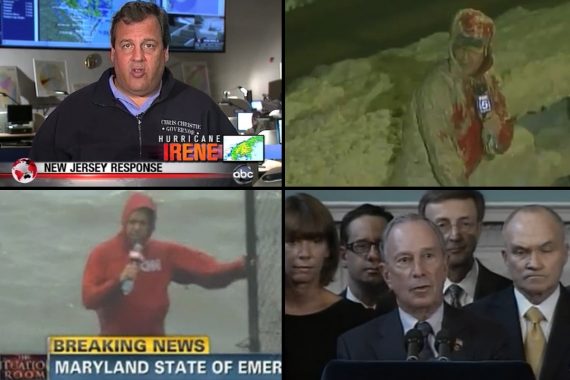 NYT stats guy Nate Silver offers lots of charts and graphs pushing back against the notion that Hurricane Irene was overhyped.
Do hurricanes receive too much media coverage? Are they more or less newsworthy than airplane crashes? The avian flu? The iPhone 5? Shark attacks? The Dominique Strauss-Kahn case? The Libyan civil war? The royal wedding? Global warming? Anthony Weiner? The Dallas Cowboys?

I don't know. What's easier to evaluate is how much coverage Hurricane Irene received in comparison with other hurricanes. By that standard, the coverage was quite proportionate to the amount of death and destruction that the storm caused.

It's easy enough to conduct a series of searches on NewsLibrary.com in order to determine how much press coverage past Atlantic hurricanes have received. The only tricky part is that the further you go back in time, the fewer sources the database has available, so we'll have to adjust for this.

We'll accomplish this by creating a statistic which I'll call the News Unit (or NU). This is defined by taking the total number of stories that mentioned the storm by name (for instance, "Hurricane Hugo" or "Tropical Storm Hugo"; either one is considered acceptable) and dividing by the average number of stories per day that were available in the NewsLibrary.com database during that period. I then multiply the result by 10 just to make things a little bit more legible — so essentially, a News Unit consists of one-tenth of all the stories published on a given day.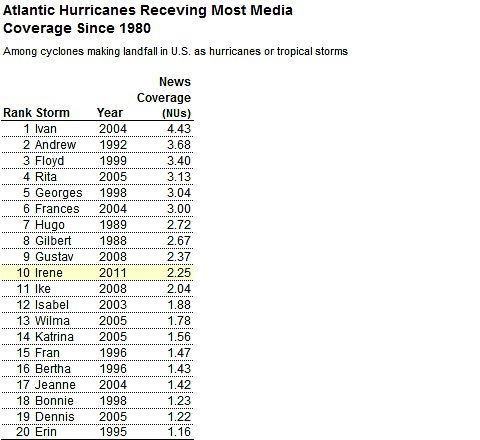 I'm incredibly skeptical of Silver's numbers here, even though I can't offer better ones.
While there's no discernible pattern from the above list, it seems obvious to me that there's simply way more news out there because of the Internet and the proliferation of cable channels. So, I'm skeptical that a percentage of overall news coverage is the right way to look at this. I'd much prefer more static metrics: column inches on the front pages of the major newspapers, hours of CNN's telecast devoted, programs pre-empted by the Big 3 networks, and the like.
Additionally, there's just no way in hell that Katrina was only the 14th-most-covered hurricane since 1980. Any methodology that says so is hopelessly flawed. As Silver notes in other charts, Katrina not only accounts for "about 70 percent of all United States hurricane fatalities since 1980," it simply dwarfs all other hurricanes on the chart combined in terms of fatalities. There's simply been nothing like it in terms of coverage.
Further, I'm not sure how useful these sorts of comparisons are. Maybe hurricane coverage is generally overhyped; if so, being middle of the pack isn't indication of not being overhyped.
Regardless, the very question is rather dubious.
Yes, it's true that natural disaster reporting–indeed, severe weather reporting in general–is something of a joke. It's hyper-dramatic, amateurish, and prone to tired tropes. It's essentially reality TV and tinged with the sense that the anchors are actually hoping for catastrophe to keep people tuned in.
Beyond that, though, there's a pretty harsh set of realities.
I noted yesterday morning the no-win politics of natural disasters, where politicians have to make hard calls impacting people's lives and livelihoods with too little information. It's far better to be too aggressive in evacuating and closing down government services and being second-guessed than it is to be blase and get a lot of people killed.
A lot of the "Irene is overhyped" meme got started in my neck of the woods, Washington DC and its environs. Howard Kurtz  in particular banged that drum. After a couple days of dire warnings, we were fortunate to get off pretty light. For all practical purposes, Irene was just a really heavy rainstorm in my area. We had some power outages and fallen trees, but we get that all the time.
By Sunday morning, Irene was downgraded to a mere tropical storm and people in my area lost interest. But it turns out that there has been massive flooding in New York and New Jersey and the death toll has climbed to 24. Granting that we don't know how many people would have been killed absent the storm (presumably, some number of people who would have gotten killed in highway accidents instead stayed home watching storm coverage) that's a pretty severe weather event. Calling something that killed two dozen people and cost billions in property damage "overhyped" is insensitive, to say the least.