No-Win Politics of Natural Disasters
Hurricane Irene has been much, much less severe than heralded.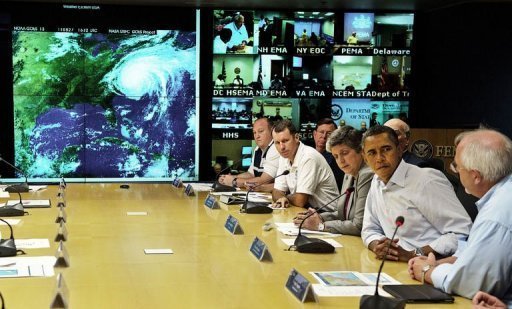 One hesitates to make light of a natural disaster that has thus far killed 10 people, left more than a million without power and phone service, and has yet to play out. Yet, it's fair to say that Hurricane Irene has been much, much less severe than heralded. The evacuations in New York and New Jersey, in particular, look silly given that it looks to be not much more than a late summer thunderstorm.
We can make fun of the Weather Channel, which has pimped this as "the storm of a lifetime for many of you" when there have been perhaps a dozen worse storms in the last twenty years. And the coverage on both CNN and Fox News yesterday became unbearable after a few minutes. We don't need live coverage of idiot "reporters" standing around outside waiting for a hurricane to hit; we need facts about where the storm is, where it's likely to go, and what the most recent projections are. Natural disaster porn is apparently riveting television for some, even if the incentives point to hype rather than sober reporting.
There's simply no winning for politicians.
President Obama acquitted himself nicely, keeping it low key but cutting his vacation short and hanging out at the National Response Coordination Center to appear in charge. He learned the lessons of Katrina quite well and did his damnedest to appear to be in command and concerned. There wasn't a hell of a lot he could do, of course, but looking concerned while not projecting panic goes a long way.
Governors and mayors have to make decisions about evacuation in time to actually affect an evacuation safely. The safe course is to take the worst projections, add 50 percent, and act accordingly. Nine times out of ten, though, people will be pissed that they were forced to evacuate unnecessarily. The other time, though, countless lives will be saved.