Is A Three-Term Congresswoman Who's Never Sponsored A Law Ready For The White House?
The odds of history are against Michele Bachmann.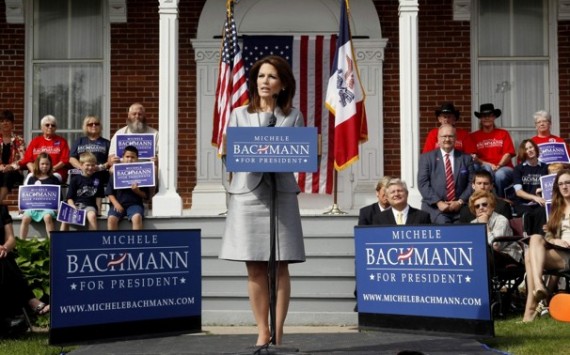 Politico's John Brenahan and Jake Sherman take a look at Michele Bachmann's legislative record in the four years she's been representing the 6th District of Minnesota and find it to be pretty thin:
Rep. Michele Bachmann is surging in the GOP presidential polls and barnstorming Iowa, New Hampshire and South Carolina, but as she sprints toward the front of the Republican pack, there's a major hole in her political résumé: legislation.

Now in her third House term, Bachmann has never had a bill or resolution she's sponsored signed into law, and she's never wielded a committee gavel, either at the full or subcommittee level. Bachmann's amendments and bills have rarely been considered by any committee, even with the House under GOP control. In a chamber that rewards substantive policy work and insider maneuvering, Bachmann has shunned the inside game, choosing to be more of a bomb thrower than a legislator.

But will the lack of substantive accomplishments in Congress hurt Bachmann? Not necessarily, the Minnesota Republican's supporters argue.

Bachmann advocates say her constant attacks on President Barack Obama, her fights to block legislation and her ability to articulate on the House floor — and on television — what grass-roots conservatives believe in is far more important to GOP primary voters than how many bills she got passed.

"I think she's had a profound effect on debate," said Rep. Louie Gohmert (R-Texas). "It doesn't mean you always win. In fact, as we know, [Winston] Churchill lost and lost and was a voice of reason in Great Britain for a long time before people finally realized he was right."
I'm not sure how reliable an endorsement from Louis "Terror Babies" Gohmert actually is, but even leaving that aside, the Winston Churchill analogy doesn't quite fit either. In addition to being a Member of Parliament, Churchill also served as First Lord of the Admiralty during World War One, and the beginning months of World War Two. Comparing him to someone who's been in Congress for 41 months is, quite simply, absurd.
Some will point out, no doubt, that President Obama had a rather thin legislative record in the Senate before running for the White House, and that's true. There's a difference between running for President from the Senate, and running for President from the House of Representatives. For one thing, in 45 Presidential elections, we've elected three Senators directly from the Senate to the White House (Harding, Kennedy, and Obama). At the same time, we've elected exactly one sitting member of the House of Representatives to the Presidency, James Garfield, who also happened to have had a distinguished Civil War record with the Union Army. (Other than Garfield, only Madison and Lincoln had served only in the House before becoming Presidency, but not immediately before) Since that time, the odds have been decidedly against members of the Lower House who may have their eyes on 1600 Pennsylvania Avenue:
A Smart Politics review of Democratic and Republican primary elections and convention balloting since 1912 finds that more than 30 presidential nomination campaigns have been launched by sitting members of the U.S. House.

None of these campaigns resulted in a ticket to the White House or even their party's nomination
In other words, not only was Garfield the only sitting Congressman to be elected President in American history, he was also the last one to receive his party's nomination for President, and that was way back in 1880.
Bachmann is also bucking the odds of history in that she has less legislative experience than almost any other member of the House who has run for President:
Of the 33 candidacies for the presidency launched over the last 100 years, only two had shorter stints in the House at the time of their campaign than Bachmann.

Both of these ran in 1972.

Democrat Walter Fauntroy was in the first term as Delegate from the District of Columbia when he ran a "symbolic" campaign – only appearing on the D.C. primary ballot to focus attention on issues affecting blacks and D.C. home rule.

Two-term Democratic New York U.S. Representative Shirley Chisholm set sail on a more ambitious course for her Democratic nomination bid in 1972 – carrying three states and winning several hundred thousands of primary votes.

Also running in the 1972 race was a congressman who equalled Bachmann in House experience at three terms: Ohio Republican Pete McCloskey failed in his upset bid to defeat President Richard Nixon for the GOP nomination.
Of course, Fauntry, Chisolm, and McCloskey were all long shot candidates in their respective parties. Bachmann appears, at least at the beginning, to be in a much better position according to the polls. Nonetheless, history seems to suggest that the odds are against her.