Is San Francisco's Gentrification Such a Bad Thing?
The city by the Bay is rapidly transforming. Should we lament that?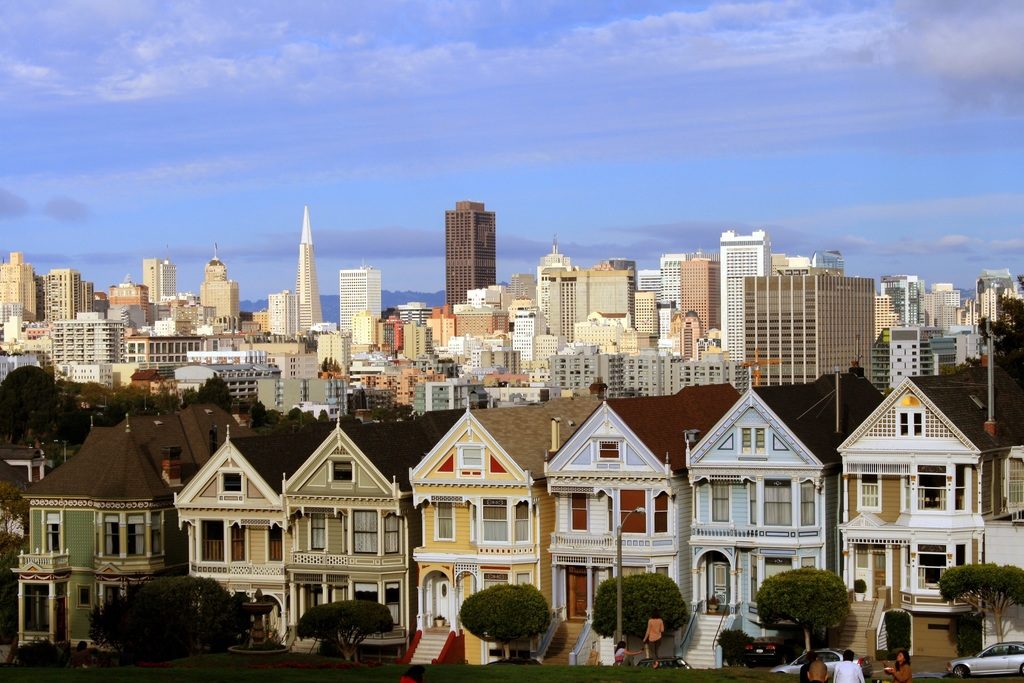 Karen Heller chronicles "How San Francisco broke America's heart," a development I must admit to having missed. The tale is in some ways familiar, albeit on a grand scale.
After a long anecdote to set us up, we get to the meat:
For decades, this coruscating city of hills, bordered by water on three sides, was a beloved haven for reinvention, a refuge for immigrants, bohemians, artists and outcasts. It was the great American romantic city, the Paris of the West.


No longer. In a time of scarce consensus, everyone agrees that something has rotted in San Francisco.


Conservatives have long loathed it as the axis of liberal politics and political correctness, but now progressives are carping, too. They mourn it for what has been lost, a city that long welcomed everyone and has been altered by an earthquake of wealth. It is a place that people disparage constantly, especially residents.

Real estate is the nation's costliest. Listings read like typos, a median $1.6 million for a single-family home and $3,700 monthly rent for a one-bedroom apartment.


"This is unregulated capitalism, unbridled capitalism, capitalism run amok. There are no guardrails," says Salesforce founder and chairman Marc Benioff, a fourth-generation San Franciscan who in a TV interview branded his city "a train wreck."


You no longer leave your heart in San Francisco. The city breaks it.
The nature of extremely attractive places to live is that the demand for things, most notably scarce land, exceeds the supply, thus driving up prices. It's exceedingly expensive to live in Manhattan, Boston, DC, Los Angeles, and other great American cities. Ditto Paris, London, and Tokyo. And this is especially true in the more desirable neighborhoods.
So, what's the problem?
The city is filthy rich in what other regions crave: growth, start-ups, high-paying jobs, educated young people, soaring property values, commercial and residential construction, a vibrant street life, and so much disposable revenue. ButSan Francisco, a city of 883,305 residents, 100,000 more than two decades ago, is the Patient Zero of issues affecting urban areas. The sole constant is its staggering beauty.

Downtown is a theme park of seismic start-ups — Uber, Airbnb, Slack and Lyft, with Twitter in the nearby Tenderloin, every app a skyscraper.
That . . . doesn't sound like a problem.
In the shadow of such wealth, San Francisco grapples with a very visible homeless crisis of 7,500 residents, some shooting up in the parks and defecating on the sidewalks, which a 2018 United Nations report deemed "a violation of multiple human rights." Last year, new Mayor London Breed assigned a five-person crew, dubbed the "poop patrol," to clean streets and alleys of human feces.
Okay, that's a problem. Eww.
The small downtown's streets are choked with Google and Apple employee buses, and 45,000 daily Uber and Lyft drivers, some commuting from hours away and unfamiliar with the city. By comparison, there are 25,000 ride-sharing drivers in Philadelphia, a much larger and more populous city.


There's an ongoing battle between the NIMBYs and YIMBYs over development in one of the nation's densest cities. Tech companies here are the beneficiaries of gilded carrots, tax breaks. Longtime residents worry that tech workers are drawn here for the jobs, not the city, and may never become stakeholders in San Francisco's future.


"Our rich are richer. Our homeless are more desperate. Our hipsters are more pretentious," says Solnit, who once wrote that "San Francisco is now a cruel place and a divided one."
For the most part, this is a good problem to have. And, again, I can't think of a large city whose traffic infrastructure can keep up with demand. Even cities famous for their great subway systems, like London and New York, are nightmares to drive in. DC and its suburbs have rush hours that last three and four hours.
Obviously, an increasing homeless population is a problem. Presumably, taxing those who benefit from the growth that's creating the displacement is part of the solution.
And, unless the people who come to the city for tech jobs are planning to work there for a short time and then move back to whence they came, they're naturally going to become invested in the community. The community is the people who live there.
The Bay Area is home to more billionaires per capita than anywhere on Earth, one out of every 11,600 residents, according to Vox. The entire region, as far as two hours away, has been affected by spiraling real estate prices. Venture capitalist John Doerr has claimed that the area's economic growth is "the greatest legal accumulation of wealth in history."

And it's only likely to keep growing. Several San Francisco tech companies, such as Slack and Postmates, are scheduled to go public this year — Uber did on May 10. This IPO fever could mint thousands more messenger bag-toting millionaires and, denizens fear, more absurd prices.


"The city is losing the very things that people moved to the city for," Beatts says. "People think that the best thing to happen is to get a lot of people to move here. But what happens when you get everything you want?"
One is reminded of the old Yogi Bera line, "Nobody goes there anymore. It's too crowded."
Obviously, this is bad for longtime residents. For them, it's almost all downside—more traffic, higher taxes, higher prices, and so forth. But, almost by definition, this growth represents people living and working in a place they prefer to wherever they were living and working before.
And, indeed, the chief lament seems to be over what has been lost to those who've been there awhile:
Tech isn't what everyone talks about in San Francisco. It's money.
Real estate, income inequality, $20 salads, the homeless, adult children unable to move out, non-tech workers unable to move in.


San Francisco has experienced plenty of change through its rich history: the Gold Rush, corruption, earthquakes, fire, reconstruction, strikes, multiple waves of immigration, the rise of gay culture, the Summer of Love, the dot-com bubble and the dot-com bust.

What residents resent now is the shift to one industry, a monoculture.
"What I wanted was this flow of humanity and culture," says editor and former nonprofit executive Julie Levak-Madding, who manages the VanishingSF page on Facebook, documenting the "hyper-gentrifiction" of her city. "It's so devastating to a huge amount of the population."


To many inhabitants, San Francisco has become unrecognizable in a decade, as though it had gone on a cosmetic surgery bender.


"I can't tell you the number of friends who tell me how much they hate San Francisco," says former city supervisor Jane Kim. Which is something given that she ran for mayor in the 2018 special election. (Kim came in third.) "They say it's too homogenous."

Too homogeneous. Too expensive. Too tech. Too millennial. Too white. Too elite. Too bro.

To take a midday tour downtown is to be enveloped by a jeaned and athleisured army of young workers, mostly white and Asian, and predominantly male. The presence of a boomer or toddler is akin to spotting an endangered species.


San Francisco has less of what makes a city dynamic. It has the lowest percentage of children, 13.4 percent, of any major American city, and is home to about as many dogs as humans under the age of 18.


The city was once a center of black culture, and Breed is its first black woman mayor. But the African American population has withered to 5.5 percent compared to 13.4 percent a half century ago. Director Joe Talbot's "The Last Black Man in San Francisco," a Sundance winner scheduled to open in June, is an elegy to earlier times and a tribute to his long friendship with the film's star and co-writer, Jimmie Fails.

"You're constantly trying to justify why you stay. There's this blanket of anxiety and frustration that lives on top of everything," says Talbot, a white fifth-generation San Franciscan. "You're heartbroken because it's changed so much and so quickly. This nostalgia is baked into everything, of missing what was here."


The city has become less eccentric, less of a home to artists and musicians, because they can't afford studios or practice spaces — if they can find them. How will the city create its next Grateful Dead or generation of beat writers?
The city has produced exactly one Grateful Dead and one generation of beat writers. The former launched more than fifty years ago. The latter, more than sixty. And it's not obvious that either were more valuable than Silicon Valley.
Still, it's not obvious that the art and music scene has to disappear because there's a lot of tech money. Or even bros. The Bay area has produced a lot of bands over the years and there's no indication that it's stopping.
As a Southerner with conservative instincts, I'm quite sympathetic to the desire to preserve the culture of a place and the resistance to too much change, too fast. Still, change is inevitable and it certainly appears that much good has come with the bad in this case.
Additionally, the population growth of the city itself has been modest and steady:
Historical population
Year
Pop.
±% p.a.
1848
1,000
—
1849
25,000
+2400.00%
1852
34,776
+11.63%
1860
56,802
+6.33%
1870
149,473
+10.16%
1880
233,959
+4.58%
1890
298,997
+2.48%
1900
342,782
+1.38%
1910
416,912
+1.98%
1920
506,676
+1.97%
1930
634,394
+2.27%
1940
634,536
+0.00%
1950
775,357
+2.02%
1960
740,316
−0.46%
1970
715,674
−0.34%
1980
678,974
−0.53%
1990
723,959
+0.64%
2000
776,733
+0.71%
2010
805,235
+0.36%
2016
870,887
+1.31%
Indeed, we see from the data that the city was in decline from the 1950 Census until a slow rebound by the 1990 Census. So, the tech boom would seem to have saved the city in the process of killing it and breaking our collective hearts.
The lament that gentrification is bad for poor residents, particularly the elderly, blacks, and Hispanics is a common and reasonable one. In this case, the displacement seems not to be coming from an influx of whites but rather of Asians:
According to the 2015 census estimates, the ethnic makeup of San Francisco was:

-White: 47.2% (non-Hispanic: 41%)
-Asian: 34.3%
-African Americans: 5.3%
-Native Americans: 0.4%
-Pacific Islanders: 0.4%
-Other: 6.6%
-Two or more: 5.1%
-Hispanic or Latino of any race: 15.3%

The Chinese population of San Francisco represents the single largest ethnic minority group with 21.4% of the population. Other major Asian groups include: Filipinos (4.5%), Vietnamese (1.6%), Japanese (1.3%), Asian Indians (1.2%), Koreans (1.2%), Thais (0.3%), Burmese (0.2%) and Cambodians (0.2%).

Those of Chinese ancestry are concentrated mostly in Chinatown, Sunset District, and Richmond district. Filipinos are concentrated heavily in Crocker-Amazon and SoMa, and the city has one of the largest Filipino communities outside of the Philippines.


San Francisco's age distribution shows that 13.4% of its population is under 18, 9.6% are 18 to 24, 37.5% are 25 to 44, 25.9% are 45 to 64 and 13.6% are 65 or older. The average age is 38.5 years, and San Francisco has a smaller percentage of children than any other major metropolitan area in the United States.


Interestingly, native-born Californians make up a relatively small percentage of San Francisco's population, as only 37.7% of its people were born in the state, while 25.2% were born in another state in the country. Over one-third of San Francisco's population were born outside the country.
Again, I understand why native San Franciscans would feel displaced by this rapid change. But it's hard to argue that this wildly diverse demographic makeup somehow constitutes homogeneity.
The data isn't sufficiently granular to identify toddlers and Boomers but we have nearly equal parts—roughly 13.5% each—under 18 and over 64. That seems quite healthy to me.