Is She In? Is She Out? Reading The Sarah Palin Tea Leaves
Once again, Sarah Palin has made herself the center of attention in the political world.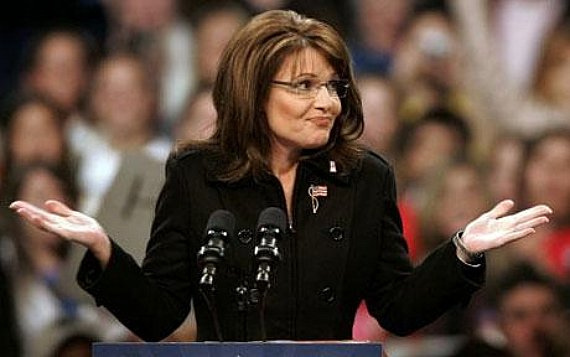 She's going to be the subject of a two hour theatrical film. She's going on a multi-city tour. She's beefed up her advisers. And, now, she's bought a home in Arizona. She's the last major holdout among prospective Republican candidates for President. Everyone is wondering, once again, what Sarah Palin is planning:
Taken together, the moves are at odds with conventional wisdom — if not wishful thinking — among establishment Republicans in Washington that Ms. Palin has decided not to run. That thinking has been voiced increasingly as the party's professional political class, which Ms. Palin has railed against, has sought to declare the field of candidates closed.

Ms. Palin would undoubtedly be able to raise substantial campaign financing and attract constant media attention if she ran. But she is a divisive figure in the party, and would have to overcome what polls have consistently suggested is skepticism and even opposition to her among some fellow Republicans.

Still, supporters of Ms. Palin say that her constituency beyond the Beltway remains eager, and aides and associates have said she is receptive to their calls of "Run, Sarah, run."

"All indications are that she will be in — her supporters have an intuition about it," said Jeff Jorgensen, chairman of the Republican Party of Pottawattamie County, Iowa, where Ms. Palin came in second in a straw poll last week. "People are looking for somebody, a Ronald Reagan reincarnate, who does not seem to be out there yet."
If she did enter, she'd most assuredly have advantages over most of her competitors because of her enthusiastic supporters within the GOP:
The former governor's team expects to have one advantage that other prospective 2012 candidates do not—due to her stature in the party, they don't believe they have to operate by the same rules as the other campaigns. Those who would make up team Palin are counting on a flood of small dollar donations if she enters the race and believe her strong core of support and near-universal name identification keeps them from having to take part in the early stages of the long slog toward Iowa.
She could decide to wait to enter until later this summer, for example, just before the Ames Straw Poll in Iowa perhaps, where she could theoretically pull off a victory based just on her star power alone. Or, she could simply choose to refuse to engage her opponents until absolutely necessary, a practice which would certainly be consistent with her two year long strategy of restricting herself to the unquestioning arms of Facebook, Twitter, and Fox News Channel.
So, is this the real thing, or is Sarah teasing everyone again, as she's done so well in the past? Chris Cillizza isn't convinced this is anything new:
[A]nalyzing anything that Palin does through a "politics only" lens has proven to be decidedly problematic over the past three-plus years.

The reality is that Palin is as much celebrity as she is politician — call her a "celebritician" — and only by evaluating everything she does in that light is there a possibility of properly understanding the motivations and goals of her actions.

Viewed that way, the Palin movie is not a radical departure but rather entirely consistent with her transformation from small-state politician to worldwide celebrity.

(…)

Reading too much political calculation into anything Palin does is a fool's errand. The movie could be setting up a presidential bid. Or not.

The only way we will ever know what Palin is truly plotting politically for 2012 is when she decides to make that decision public. And, she's set no deadline to do that as of today.

So, we wait — and read the tea leaves. Even though we know it's futile
Which is probably exactly what Palin wants. And yet, Palin is too big of a political force in the GOP to simply ignore, whether she runs or not. She's got a large base of enthusiastic supporters. She is running second in the newest poll of the GOP field. Call her silly, call her vapid, point out that she cannot win a General Election. They may all be true, but any serious political pundit who thinks they can ignore Sarah Palin is fooling themselves.
Nonetheless, the fact remains, that the GOP would be absolutely idiotic to nominate her in 2012 unless it just wants to hand the White House back to Barack Obama and prepare for 2016:
Sarah Palin can't be underestimated; she could still grab the nomination since no one else has taken off. A lot would depend on whether, a year from now, Republicans see President Obama as ripe for the picking. If Obama can be beaten, then the G.O.P. may turn a bit cautious and try to choose someone who can capture swing voters. That isn't Ms. Palin's profile. In trial heats she fairly consistently loses to President Obama by the widest margin of all the better known G.O.P. candidates.

Yet if the economy is much better and the president looks to be romping to a second term, Republicans may just go with their hearts and not their heads. They've done it before, with Barry Goldwater in 1964. The G.O.P. was wild about Goldwater, who garnered 38 percent and lost to President Lyndon Johnson in one of the biggest landslides in history
If you doubt this analysis, I leave you with two piece of evidence. The first is the fact that Palin's unfavorable rating has grown ever since the day she was first introduced to the public, and his now higher than it has ever been: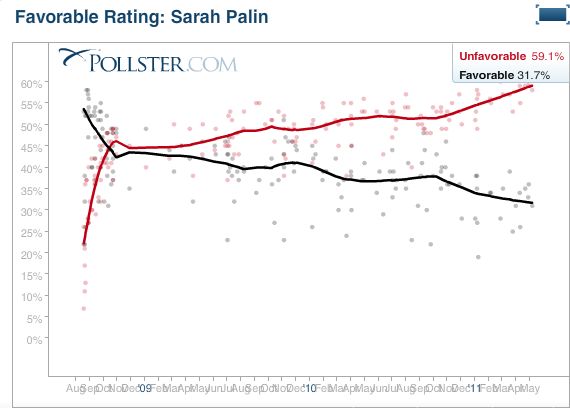 The second, is the fact that she is losing to Barack Obama in head-to-head matchups by double digits: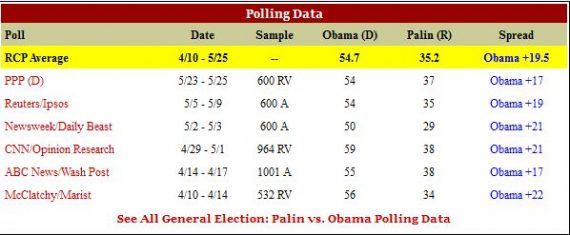 If I were a Republican concerned with grabbing the White House, or the Senate,  I'd look at those charts, and the news of Palin's latest moves, with a growing sense of dread.
Update: Another possible tea leaf to read comes from Fox News, which said today that there are no plans to change Palin's status with the network:
Fox News Channel said Thursday that Sarah Palin will remain on air as a paid contributor, despite renewed speculation over whether she will run for president.

Palin's political action committee announced she was launching a week-long bus tour Memorial Day weekend, beginning in Washington and heading to sites of historical significance on the East Coast.

The return to public appearances comes as she prepares to debut a flattering movie about her career next month in Iowa, and reports said she was buying a house in Arizona.

Asked by CNN if there was any change in Palin's role or if there was discussion of a deadline for a decision by Palin, Fox News Executive Vice President of Programming Bill Shine said in a statement, "We are not changing Sarah Palin's status."
In the past, Fox has suspended the contracts of Newt Gingrich and Rick Santorum, and sent Mike Huckabee hints that he needed to make his mind up, due to the speculation regarding their Presidential ambitions.