Sarah Palin Movie: The Undefeated
Sarah Palin has commissioned a film to bolster her reputation. This is very intriguing on a number of levels.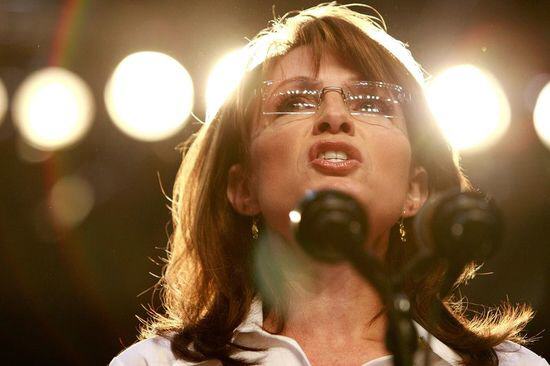 Sarah Palin has commissioned a film to bolster her reputation.
RealClearPolitics ("Palin's Secret Weapon: New Film to Premiere in June"):
Shortly after Republicans swept last November to a historic victory in which Sarah Palin was credited with playing a central role, the former Alaska governor pulled aside her close aide, Rebecca Mansour, to discuss a hush-hush assignment: Reach out to conservative filmmaker Stephen K. Bannon with a request. Ask him if he would make a series of videos extolling Palin's governorship and laying to rest lingering questions about her controversial decision to resign from office with a year-and-a-half left in her first term. It was this abdication, Palin knew, that had made her damaged goods in the eyes of some Republicans who once were eager to get behind her potential 2012 presidential campaign.

The response was more positive than Palin could have hoped for. He'd make a feature-length movie, Bannon told Mansour, and he insisted upon taking complete control and financing it himself — to the tune of $1 million.

The fruits of that initial conversation are now complete. The result is a two-hour-long, sweeping epic, a rough cut of which Bannon screened privately for Sarah and Todd Palin last Wednesday in Arizona, where Alaska's most famous couple has been rumored to have purchased a new home. When it premieres in Iowa next month, the film is poised to serve as a galvanizing prelude to Palin's prospective presidential campaign — an unconventional reintroduction to the nation that she and her political team have spent months eagerly anticipating, even as Beltway Republicans have largely concluded that she won't run.

Bannon, a former naval officer and ex-Goldman Sachs banker, sees his documentary as the first step in Palin's effort to rebuild her image in the eyes of voters who may have soured on her, yet might reconsider if old caricatures begin to fade. The film will also appeal to staunch Palin supporters who have long celebrated her biting rhetoric and conservative populism yet know little about her record in Alaska and have perhaps written her off as presidential material.

[…]

Bannon originally titled his film "Take a Stand," which was the campaign slogan for Palin's 2006 gubernatorial run when she defeated incumbent Republican Frank Murkowski in the primary before cruising in the general election to become Alaska's youngest — and first female — chief executive. But in order to give it a more triumphant punch, the filmmaker changed the title to "The Undefeated."

Bannon acquired the audio rights to Palin's 2009 bestseller, "Going Rogue," and the former vice-presidential nominee's voice guides the film through the various stages of her career in Alaska.

[…]

Rife with religious metaphor and unmistakable allusions to Palin as a Joan of Arc-like figure, "The Undefeated" echoes Palin's "Going Rogue" in its tidy division of the world between the heroes who are on her side and the villains who seek to thwart her at every turn.

To convey Bannon's view of the pathology behind Palin-hatred, the film begins with a fast-paced sequence of clips showing some of the prominent celebrities who have used sexist, derogatory and generally vicious language to describe her. Rosie O'Donnell, Matt Damon, Bill Maher, David Letterman, and Howard Stern all have brief cameos before comedian Louis C.K. goes off on a particularly ugly anti-Palin riff.
Much, much more discussion and commentary at the link.
This is very intriguing on a number of levels. First, it serves to reignite speculation, which many of us have long dismissed, that she's actually going to run for president rather than simply keeping the notion alive to boost her career as a celebrity. Second, the stealth behind the project is an odd combination of cunning and creepy. Third, the selling of a politician as a religious cult figure strikes me as odd; then again, some thought the Obama campaign had more than a tinge of that.
I'm also a bit amused by the title, "The Undefeated." First, of course, she lost in her most prominent campaign, that for the vice presidency. I happen to think no Republican would have won in 2008 and that her impact on the race was mixed; but it's still odd to proclaim yourself undefeated after a major loss. Second, it's also the name of a pretty good John Wayne-Rock Hudson picture from 1969. The plot involved a Confederate colonel who takes his band of soldiers down to Mexico after Lee's surrender to fight with Emperor Maximillian. Presumably, the title was ironic, in that they lost twice.