Is The Gun Debate Over?
Conor Friedersdorf contends "The U.S. Already Had a Conversation About Guns---and the Pro Side Won."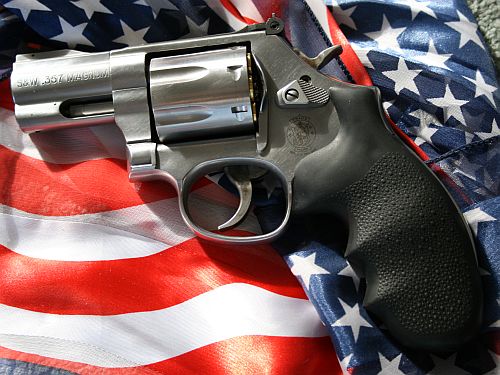 Conor Friedersdorf pushes back against those arguing that we need a national conversation about guns in the wake of the Sandy Hook massacre with "The U.S. Already Had a Conversation About Guns—and the Pro Side Won."
Shortly before the Newtown shooting, The Atlantic published an article by my colleague Jeffrey Goldberg on gun policy. He argued that the U.S. should tighten regulations to ensure that everyone who buys a gun is subject to a background check; ban high-capacity weapons that have "no reasonable civilian purpose;" and encourage lots more trained, vetted, law-abiding civilians to carry guns in public so that would-be mass murderers face resistance.

He isn't alone in having added to America's conversation about guns in the pages of this magazine. In September 2011, Adam Winkler suggested that Americans are often ignorant of the true history of guns in this country, noting (among other things) that the Founding Fathers "instituted gun laws so intrusive that, were they running for office today, the NRA would not endorse them." Few Americans even owned guns before the Civil War, Richard Slotkin wrote in November 2000, asking, "What happened?"

[…]

Daniel D. Polsby warned in 1994 that focusing on guns diverted our attention from the roots of our crime problem. Erik Larson pronounced that the United States was suffering from "a gun crisis" in a 1993 article tracing the history of a semi-automatic handgun used in a shooting at a suburban school. And Dorothy Weil satirized Second Amendment activism in 1977. In addition to those print articles, The Atlantic has published numerous web items about gun control in recent years that include perspectives on both sides of the issue. In the last several days we've produced all mannerof analysis and opinion on the subject.

Although I am less familiar with archival articles from other magazines, I recall reading countless articles about gun violence over the years, watching TV programs that raised the issue, debating gun control in high school, college, and graduate school, helping The San Bernardino Sun to cover the subject after a stray bullet hit a young child, and seeing numerous bloggers weigh in on municipal firearms policies. In media and academia, I have seen calls for stricter gun control far more often than arguments for loosening restrictions on gun ownership, though I've seen the latter sort of piece with some frequency too. In short, gun control is a perennial controversy, the sort of controversial issue that Gallup tracks on an annual basis.

So what has been the result of decades of sustained public debate?

"Americans' support for stricter gun control laws has gradually declined over the last two decades, from 78% when this question was first asked in 1990 to 49% in 2008, and 44% in 2009 and again this year," Gallup reported in 2010 survey results.
Nor is it simply a matter that the NRA is out-lobbying everyone else on the issue. It's a matter of culture. He notes "the revealed preference that almost half of Americans own at least one gun" and argues,
There isn't anything wrong with gun-control advocates lamenting what, by their lights, is a public that's reaching wrongheaded conclusions on the subject and is trending in the wrong direction.

But too many pieces I've read make a mockery of robust debate in a pluralistic society by ignoring the fact that current policy is largely (though not entirely) a reflection of the U.S. public disagreeing with gun reformers. The average American is far more likely than the average journalist or academic to identify with gun culture, to insist that the Second Amendment confers an individual right to bear arms, to exercise that right, and to support various state concealed-carry laws. Perhaps persuasion can move the citizenry to favor a different status quo. That's always a hurdle to clear in a democracy. Yet the ability to engage and persuade fellow citizens is undermined when public discourse obscures rather than confronts the relevant disagreements.
This is quite right. Pretending that we haven't been talking about guns since time immemorial or that gun crimes don't get enough attention is rather silly.
But, of course, the fact that the public has a strongly held issue on a matter that has been the subject of an intense national debate for decades doesn't mean that the shock of horrific events like this one doesn't provide an opening for changing people's minds.
There are all manner of topics where deeply embedded cultural beliefs have changed drastically just within my memory. As recently at the early 1980s, the notion that married women with children should pursue careers outside the home on an equal footing with their husbands was wildly controversial; it's now the norm. As recently as the late 1990s, the notion that gays should serve openly in the military was dismissed as absurd; it's now not only the law but nobody in the barracks much cares. As recently as five years ago, the notion that two men should be allowed to marry one another was widely considered not only morally outrageous but a threat to the very institution of marriage; it now happens every day with little fanfare.
New evidence about the fallibility of our criminal justice system and a wider understanding of the inequities along racial and socioeconomic lines has sharply reduced support for capital punishment, a human institution going back to biblical days. A couple of decades from now, we'll probably look back on it in the way we do slavery.
Will we ban the right of law-abiding Americans to own rifles, shotguns, and revolvers to their heart's content? I can't imagine we will. As Friedersdorf notes, gun ownership is so widespread as to make abolition unthinkable. And there is that pesky 2nd Amendment. But it's quite possible that we'll ultimately see a ban on assault rifle and large magazines; require registration, training, and licensing; impose various technological safety requirements; and otherwise make it slightly harder for people to good on a shooting spree on a whim or shoot themselves and innocent others accidentally.
Will any of this stop hardened criminal? No. As Dave Shuler notes,
There are already over 200 million guns in the United States. Any reasonably good machine shop can produce a high capacity magazine and banning them would merely produce a lively black market. Just as with alcohol and now drugs, anyone who really wanted them could get their hands on them.
But the point here isn't to put a dent into organized crime but to put a speed bump in the way of opportunistic or accidental shootings. Would any of the measures that could conceivably pass in the wake of Sandy Hook actually have prevented Sandy Hook? Probably not. But they may well save other innocent lives at a negligible cost to human liberty.
Interestingly, the harder debate to have isn't about guns but about our mental health policies.  While I fully support keeping psychopaths away from guns, it would be easier to keep psychopaths away from the rest of us. The system we had for institutionalizing the mentally ill a few decades back was draconian and shameful; but the pendulum has swung too far in the other direction, making it next to impossible to get dangerous people off the streets before the damage is done.