ISIS Threatening To Open A New Front In Lebanon
Is ISIS about to make the situation in the Levant even worse?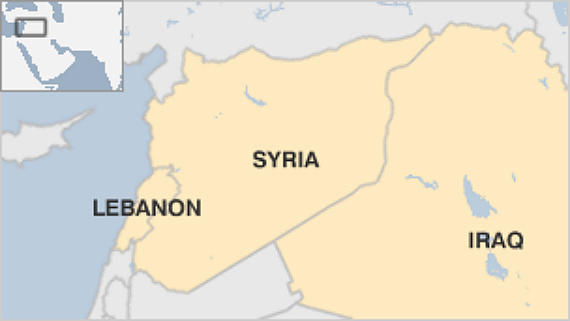 The Daily Beast's Jamie Dittmer passes along the news that, while it continues to press its offensive in Iraq and fight against the government of Bashar Assad in Syria, ISIS may be eyeing opening up a third front in the Middle East:
Irish bombers used to have a grim mantra they would throw in the face of British authorities when one of their attacks didn't go according to plan. "You have to be lucky all the time; we only have to be lucky once." At the weekend the jihadist planners of a weekend bombing in Lebanon may have been muttering darkly to themselves something similar as they seek to open up fully a third front in their war in the Levant.

Lebanon escaped a big hit on Sunday night because a suicide bomber had a mechanical problem with his car and instead of arriving at his intended target in the Shia-dominated southern suburbs triggered his device prematurely near a Lebanese army checkpoint at one of the area's main entrances. A Lebanese soldier was killed and more than 20 civilians were injured. Most of them were at café watching World Cup soccer when the explosion erupted.

It could have been much worse. Lebanese security forces say the bomber's target was a bigger one right in the heart of the southern suburbs, the Beirut homeland of Hezbollah, the militant Lebanese Shia movement.

The signs are that in the coming weeks al Qaeda offshoot the Islamic State of Iraq and al-Sham (ISIS) will be following through in Lebanon in a bid to sow not only more mayhem and confusion in the Levant but in an effort to put pressure on the Lebanese militant Shia movement Hezbollah to start withdrawing some forces from neighboring Syria, where they have been a key factor in helping President Bashar al-Assad turn the tide of battle against rebels seeking to oust him.

"Spillover" is the description most reporters use for the episodic violence in Lebanon – from cross-border rocket jousting between Hezbollah and Syrian rebels to more than a dozen car bombings that have rocked Lebanon in the past two years. But the three countries are not separate saucepans – they are one boiling cauldron.

ISIS began as a group in Mosul in Iraq within al Qaeda in Mesopotamia only to regroup along the Syria-Iraq border into a bigger organization with more grandiose ambitions that stretch all the way to Lebanon.  And the jihadists are turning the heat up not only in Iraq, where they are leading a Sunni insurgency that has taken a huge swath of territory in the north and west of the country, but in Lebanon, too.

The ISIS insurgency in Iraq is already affecting the war in Syria—and may start reshaping the more clandestine struggle in Lebanon.

(…)

[F]or ISIS and Sunni militants there is now every reason to increase the pressure in Lebanon on Iran-backed Hezbollah. And the signs are that they are.

A bombing spate in Lebanon last year started to tail off in the winter. Lebanese security officials put that down to their increased vigilance and better policing. But it may have had more to do with the strategic priorities of ISIS and the official al Qaeda affiliate Jabhat al-Nusra as well as a successful offensive by Hezbollah and Syrian government forces in the mountainous Al-Qalamoun—a rugged region that runs from the rural outskirts of the Syrian capital to the Lebanese border.

Hezbollah officials and Lebanese security sources say the cars in some of the bomb attacks were rigged with explosives in the Al-Qalamoun town of Yabrud and driven into Lebanon through the Lebanese border town of Arsal. That route was interdicted with the retaking of Yabrud by the Syrian army this winter – to the relief of Hezbollah, which was suffering acute political embarrassment as a result of a string of suicide blasts in its own backyard of Beirut's southern suburbs.

ISIS, Jabhat al-Nusra and the Abdullah Azzam Brigades claimed responsibility for the bombings.

But now there is an uptick in jihadist activity and the Lebanese are alarmed. The speaker of the country's dysfunctional parliament, Nabih Berri, sees a connection with the Iraq crisis. "The security situation is dangerous in light of what is happening in Iraq," he said Tuesday.
To some degree, of course, the idea of the Syrian Civil War spilling over in the Lebanon is nothing new. Ever since that war began three years ago and Iran and its client Hezbollah went all-in in support of the Assad regime, there have been reports of retaliatory violence against Hezbollah and Shia Muslims in Lebanon. The difference is that, for the most part, it has taken the form of one-off attack in the nature of terrorism rather than any kind of sustained campaign against a terrorist army that has effectively become a state within a state in Lebanon. I noted some of those reports in a post last year.  For the most part, though the fighting stayed within Syria and the attacks that occurred in Lebanon were what best can be described as pinpricks. An Iraq-style offensive by ISIS in Lebanon, even if it mainly took the form of increased terror bombings of Hezbollah population centers, would be something entirely different. Lebanon spent a quarter century in war before some kind of political truce was finally imposed, but those 25 years showed starkly how brutal and pervasive war in that nation can become and, more importantly, how likely it is that such a conflict can bring in outside forces. Twice within a 25 year period, Israel launched a war in Lebanon that ended up being brutal and deadly on both sides, and which didn't really seem to accomplish anything other than inflame resentments in the nation already filled with flaming resentment. And, of course, attacks on Hezbollah would no doubt raise the interest of Iran.  If ISIS were to attempt in Lebanon what they are doing in Iraq, it would be the equivalent of pouring gasoline on a pile of dry wood and then throwing a lit match on it.
Lebanon, obviously, is neither Iraq not Syria, of course, and there's no guarantee that ISIS will be able to exploit the situation there in the same way that they have been able to do in those other two countries. Moreover, most estimates put ISIS's actual fighting forces at somewhere in the range of 11,000 people in Iraq and Syria, with perhaps 15,000 performing tasks not directly related to combat. (Source) Even taking into account the military equipment and money that they have captured in Iraq and Syria, it seems unlikely that they would be able to mount anything serious in Lebanon without recruiting additional support and, of course, they would not be able to divert resources from either Iraq or Syria without facing potential setbacks in those countries. Running a two front guerrilla war is, no doubt, a monumental logistical task. Running a three front guerrilla war would seem to be next to impossible. That being said, it would seem unwise to dismiss a threat like this if only because of the threat that ISIS would be able to do enough in Lebanon to destabilize that nation as it has done in Iraq. At that point, I'm not sure that the United States or anyone else would be able to afford to ignore what's happening in the Levant. What we would realistically be able to do in such as situation is, of course, another question.
H/T: Vodkapundit