Israel Seems Headed Toward An Invasion Of Gaza
The conflict between Israel and Hamas appears to be heading in one unfortunate direction.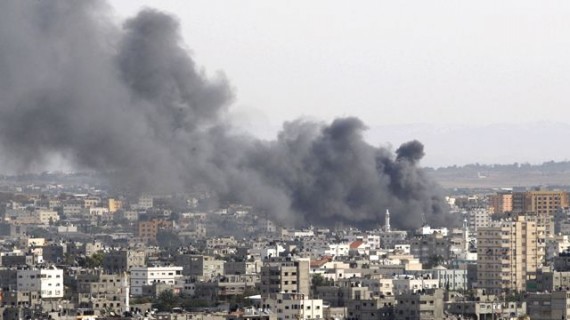 All of the signs in Israel and Gaza point toward increased escalation that seems destined to lead to some kind of ground invasion of Gaza:
Near the Israel-Gaza border (CNN) – Israel hammered the headquarters of the Hamas-run government in Gaza and rockets soared from Gaza toward Israel, including one that was blocked by a missile defense system as it headed straight to Tel Aviv.

Air raid sirens screamed in Tel Aviv, and Hamas' military wing claimed responsibility for shelling the city. But the Israel Defense Forces said its Iron Dome missile defense system blocked a Tel Aviv-bound rocket.

This comes after Israeli warplanes Saturday leveled the Palestinian Cabinet headquarters where a day earlier Egyptian Prime Minister Hesham Kandil met with Hamas officials, according to Hamas TV.

The strikes targeted the office of Prime Minister Ismail Haniyeh, the Hamas Ministry of the Interior, a police compound and a Hamas training facility, according to a statement released by the IDF.

The conflict took a grim turn after when rockets fell on Jerusalem, Israel's seat of power.

As Palestinian fighters and Israeli soldiers traded fire, Israeli troops and tanks massed near the border of the besieged Palestinian territory Saturday, raising the specter of an imminent ground invasion.

Convoys carrying tens of thousands of Israeli soldiers rolled toward the Gaza border Saturday, part of what the IDF described as 30,000 troops that were being mobilized along the Israeli-Gaza border.

The Israeli government has authorized the call up of 75,000 reservists, the latest move in Israel's days-old military campaign to stop daily rocket attacks from Gaza.

"We are in the process of expanding the campaign," Brig. Gen. Yoav Mordechai, an Israel Defense Forces spokesman, told Israel's Channel 2.
On the whole, I have to say that I cannot fault Israel for its latest campaign against Hamas rocket launchers and other assets inside Gaza. For weeks before this latest round of attacks took place, Hamas was launching rockets at will at targets all over Southern Israel. Air raid sirens had become a daily occurrence in towns and villages throughout this area, and the Hamas government in Gaza showed absolutely no willingness to put a stop to it. By the time the campaign had begun, some 200 rockets had been fired without a response from Israel. If people were launching rockets into your country and terrorizing your civilians, what would you do? Based on the evidence, it seems clear to me that Israel not only had the right to launch the air raids that it has undertaken over the last week, but that it had the obligation to do so in order to protect its citizens. Aggression such as that simply cannot go unanswered. The fortunate thing for Israel is that their air strikes are far more accurate than Hamas's rockets, and that the Iron Dome missile defense system seems to be doing an excellent job of protecting the country.
At the same time, though, it's worth recognizing that these air raids are, at best, a temporary solution to the problem. Apparently because the technology used to make them is relatively simple, Hamas terrorists are able to create them at a will and launch them from a wide variety of locations throughout Gaza. It's entirely probable that these rocket attacks will resume at some point after the Israeli campaign ends. This is one of the reasons, obviously, why there's so much speculation that all those troops sitting on the Israel/Gaza border are the harbinger of  a land invasion of the densely packed region. As The Atlantic's Jeffrey Goldberg, though, such an invasion would be a very bad idea:
A ground invasion of Gaza is a bad idea. The temptations are many — Gaza is controlled by an anti-Semitic Muslim fundamentalist organization committed to Israel's destruction, and it obviously harbors many men who are actively plotting ways to kill Jews. But there is no military solution to Israel's political problem in Gaza, short of some sort of World War II-style Tokyo campaign, or Putin-style Chechnya campaign (or, for that matter, an Aleppo-style Assad campaign). If Israel were to go into Gaza, and get lucky, it could avoid creating masses of civilian casualties. But the Israeli attitude, after the Jenin experience in 2002 — in which soldiers lives were lost precisely because the army, for humanitarian reasons, chose not to bomb the Jenin camp from the air — is that it will not put its soldiers in undue harm simply to avoid creating the civilian casualties that the cynics of Hamas hope they would create (and work assiduously to to help Israel create).

Israel does not have the freedom of action to wipe out Hamas's armed wing (plus the armed wings of other groups that may or may not fall under Hamas control or influence). Plus, it shouldn't lay waste to Gaza, both because this is immoral, and because Gaza will, the day after, still be Israel's neighbor.

The air campaign against Hamas rocket sites is understandable and defensible. A ground invasion will lead to misery and woe; to a total rupture with Egypt; to a further loss of legitimacy, and thus, deterrent capability — and, at the end of the day, does anyone actually believe that Israel would be able to fully neutralize the Hamas/Islamic Jihad threat? These groups might need time to rebuild, but they would be rebuilt.  And then what? Another ground invasion?
Goldberg's argument are difficult to refute. It's hard to see what strategic goals a land invasion would accomplish in the long run for Israel given the fact that it's unlikely that they'd be able to completely wipe Hamas and its affiliates off the map. He's also right that the country simply cannot engage in the type of campaign that would be most likely to wipe Hamas out to begin with because it would lead to a humanitarian disaster that would weaken Israel's credibility throughout the world, as well as raising tensions with the nearby Egyptians, whose position in this entire affair seems murky at best at the moment. There's also the possibility that an assault on Gaza could lead to retaliation against Israel by terrorists and by Hezbollah in Lebanon, which would mean conflict on the country's northern and southern borders.
I'm not going to pretend to know what the answers are here, largely because this is a conflict that has confounded foreign policy experts for going on a half century now. As I said above, Israel has the right and the obligation to defend its citizens from these air attacks. It also has to deal with the reality that the government in Gaza is controlled by a faction of Palestinians who refuse to accept Israel's right to exist and have vowed to wipe the country off the map. One can argue that Hamas doesn't have the power to do that, but one cannot deny that they have the power to inflict pain on Israelis both with their rockets and with the suicide bombs that they have a history of deploying in civilians of Israel. It's difficult to negotiate rationally with such an organization and, indeed, it wasn't until the PLO dropped those provisions of its platform that called for Israel's destruction that they were able to become a serious bargaining partner. Today, the West Bank is governed by the PLO's political successor, and you'll notice that they're aren't any rockets headed into Israel from the West Bank. When the other side of the conflict doesn't accept your right to exist, talking to them about peace is usually a waste of time. So, until. Hamas changes its tune or Gaza comes under the control of more rational leaders, I'm afraid that this is going to continue.