It's Good To Be The King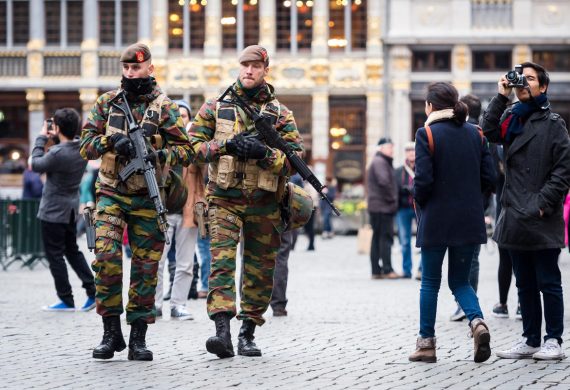 While Brussels was on its highest alert levels last month due to threats of terrorist attack, many Belgians were apparently wondering where their King was. It turns out he was in Northern France receiving "health" treatments:
The king and queen of Belgium relaxed at a spa in France during Belgium's darkest hour and Brussels was in security lockdown on the hunt for Isil terrorists, it emerged on Wednesday.

The Royal couple took their trip just one week after gunmen attacked Paris killing 130 and surviving terrorists were thought to have fled to neighbouring Belgium.

On November 21, the day the Belgian capital was placed on maximum terror alert four, meaning it feared an "imminent" attack, King Philippe and Queen Mathilde were receiving health treatment at the Sofitel spa in Quiberon, Britanny, on France's western coast, reported Le Canard Enchaîné.

The investigative weekly published a photo of the king in slippers and dressing gown sipping a fruit juice, saying this explained the mysterious royal silence while schools were closed in Brussels and the city's metro system was shut down. The Royal couple signed into the spa using aliases, a Canard journalist told Le Soir.

Back in Belgium, the royal absence had raised eyebrows, with one commentator saying: "Philippe, Mathilde, where are you? Your country needs you in these difficult times."

Another asked: "Has the king fled?"

The French weekly responded: "Le Canard is happy today to reassure the Belgian people that no, he didn't leg it. Between the multi-fruit cocktail of the five-star spa and the multi-embarrassment of a level four alert, his choice was made."

According to the royal palace's spokesman, the king and queen had planned their break, paid for out of their own pockets, long before the Paris attacks, and that "they were in constant contact with the Belgian authorities".

He added: "What they (the king and queen) were doing there is private" and that their stay had been "cut short to allow Philippe to return to Belgium early".

According to Het Nieuwsblad, the Belgian news site, French security forces had complained about having to assure the royal couple's security.

Le Canard remarked that this is not the first time that Belgium's royals were absent during a crisis, noting that Albert II, King Philippe's father, had sparked outrage for failing to return early from holiday when the Dutroux child murder affair broke.

(…)

King Philippe is a trained fighter pilot and parachutist with degrees from Trinity College, Oxford and Stanford University. But he has been criticised for his awkward manner and his Dutch – Belgium's majority language – is said to be wooden. As a result many Belgians believe his family will hold the key to a successful reign.

Mathilde, a Flemish aristocrat with four children, is the first Belgian-born queen in the country's history and is widely popular. Their daughter Princess Elisabeth, 13, will be the next in line to the throne due to a recent change to the country's laws of succession which allows a first-born female to rule in her own right.
Like other European monarchs, the King of Belgium has no real power and his absence from the country didn't really pose a security risk to the country since the decisions that needed to be made are all made by the Prime Minister and Cabinet. At the same time, though, these monarchs are, at least in theory, supposed to serve as some kind of national symbol and it would have seemed as though the King's presence in the country, if not a speech to the nation, would have been something that the Belgian people might have appreciated. In any case, it's events like this that leads one to wonder if nations like Belgium will start to wonder what the point of having a monarch in the 21st Century actually is at this point.
On the other hand, this would seem to be another example of the saying that it's good to be the King.