It's Not Just Nate Silver
Brendan Nyhan points out a number of political science forecasting models that see Obama winning this election:
The most well-known quantitative analyst of politics is Nate Silver, whoseFiveThirtyEight blog now appears on the New York Times website. Even though his black box statistical models have not been publicly disclosed or scientifically validated, Silver's analyses have acquired a talismanic quality among political junkies, particularly with nervous liberals who are reassured by his forecast of a likely Obama victory (current estimate: 72.9%).

Unfortunately, Silver has become the target of a vitriolic backlash from innumerate pundits whose market dominance is under threat as well as ill-informed conservative commentators who think Silver is somehow skewing the polls for partisan reasons.

(…)

Ultimately, however, the debate over both Silver himself and the specifics of his model misses the point. The best available evidence from both statistical forecasting models and betting markets suggests that Obama remains the favorite in the election. These charts below, for instance, present the estimated probabilities of an Obama victory and current Electoral College forecasts (where available) from the political scientists Jay DeSart and Tom Holbrook, Stanford's Simon Jackman, Emory's Drew Linzer, Silver, Princeton's Sam Wang, the British sports book Betfair, and the Intrade futures market (here and here):
Here's the chart showing the probability estimates from these analysts: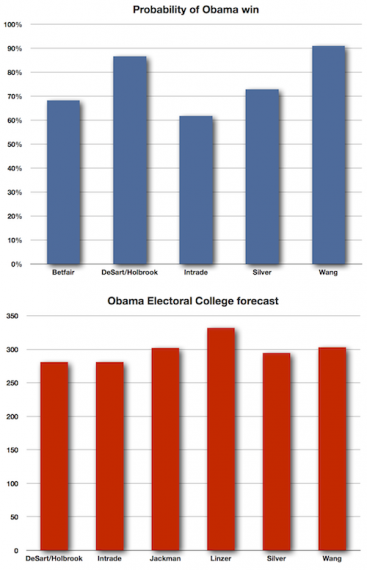 As Nyhan points out, Silver is not an outlier and, if he turns out to be wrong, which is possible, then a lot of other people will have been wrong too.