James Bond: Master Spy Or Alcoholic?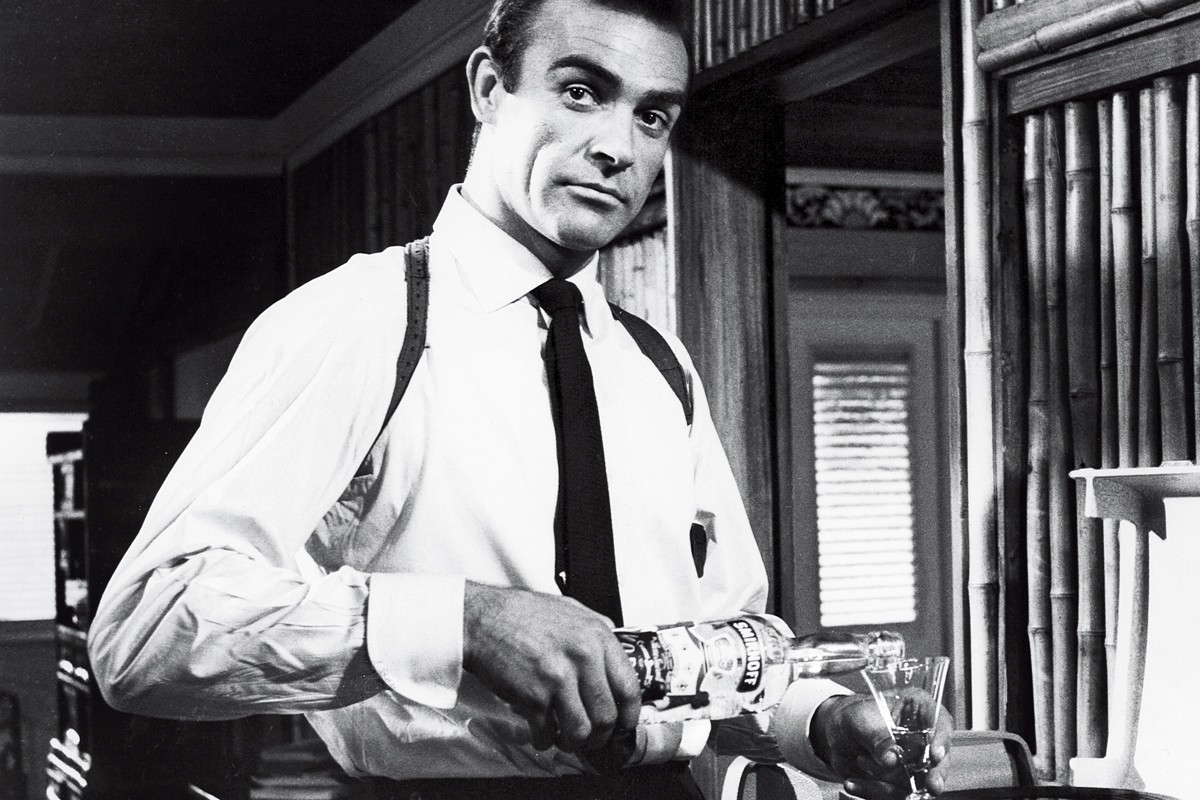 A new study claims that James Bond is an alcoholic:
(CNN) — Alcohol. Bond's alcohol.

The British spy James Bond may routinely get himself out of dangerous situations with skill and charm, but his body may be suffering all the while because of his drinking habits. British researchers predict he could die from alcohol-related causes, such as liver damage, by age 56.

Scientists wanted to examine just how much alcohol the famous fictional secret agent consumes, and what effect that could have on his health. They published a study, led by Graham Johnson of the emergency department of Royal Derby Hospital, in the British Medical Journal's Christmas edition, which features a variety of offbeat research papers.

Researchers found Bond's weekly alcohol consumption totaled 92 units a week, which is more than four times what doctors recommend. A real person would not be able to carry out such complicated tasks and function as well as Bond does while maintaining such habits, they conclude.

A unit of alcohol is defined as 10 milliliters or 8 grams of pure ethanol in the United Kingdom. For some perspective on that, a bottle of wine is nine units, and a pint of beer is three, according to this study.

The finding of 92 units a week could actually be the low end of the truth, as studies have shown that "people generally underestimate their alcohol consumption by about 30%," the study said, noting other research has demonstrated that health surveys don't account for about half of all alcohol sold.

In other words, Bond may be drinking much more than the large quantities portrayed in the books.

"We advise an immediate referral for further assessment and treatment," the study authors wrote, as well as "a reduction in alcohol to safe levels."
The Telegraph's Tim Stanley is having none of it:
[T]he writers of this report have missed the entire point of Bond – and of all pulp fiction. Pulp heroes are guys who live as guys would really like to if they could: drinking, smoking and yet still saving the world and getting the girl (and shooting her if she turns out to be a double agent). They're not supposed to be realistic because if they were then Bond would probably be a boring health freak who spends his life sipping orange juice, decoding messages and never, ever chasing bad asses in a flying car. In short: no one wants to read the Bond that the science drones would have us read. He's be Thunderbore. For Your Closed Eyes Only. On Her Majesty's Sober Service. You get the idea.
Stanley is right, of course. Treating an archetypal like James Bond in this manner and judging him as you'd judge a human being who actually exists is like trying to figure out how many Interstellar Venereal Diseases James Kirk may have been exposed to during he course of his career. It kind of misses the point that this is fiction. Relax and enjoy it.
On a final note, Jazz Shaw has this to add:
If you're the people spending your time complaining about how much James Bond drank or what a bad role model James Bond is, I'm betting James Bond would kick your *** for you in a New York minute.
Then he would order another Martini, shaken not stirred of course, and scan the room for his next, umm, conquest.