James Schlesinger, Cabinet Secretary To Three Presidents, Dies At 85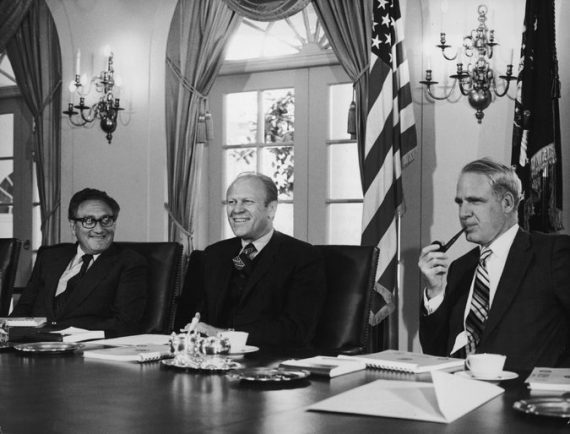 James Schelsinger, who served as Defense Secretary under Presidents Nixon and Ford and Secretary of the Department of Energy under President Carter, died earlier this week at the age of 85:
James R. Schlesinger, a tough Cold War strategist who served as secretary of defense under Presidents Richard M. Nixon and Gerald R. Ford and became the nation's first secretary of energy under President Jimmy Carter, died on Thursday in Baltimore. He was 85.

His death, at the Johns Hopkins Bayview Medical Center, was confirmed by his daughter Ann Schlesinger, who said the cause was complications of pneumonia. He lived in Arlington, Va.

A brilliant, often abrasive Harvard-educated economist, Mr. Schlesinger went to Washington in 1969 as an obscure White House budget official. Over the next decade he became chairman of the Atomic Energy Commission, director of Central Intelligence, a cabinet officer for three presidents (two of whom fired him), a thorn to congressional leaders and a controversial national public figure.

His tenure at the Pentagon was little more than two years, from 1973 to 1975, but it was a time of turmoil and transition. Soviet nuclear power was rising menacingly. The war in Vietnam was in its final throes, and United States military prestige and morale had sunk to new lows. Congress was wielding an ax on a $90 billion defense budget. And the Watergate scandal was enveloping the White House.

(…)

Mr. Schlesinger, a Republican with impressive national security and nuclear power credentials, took a hard line with Congress, and the Kremlin, demanding increased budgets for defense and insisting that America's security depended on nuclear and conventional arsenals at least as effective as the Soviet Union's.

With Europe as a potential focal point for war, he urged stronger North Atlantic Treaty Organization forces to counter Soviet allies in the Warsaw Pact. His nuclear strategy envisioned retaliatory strikes on Soviet military targets, but not population centers, to limit the chances of what he called "uncontrolled escalation" and mutual "assured destruction."

Beyond strategic theories, he dealt with a series of crises, including the 1973 Middle East war, when Arab nations attacked Israel, prompting an American airlift of matériel to Israel; an invasion of Cyprus by Turkish forces, leading to an arms embargo of Turkey, a NATO partner; and the Mayaguez episode,in which Cambodian forces seized an unarmed American freighter, prompting rescue and retaliation operations that saved 39 freighter crewmen but cost the lives of 41 American servicemen.

(…)

In his 1976 presidential campaign, Mr. Carter consulted Mr. Schlesinger and was impressed. Taking the White House in 1977, Mr. Carter named him his energy adviser and, after the Energy Department was created in a merger of 50 agencies, appointed him its first secretary. The only Republican in the Carter cabinet, he was in charge of 20,000 employees and a $10 billion budget.

Mr. Schlesinger, an outspoken advocate of nuclear power, shared with Mr. Carter a belief that fossil fuels were destined for exhaustion, and warned that Arab oil supplies were unreliable. As oil prices rose and acute shortages and long lines at gasoline pumps formed, he and Mr. Carter endorsed conservation, tax incentives and synthetic fuels. The crisis passed, but not the energy problems.

While he helped establish the new department and developed proposals intended to alter life in a nation addicted to enormous energy consumption, Mr. Schlesinger's performance was widely criticized. Congressional opposition contributed to his departure in a 1979 cabinet shake-up by President Carter.

"In that administration, for some strange reason, I was the voice of experience, or the only voice of experience," Mr. Schlesinger said years later for an oral history project. "I'm not sure whether that was a good thing or a bad thing. It was a mixed virtue, because that meant that in some sense I shared the contamination of the past and therefore my views, while they were interesting, and useful, had to be viewed with suspicion because they were views from the pre-1976 past."
Of particular interest perhaps are actions that Schlesinger took in the final days of the Nixon Administration:
In the days leading up to Nixon's resignation in August 1974, Mr. Schlesinger, as he confirmed years later, became so worried that Nixon was unstable that he instructed the military not to react to White House orders, particularly on nuclear arms, unless cleared by him or Secretary of State Henry A. Kissinger. He also drew up plans to deploy troops in Washington in the event of any problems with a peaceful presidential succession.
Schlesinger ended up staying on when Vice-President Ford assumed office after President Nixon's resignation, but ended up butting heads with the new President over the issue of amnesty of Vietnam draft dodgers, which Schlesinger adamantly opposed. By November 1975, he was out of office at the Pentagon only to return to Washington just over a year later as the first Secretary of the Department of Energy, a job he ended up leaving several years later after clashes with members of Carter's staff. In any case, though, Schlesinger was part of a generation where serving under Presidents of different political parties was not only not shocking, but quite common. Those days seem to have passed.