Jeb Bush on the "Stand Your Ground" Self-Defense Law
Looking also at Zimmerman's 911 call and who pursued whom.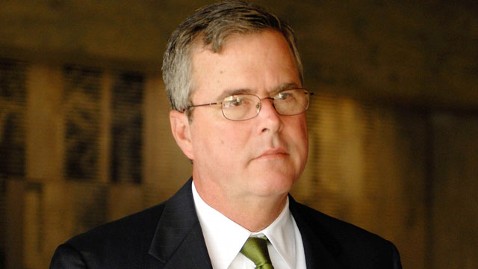 Via the DMN:
"This law does not apply to this particular circumstance," Bush said after an education panel discussion at the University of Texas at Arlington. "Stand your ground means stand your ground. It doesn't mean chase after somebody who's turned their back."
This gets to one of the key elements of the shooting of Trayvon Martin by George Zimmeran.  At the moment the evidence suggests that Martin was trying to leave and that Zimmerman was not "standing his ground" but, rather, was pursing Martin.
Note: the law in question was signed by Bush when he was the governor of Florida in 2005.
Bush's position would seem to be back by reports of Zimmerman's 911 call (via CNN,although these details have been widely reported):
Zimmerman said he was driving in his gated community when he saw Martin walking and called 911 to report a suspicious person.

Zimmerman told the dispatcher he was following the boy, but the dispatcher told him that wasn't necessary. Moments later, several neighbors called 911 to report a commotion outside, and police arrived to find Martin dead of a gunshot wound.
Another account of the call from a local news station (I cannot find a full transcript):
Among the calls released Friday is the call George Zimmerman made to police when he spotted Trayvon Martin. He starts off by saying that there have been some break-ins in the neighborhood, and that he spotted a "real suspicious guy" in the area. He said the guy looks like he's up to no good, and may even be on drugs. He also makes note that he has his hand in his waistband.

When the dispatcher says that he is sending an officer over, Zimmerman says "these [expletive] always get away."

At one point the dispatcher also asks if Zimmerman is following the suspect. Zimmerman says yes. The dispatcher asks him not to do that.
I am willing to adjust my views if new evidence emerges.  But at the moment the information available seems to point to an overzealous, self-appointed neighborhood watchman who thought a black youth looked "suspicious" whom he then ended up shooting, despite the fact that said youth was armed only with candy and a soft drink.
Also, if the details of the 911 call as reported above are accurate, Zimmerman was originally driving.  How could a youth on foot threatened a man in an automobile?  Were I feeling threatened by a person on foot whilst I was in my car, I would just drive away to safety—not pursue the person in question.  As such, I think Bush is right:  it is hard to see how the "stand your ground" element of the self-defense law would apply here.
I will note that there is an AP report out that states Now witness claims TRAYVON attacked Zimmerman (which is leading some, who should know better given their profession, to leap to some conclusions).  First, one should take a late-breaking anonymous witness with a grain of salt, one would think (especially since this account emerges only after the story has hit the level of attention that it has).*  Second, even if someone did witness a scuffle between Zimmerman and Martin, that doesn't tell us how it started—especially if the 911 account above, in which Zimmerman chooses to pursue Martin, is accurate.
h/t on the Bush quote:  Joe Gandelman
*As commenter Trumwill notes below, this is not late-breaking (see here).