Jeremiah Denton, Vietnam War Hero, Dies
Jeremiah Denton, a Vietnam War hero and one-term US Senator from Alabama, has died. He was 89.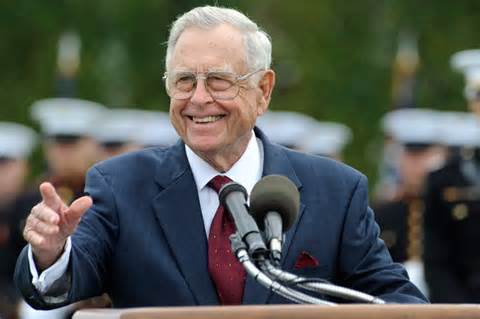 Jeremiah Denton, a Vietnam War hero and one-term US Senator from Alabama, has died. He was 89.
Reuters ("Jeremiah Denton, Vietnam War POW and U.S. senator, dies"):
Jeremiah Denton, a former U.S. senator who was held as a prisoner of war by North Vietnam for seven years and revealed his treatment by blinking the word "torture" in Morse code in a TV interview, died on Friday, the Washington Post reported.

Denton died at a hospice in Virginia Beach from a heart ailment, his son, Jim Denton, told the newspaper. He was 89.

The retired Navy rear admiral was elected in 1980 as Alabama's first Republican senator in 112 years and earned a reputation as one of the Senate's most conservative members before being defeated in his 1986 re-election bid. President Ronald Reagan lauded him that year as "a national treasure".

Denton was most famous for spending seven years and seven months as a Vietnam War POW after his plane was shot down during a bombing mission from the aircraft carrier USS Independence in 1965. Imprisoned in brutal conditions in and around Hanoi, Denton encouraged fellow American prisoners to resist their North Vietnamese captors.

American POWs were sometimes paraded in propaganda films and in 1966, the captive Denton was interviewed for such a film – it later aired on U.S. television – apparently in the hope that he would denounce the U.S. war policy.

"Well, I don't know what is happening," he told his interviewer. "But, whatever the position of my government is, I support it fully. And whatever the position of my government is, I believe in it – yes, sir. I'm a member of that government and it is my job to support it. And I will as long as I live."

During the interview, he pretended to have light sensitivity that caused him to blink his eyes. What he was actually doing was blinking in Morse Code to spell out "t-o-r-t-u-r-e".

Denton said later his torture increased after the interview was aired. He spent four years in solitary confinement, including two years in a cell the size of a refrigerator. He was 41 when he was captured and 48 when released.

Denton, one of the highest-ranking U.S. officers to become a POW in Vietnam, was a Navy commander at the time of his capture and was promoted to captain while imprisoned.

He was among the first U.S. POWs released by the North Vietnamese in February 1973 under the Paris Peace Accords.

"We are honored to have had the opportunity to serve our country under difficult circumstances," Denton said after he stepped off the first plane to arrive at a U.S. base in the Philippines. "We are profoundly grateful to our commander in chief and to our nation for this day. God bless America."

He was later promoted to rear admiral and headed the Armed Forces Staff College in Virginia until retiring from the U.S. military in 1977. He wrote a book about his time as a prisoner, "When Hell Was in Session". It was made into a 1979 TV movie with Hal Holbrook portraying Denton.
I remember watching the movie as a kid. The next year, we moved to Alabama and Denton won election to the Senate. He served honorably for six years before losing to then-Democrat Richard Shelby, who ran a demogagic campaign against an opponent unaccustomed to such dishonorable conduct. I still haven't forgiven Shelby.
Denton was a professional sailor, a graduate of Annapolis and the Naval War College, and a genuine war hero, earning the Navy Cross for his courageous leadership while a POW.