Joe Rogan, Bernie Sanders, and the Intellectual Dark Web
Politics makes strange bedfellows.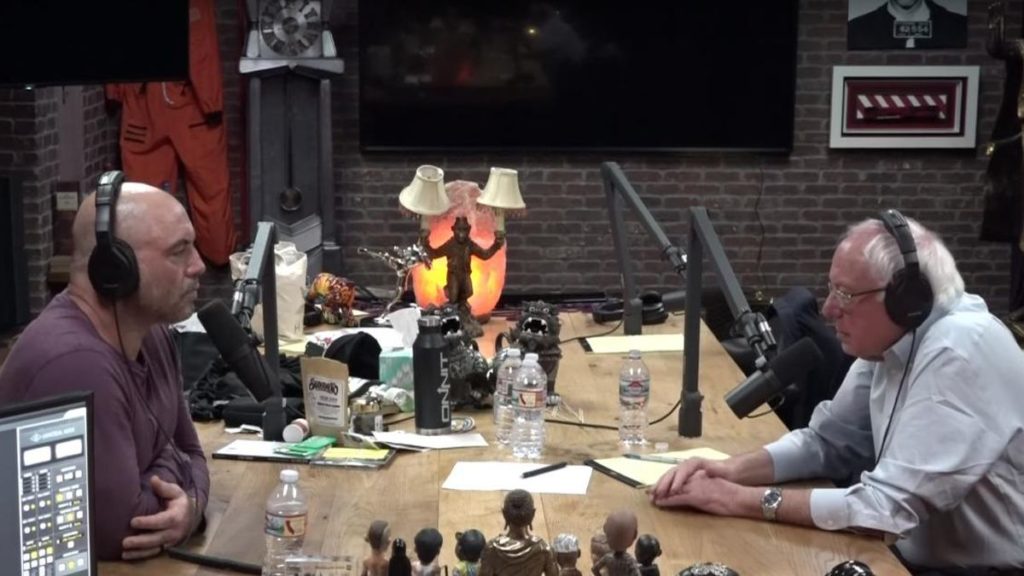 Democratic socialist Bernie Sanders was endorsed earlier this week by Joe Rogan, a comedian who hosts a popular podcast. The event sparked an interesting conversation.
I've long been aware of Rogan. He played a supporting role on the sitcom "News Radio" way back in 1995. While I found his character somewhat annoying, I loved the show and watched every week, even after the tragic murder of star Phil Hartman. Rogan hosted "Fear Factor," of which I saw a few episodes at my parents' house. And I've even seen a couple of his stand-up routines on Netflix.
But his podcast, "The Joe Rogan Experience," is apparently a very big deal. A piece at Vice yesterday claims, "Joe Rogan's Endorsement Is One of the Most Influential in America."
Joe Rogan is one of the most influential people in media. That doesn't mean he's a good interviewer or a responsible communicator when speaking to a large and devoted audience, but it is a fact. It's hard to pinpoint the exact size of his podcast's audience, but Rogan's official YouTube channel has 7.3 million subscribers and he recently claimed his podcast gets 190 million downloads a month.

When Elon Musk goes on Rogan's show and smokes a blunt, Tesla stocks take a tumble (though as Rogan notes at every opportunity, they quickly bounced back). It was a big deal when Bernie Sanders sat down with Rogan for an hour-long interview in August, and an even bigger deal earlier this week when Rogan said that he would probably vote for Sanders in the upcoming election. Sanders is not the first presidential candidate to go on Rogan's podcast—Tulsi Gabbard has been on several times—nor is Sanders the first candidate to get something resembling an endorsement from Rogan. Rogan hosted and voted for Libertarian Gary Johnson in 2016.
And, to think, without Rogan's endorsement Johnson might have been a non-factor. Oh, wait.
Rogan apparently tends Libertarian and no amount of endorsement is going to make that party viable. But, obviously, Sanders is a different story—a plausible Democratic nominee with a chance at winning the whole thing if he gets on the ticket.
So, why is the endorsement—-and, especially, Sanders' publicizing said endorsement—an issue?
Rogan's endorsement, and the video Sanders shared on Twitter in particular, has caused some controversy among people who argue that Rogan is a bigot who should be marginalized, ignored, or disavowed.

Rogan hasn't wielded his power with much responsibility: He's given people like Chuck Johnson, Milo Yiannopoulos, Alex Jones, Stefan Molyneux, and Gavin McInnes access to his gigantic audience, and Rogan rarely challenges his guests on their views, allowing them to launder their bad ideas on his show. Data & Society researcher Becca Lewis has argued that Rogan giving a platform to these people has led his audience down more extremist rabbit holes on YouTube. Lewis describes Rogan as a "libertarian influencer with mainstream appeal."

"When [Rogan] hosts other members of the Intellectual Dark Web, it's easy to get drawn into that world," Lewis told Motherboard in 2018. That Rogan is an entry point to other YouTube and podcast influencers speaks to his own influence; whether Rogan's endorsement matters doesn't depend on whether Rogan himself is GOOD or BAD, it's whether his endorsement moves the needle. And given how much discussion there is about his endorsement and what we know about Rogan's overall influence, it almost certainly does.

A big part of Rogan's appeal is that he's an average Joe. Sitting down with him for an interview is not the same as doing a quick spot on CNN or Fox News. His interviews are long (often more than three hours), meandering, and silly. It gives subjects the chance to speak at length and often put their foot in their mouth. For his listeners, a recommendation from Rogan is like a recommendation from a friend, if your friend was talking to millions of people at once. It has the appearance of raw, emotional authenticity. It is the exact opposite of a measured, calculated endorsement from the New York Times.

What seems to have made lots of people mad, however, is that Sanders has embraced the endorsement.
Aside from giving what appears to be a rather large platform to white supremacists and other creeps, Rogan has said a lot of things that can reasonably be construed as racist, sexist, homophobic, and transphobic. But he's also spoken out in favor of gay rights, which is consistent with his libertarianism.
As to Sanders, his explanation strikes me as perfectly reasonable:
"The goal of our campaign is to build a multi-racial, multi-generational movement that is large enough to defeat Donald Trump and the powerful special interests whose greed and corruption is the root cause of the outrageous inequality in America," the Sanders campaign told Motherboard in a statement. "Sharing a big tent requires including those who do not share every one of our beliefs, while always making clear that we will never compromise our values. The truth is that by standing together in solidarity, we share the values of love and respect that will move us in the direction of a more humane, more equal world."
As to Rogan, I don't know enough to have strong views. My default position is to give benefit of the doubt to comedians trying to get a laugh. Guys like Ricky Gervais and Dave Chappelle say some things in their acts that would be godawful in different contexts. And I'm inclined to give even more leeway to someone like Rogan doing a three-hour, off-the-cuff bit in a podcast.
I'm not sure I'd have bothered to write about this incident at all given that I don't have particularly strong views on Rogan and am far from a Sanders supporter. But I was intrigued by the "intellectual dark web" reference above. A column last May by Bari Weis ("Meet the Renegades of the Intellectual Dark Web") supplies some context.
Here are some things that you will hear when you sit down to dinner with the vanguard of the Intellectual Dark Web: There are fundamental biological differences between men and women. Free speech is under siege. Identity politics is a toxic ideology that is tearing American society apart. And we're in a dangerous place if these ideas are considered "dark."
So far, so good.
What is the I.D.W. and who is a member of it? It's hard to explain, which is both its beauty and its danger.

Most simply, it is a collection of iconoclastic thinkers, academic renegades and media personalities who are having a rolling conversation — on podcasts, YouTube and Twitter, and in sold-out auditoriums — that sound unlike anything else happening, at least publicly, in the culture right now. Feeling largely locked out of legacy outlets, they are rapidly building their own mass media channels.
The closest thing to a phone book for the I.D.W. is a sleek website that lists the dramatis personae of the network, including [Sam Harris, a neuroscientist]; [Eric Weinstein, a mathematician and managing director of Thiel Capital] and his brother and sister-in-law, the evolutionary biologists Bret Weinstein and Heather Heying; Jordan Peterson, the psychologist and best-selling author; the conservative commentators Ben Shapiro and Douglas Murray; Maajid Nawaz, the former Islamist turned anti-extremist activist; and the feminists Ayaan Hirsi Ali and Christina Hoff Sommers. But in typical dark web fashion, no one knows who put the website up.
That's . . . confusing. I don't know some of these people at all. But the ones I do seem to be all over the map politically and intellectually—in terms of not only belief system but brainpower. Indeed, that's the case.
The core members have little in common politically. Bret and Eric Weinstein and Ms. Heying were Bernie Sanders supporters. Mr. Harris was an outspoken Hillary voter. Ben Shapiro is an anti-Trump conservative.

But they all share three distinct qualities. First, they are willing to disagree ferociously, but talk civilly, about nearly every meaningful subject: religion, abortion, immigration, the nature of consciousness. Second, in an age in which popular feelings about the way things ought to be often override facts about the way things actually are, each is determined to resist parroting what's politically convenient. And third, some have paid for this commitment by being purged from institutions that have become increasingly hostile to unorthodox thought — and have found receptive audiences elsewhere.
Framed that way, I'm on board. Indeed, that strikes me as the essence of democratic society.
Which brings us to Rogan:
"People are starved for controversial opinions," said Joe Rogan, an MMA color commentator and comedian who hosts one of the most popular podcasts in the country. "And they are starved for an actual conversation."

That hunger has translated into a booming and, in many cases, profitable market.Episodes of "The Joe Rogan Experience," which have featured many members of the I.D.W., can draw nearly as big an audience as Rachel Maddow. A recent episode featuring Bret Weinstein and Ms. Heying talking about gender, hotness, beauty and #MeToo was viewed on YouTube over a million times, even though the conversation lasted for nearly three hours.
But, obviously, there's more to this non-movement movement than frank dialog? There's an obvious problem with normalizing white supremacy, to a lesser extent, the anti-anti-racism schtick of a Candace Owens. But where one draws that line is unclear.
Most of the objections I've seen on Twitter to Sanders' touting of Rogan's endorsement surround this controversy:
Rogan's style is brash, unfiltered, and often provocative. A former UFC commentator, he has been slammed for calling athletes "faggots" and using the word "gay" as an insult. While he has previously claimed to be "100% in favor of transgender people," he has come out against the use of puberty blockers in transgender youth and railed against trans women competing in women's sports.

In a 2013 podcast episode, Rogan said transgender MMA fighter Fallon Fox was "not really a she."

"She's a transgender, post-op person," he told a co-host who asked about "that tranny." "The operation doesn't shave down your bone density. It doesn't change."

"You're a fucking man. That's a man, OK?" he continued. "I don't care if you don't have a dick any more."
That's obviously harsh. And extremely hurtful if you're trans. But it's also rather obviously partly a bro comic schtick, rendered harsher for effect by the provocative way in which it's stated. The ideas themselves are frankly rather mainstream, not all that different from things Hillary Clinton has said repeatedly in recent months.
It's rather clear that Sanders holds a different view. And an endorsement from Rogan is light years different from one by David Duke. It's not at all clear to me at what point one crosses a line whereby a celebrity endorsement is so toxic that it must be renounced. But I don't think we're anywhere close to it here.