More Rogan (but not Just Rogan)
Musings about US politics and culture.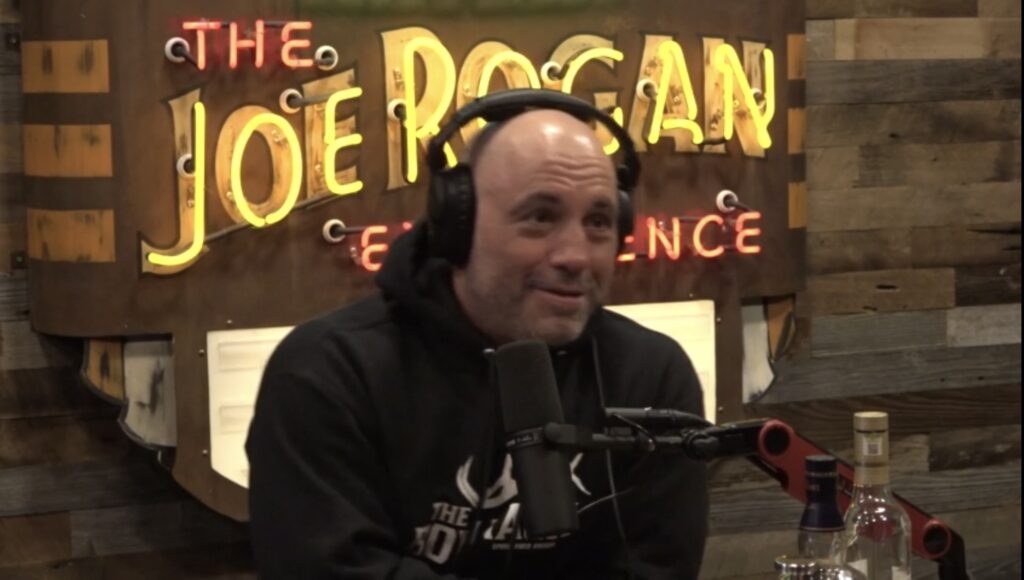 So, I promise that I am not obsessed with Joe Rogan and likewise promise that I will not be writing All Rogan All the Time. Still, his influence beyond just the covid discussion has intrigued me, if anything because it seems to me that his popularity has some substantial overlap, culturally, with MAGAism/our current surge in populism. (I also think that this story raised interesting questions about our evolving media landscape and the role played by platforms like Spotify as well as by social media platforms like Twitter and Facebook–but I will just note this fact now as an explanatory aside as to part of why I continue to pay attention).
First, let me note Monica Hesse's WaPo column that I think identifies that major problems with Joe Rogan: Joe Rogan is too powerful to keep acting as if he's just a regular guy chopping it up
A frequent rebuttal to Rogan criticism is that he hosts all kinds of guests, liberal and conservative, and that he supported Sen. Bernie Sanders (I-Vt.) in the 2020 presidential election. But podcast guests are not like carbon tax credits, where a certain amount of pollutive matter can be nullified with a tithing of good sense. Intellectual balance works only when two beliefs are different, but both are reasonable. The opposite of Sanders is someone saying, "I believe health care should remain privatized, and here's why." It is not unchecked theories about race and genetics.

I don't think Rogan is doing this in bad faith. I think it's simpler than that: He's just not up to the task he has created for himself. He's not nimble enough or forethinking enough to engage in intellectual battle with guests who are not there to seek truth but to recruit converts. He does not seem fully aware that treating all guests exactly the same doesn't make you fair-minded, it makes you a patsy.
I think that the portion bolded above is really important as it pertains to claims about "both sides" (broadly defined) or "just asking questions." Having a scholar of democratic theory and then a member of the Proud Boys is not "balance" nor is a crank pseudoscientist and then a real epidemiologist. However, I also think that Hesse is being too charitable in her assessment of Rogan's approach. While it is true that many defenders of Rogan will point out that he has a variety of points of view on his program, it isn't that he is just bumbling through a myriad of interviews with both the wacky and the legitimate. No, he personally advocates for a great deal of the wacky (indeed, the dangerous as it pertains to public health and the pandemic).
I also think that she gives too much credit to Rogan in terms of his potential patsy status. While I am not sure he is doing anything in bad faith, per se (and agree that he seems to lack the skills needed to fully understand the implications of some of his guests) I think he isn't an utter innocent regarding who comes on his show.
I will say that I was struck by here reference to Rogan "Live-Googling news articles" to counter Alex Jones really strikes at the heart of Rogan's style (as well as millions of Americans) who really seem to think that quick googling can reveal all. (Spoiler: that's not how research works).
---
I also listened to Friday's episode of The Daily: The Saga of Joe Rogan which provides an overview of Rogan's career (the basic outline of which I was generally aware of) as well as an overview of the current controversy. One that thing struck me was that (like Sanjay Gupta), the NYT reporter on this story (Kevin Roose, a technology columnist at the Times) stated that he was a regular listener to Rogan. If one is interested in this controversy, it is a good primer. I will note that most of what I have read and heard from the "mainstream" press on this subject largely goes out of its way to give Rogan the benefit of the doubt (such as Hesse did above), even when being critical.
One of the aspects of all of this that I find interesting is the confluence of a certain type of masculinity, reality TV, and "truth-telling" because it echoes Trump and the politics of recent years (to even include things like the trucker business on the border–an observation that I will admit is based more on intuition at the moment than a deeply developed analysis).
In Rogan's case, the particular flavor of masculinity he has derives from a personal background in martial arts coupled with his stint as an MMA commentator. He talks a lot about workouts, supplements, and the like. He sounds like a workout bro in this regard. It clearly hits on a particular kind of masculine image wrapped up in muscles and physical prowess. It is the kind of approach to life that emphasizes the individual and, perhaps more importantly, the individual's physical strength in a way that links personal autonomy to that strength and that also diminished the importance of intellect.
After all, what would you rather be: a powerful MAN or some poindexter with a Ph.D.?
There is also a mythology that goes along with the workout/supplement/diet route that plays into his covid/vaccine skepticism: that individual choices about diet and exercise can produce individualized results and protections. On one level this is appealing and not wrong: if I eat well and exercise, I feel better and am generally more healthy than those who don't do those things. But this is also simplistic because even the most regimented athlete can get cancer or catch a debilitating disease (or suffer from any number of ailments). Nonetheless, the illusion of control here is important, I think (as is the individualist aesthetic of it all).
I think, too, that this version of ideal masculinity plays in, to some significant degree to the politics of gay rights, and especially to trans rights and complex conversations about gender fluidity. The MMA version of masculinity is pretty damn straightforward and doesn't require much parsing.
In terms of reality TV, Rogan's big break was Fear Factor. I think it fits Rogan's overall brand that the show emphasizes physicality (eating gross things for dollars is not exactly the Jeopardy tournament of champions). I never watched the show, so really can't comment beyond what I saw on commercials and maybe flipping to it back in the days in which I channel surfed on occasion. I have no specific insights on the show itself beyond those already made. I will note that reality TV is made to be a mass appeal instrument that contrasts with the more niche-appeal programming that gets talked about on NPR. Reality TV is, unlike say the latest on HBO or AppleTV+, broadcast over the air and therefore widely available even to people without cable, let alone folks with smart TVs populated with the latest subscription-based streaming services. These shows, despite being highly produced, purport to be "reality" and presented without pretense to the masses–they are, to some degree, the populism of TV entertainment (much like the politics of Trump, or even much of what passes as "news" on cable TV is a produced version of "reality"). Nerds watch Game of Thrones and The Wheel of Time. Pretentious urbanites watch Girls or whatever the Sex and the City sequel is called. Real people, however, watch The Masked Singer.
The final ingredient here is that of the truth-teller, which Rogan comes to via the stand-up comedy route. I am not quite a comedy nerd, but I am at least comedy-nerd curious. I have a long-standing interest in stand-up and comedy in general and I have listened to a substantial number of comedy podcasts over the last decade or so (really, comedy/comedian-based podcasts were my gateway drug into the medium).* I have listened to countless interviews and discussions with comedians who clearly think of themselves as practically philosophers who go on stage to reveal profound truths about humanity through their acts. On one level, I don't entirely disagree insofar as I think that stand-up comedy is an art form and that one of the hallmarks of art is that is revelatory about the human condition. Of course, this doesn't mean that any given manifestation of art is pure in its revelations nor does it mean that a given artist/artistic expression is, in fact, an actual manifestation of truth.
The relevance of all of this is the connectivity to "political correctness" and, more recently, "wokeness" and "cancel culture." Many comedians feel like they are unfairly criticized in their artistic expressions because of too much sensitivity (there was a raft of articles in recent years about standups who didn't want to tour college campuses because of all the sensitivity). While I think there are real debates in this arena, I also think that the reality is that some of this is just the ongoing reality of shifting cultural norms and the stark reality that sometimes some things are actually offensive to enough people to matter. To be frank, sometimes misogyny is misogyny and sometimes racism is racism (or, at least, sufficiently adjacent to both as to warrant attention). But the obsession with the notion that truthtelling can be uncomfortable leads to things like Rogan's deployment of the n-word as if he is just making some bold statement about language because, you know, he's a comic and that's what comics do.
But, it is worth noting that despite their self-image, all comedians who push boundaries are neither Lennie Bruce fighting censors in court nor even George Carlin noting the absurdity of obscenity laws.
It is wholly possible for something simply to be offensive, and a white dude acting brave by saying the n-word and/or being a pseudo-intellect about why some people can say it and others can't fits the category of offensive (at least to a lot of people). Yes, I understand the notion of free speech absolutism and even the problems one can note about giving a singular word that much power. But on the other hand, dismissing the multi-century history that has infused that word with that power is just being a simpleton.
I would note, too, that comedians as a group often seem to adhere to some vague libertarian principles. They tend to be libertine on drugs, alcohol, and sexual issues. But I will also say that in my experience, few of them are especially sophisticated in this arena (but that is true of most people, yes?). I raise this because there is a general attitude of "don't tell me what to do" in this ethos. I will also note that there is a certain amorphousness about politics in all of this that helps Rogan occupy the political space that he does. On the one hand, we see liberalism in terms of things like sexual mores, if not libertarianism on drugs, but also often more conservative on things like gender roles (while also being ok with homosexuality, perhaps). All while also being attracted to the conservative POV on things like cancel culture and wokeness.
In general, there is a lot of "you aren't the boss of me" going on here and nothing a whole lot more sophisticated than that.
---
This post is mostly me just sorting out some thoughts, but I would note that all of what I described above fits Trump in a lot of ways.
While Trump is hardly a workout bro, he does promote a crude kind of masculinity. There is a lot of say what you want, when you want because, by golly, that's what a man does. He is big into ridicule and rhetorically raises physical violence with ease. I think back to my 2018 post, Radicalizing Rhetoric, that contained these examples (among others):
See also my post, Trump and the F-word.
The connection of physical strength and individual action is clear–and it appeals to a specific, and I would argue highly dangerous (dare I even say toxic), view of masculinity.
I would note that Trump's name recognition, general image, and pre-politics popularity were linked to reality TV, specifically The Apprentice. I will admit that at the time of his initial candidacy, I did not take any of that seriously, because it was hard for me to take the program seriously. Still, there is some evidence to suggest that the program, and the image it created of Trump, was of some significance to his candidacy and his victory. I would recommend the following piece from The New Yorker: How Mark Burnett Resurrected Donald Trump as an Icon of American Success (which I thought I wrote about, but I can't find a post). I would note also a previous post of mine that touches on this topic, The Reality Show Party? and another by James Joyner, The Trump Reality Show.
The issue of how reality TV and populistic political style intersect is beyond my training and expertise to fully explore, but it does strike me as significant–especially given the way that both Rogan and Trump used reality TV platforms to help launch even larger mass-based successes.
The last parallel I see is that Trump portrays himself as the anti-PC, anti-woke truth-teller. And just like the bro comic who thinks "truth-telling" means he can use racial slurs to make a point, Trump says whatever he wants and his supporters eat up his alleged candor. It really doesn't matter if saying the n-word isn't some brave revelatory utterance, or that Trump doing whatever he might be doing at a given moment** isn't some grand example of straight-talk, both the comic and Trump can claim either a) to just "be joking" and/or b) just be saying an uncomfortable truth that you just can't handle.
I mean, how can any freedom-loving, free speech supporting American object to people making jokes and/or just asking questions?
What are you, a communist?
Worse, can't you take a joke?
---
I don't have any neat conclusions, save to note that I think the general patterns here are important and not going away. We are likely to see a continuation of a version of hyper-masculine individualism that will be a hybrid of cruder libertarianism (i.e., "not the boss of me"-ism) with a more than a significant hint of reactionary thinking (we need to get back to a place where men were men and people didn't have to worry about being woke–with "woke" being more than a bit of code for worrying about minorities in various ways).
I would note, too, that a lot of this does not fit neatly into left and right categories, but that also the binary nature of our politics, coupled with the institutional structures that I right about constantly, means that its foothold in the GOP amplifies it and it is unlikely to dissipate soon.
Consider the way the RNC's response to 1/6 fits the above.
I think, therefore, that Rogan and Trump both are tapping into a similar well, even if Rogan claimed to support Bernie. I think, too, this relates to mass and social media in our current age, as well as to racial politics and global populism (but in ways that I don't fully understand, nor can fully connect at the moment).
---
*One of my earliest regular listens was The Nerdist, which substantially focused on comedians (and was hosted by three stand-ups). A long-term listen that I fell out of habit with during the pandemic was Doug Loves Movies which was very much a stand-up and improv-comic-based show. I am still a regular consumer of Comedy Bang! Bang! A great example of the comedian-as-introspective person genre was You Made it Weird with Pete Holmes, and to a degree WTF with Marc Maron (although Maron, like Rogan, interviews far and wide outside of comedy)–I haven't listened to either of those in years and really listen based on guest even when I did. I am certainly forgetting others that I listened to in the early days. These days I have shifted more to news and sci-fi-related podcasts, although CBB and some CBB adjacent podcasts are in the regular rotation.
**My mind goes to making fun of a reporter's disability, saying that he likes war heroes who weren't captured, making misogynistic comments about Meghan Kelly, extolling sexual assault, or any number of a thousand other examples.