The Reality Show Party?
Another R/D cleavage?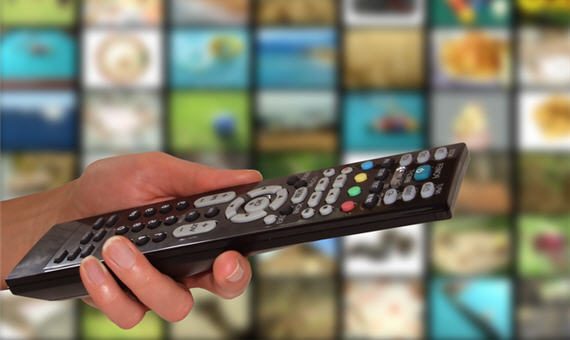 Let me start with a proviso: I am, as readers may have noticed, analytically uncomfortable with broad, sweeping categories as well as with blanket explanations for mass behavior. Even broad categories like "the left" and "the right" are problematic depending on how they are deployed. Embedded in all of that is caution about making definitive statements about "Republicans" and "Democrats" as if they are understandable in some way as singular units. There are just too many people, with too many varied and complicated motives to make broad, definitive, and even semi-universal statements.
I took that view into this Politico piece, Reality TV Has Remade Our Politics. But Just for One Party. Still, the piece is interesting and does provide some empirical evidence of the connection of the television form in question to the GOP and not to the Democrats. The most obvious example is Donald Trump but it also notes Caitlyn Jenner rather prominently (but those two, as politicians are simply not in the same category–although the linkage to reality TV is real).
Beyond those two:
Former Trump press secretary Sean Spicer did a controversial turn on "Dancing with the Stars" in 2019, not long after former Texas governor Rick Perry and former House Majority Leader Tom DeLay did their own two-left-feet tours on the show. Trump's former comms director Anthony Scaramucci and aide Omarosa Maginault-Newman—who first met Trump on season one of "The Apprentice"—went almost directly from the Trump White House to "Celebrity Big Brother." And of course, there was Trump himself, whose springboard to the presidency was a character he played on "The Apprentice": a successful, no-nonsense businessman with a tangential connection to actual reality and a ridiculous catchphrase, "Ya fired."

But while over-the-top reality TV has become a familiar launching pad and soft landing spot for Republicans, there is something curiously missing from that ecosystem: Democrats.
And there is the trailblazer:
The first GOP politician to fully embrace the possibilities of reality TV—as a medium for image-honing, star-making, and sticking it to your foes with a smile—might well have been Sarah Palin. After her polarizing turn as John McCain's vice-presidential nominee in 2008, Palin resigned the Alaska governorship and doubled down on television. "She became, in all the history of the country, the first politician to quit mid-term to become a celebrity," says Schmidt, who, as a senior advisor to McCain's campaign, unwittingly helped launch her into the stratosphere.
The piece throws out some theories as to what Republicans and not Democrats find themselves in these positions. Some, like the quoted-above Steve Schmidt's (former McCain advisor and now Lincoln Project NeverTrumper) theory, seem a bit trite, or partisanly self-serving:
"There's an enormous dignity gap in the culture," says Steve Schmidt, a onetime Republican political consultant who left the GOP in frustration over Trumpism and co-founded the anti-Trump Lincoln Project. He says Biden and Trump voters have different standards for a public servant's behavior. A Biden fan is inclined to judge politicians by "your bearing, how you comport yourself, how you act," he says. "'Am I going to go on 'Dancing With the Stars in a sequined outfit?' 'No, I'm not.' 'Why not?' 'Because I was governor of Texas for four years.'"
I mean, maybe? On the one hand, I agree that it is clearly the case that, in the main, Trump voters and Biden voters had different standards of behavior. I am not sure this translates, specifically, into "an enormous dignity gap."
Another explanation, education level, strikes me as potentially more salient, along with simply a question of what is popular where:
In part, Schmidt says, that's a function of education. Whether you have a college degree, he points out, is a major predictor of which political party you'll support—and cultural preferences are often intertwined with political ones. When highly-educated liberals watch reality TV, it's often with a sense of detachment: taking part in a guilty pleasure, as opposed to an outright pleasure. But fans of "Dancing With the Stars" are generally there for unironic joy. And at this point, "Dancing with the Stars" base is, for all intents and purposes, the GOP base, too. A 2019 report in Variety noted that of the 10 markets where the show had recently performed best, eight were in states that went for Trump in 2016, and the top one was the Florida market that covers Mar-a-Lago.
But the piece also notes that many reality shows score well with both Democratic and Republican voters, so to really make the case that it is about education level would take more study. The fact that DWS is more popular in Trumpward states may explain the appeal for Republicans to appear there.
Still, for shows like DWS, The Masked Singer, and whatever else is on network TV, in particular, these days, it seems unlikely that the audiences don't have substantial numbers of both Republican and Democratic viewers (as well as a number of reality apolitical types). This fact alone makes me wonder about the thesis under discussion.
There is also, it strikes me, some level of (for lack of a better term) quality of politician relevant to these choices. In the case of Palin, Spicer, Scaramuchi, and Omarosa, exactly what other prospects did they have? My personal view at the time they appeared in these things was always: it was a chance at a relatively easy paycheck. Same from Tom DeLay and Rick Perry, for that matter. DeLay was done at that point and Perry seemed to be in a holding pattern.
The Politico piece does, as in the quoted paragraph above, suggest a theory that Republicans are more interested in things like "unironic joy" but, again, I am not sure what that ultimately means. The piece often seems to be making statements about what Rs and Ds like without a lot of backing evidence. The best the piece does is this:
A 2011 report by the consumer research firm Experian, commissioned for Entertainment Weekly, surveyed self-identified "liberal Democrats" and "conservative Republicans" about their favorite shows. Liberals preferred "literate media-savvy comedies" like "The Daily Show," "30 Rock," and "Parks and Recreation." Conservatives were drawn to crime dramas like "NCIS" and "The Mentalist." And, more than liberals, conservatives were drawn to reality shows, from "Swamp Loggers" and "Pawn Stars" to "The Bachelor" and "Dancing with the Stars."
Ok, that all sounds plausible, but (and this is a big but) the link is to an Entertainment Weekly write-up that tells us nothing about how the survey was conducted (and there is the fact that the piece is from ten years ago). I am not saying it is wrong, but I am saying this is not enough to really based much of anything on, especially if one is trying to make sweeping statements about mass behavior.
---
Still, a few things struck me from the piece.
First was this:
Years later, Palin is still using reality TV to stay relevant. She went on "The Masked Singer" herself in 2020, dressed as a pink-and-lilac bear in fuzzy leg warmers, and sang an exuberant if off-key version of Sir Mix-a-Lot's "Baby Got Back." […] On the aftershow, Palin told host Nick Cannon that she thought of her appearance as a "walking middle finger to the haters."
Like the story James Joyner discussed this morning about "Fuck Biden" flags, there is a weird, ongoing subculture on the right that simply wants to troll and be rebellious. I think that mindset helps explain Trump's appeal to many and I think it has deep links to things like flying the CSA battle flag. Indeed, I have increasingly been thinking about this behavior as I traveled in the southeast this summer (and over the years) wherein it is clear a lot of people want to stick a finger in the eyes of those with whom they disagree. Remember, for example, 'Rolling Coal' in Diesel Trucks, to Rebel and Provoke?
Not go down this rabbit hole, as I am still thinking about it, but this is a long-standing American behavior that is well illustrated by the responses to school integration in the 1950s: things like flying the battle flag over the state capitol in South Carolina or very aggressively naming schools after Confederates.
Second, the piece makes an interesting parallel to cable infotainment:
Spicer didn't win the show's mirrorball trophy, but he walked away with a bolstered sense of goodwill from the GOP base and another TV job, this time at Newsmax. That seemed a natural fit, too; the most pugnacious right-wing networks are, in many ways, an extension of the reality aesthetic, and a turn on a competition show can feel like a dry run for a firebrand hosting gig.
Indeed, a lot of what one sees on cable (dare I call it) news programming has a very distinct reality TV vibe at times. And along those lines is this connection, which I had forgotten:
Indeed, it might be possible to trace the roots of Tucker Carlson's reinvention—from conservative intellectual to unapologetic Fox News bomb-hurler—to his own appearance on "Dancing with the Stars" in 2006. Carlson, an MSNBC correspondent at the time, was an objectively terrible dancer who only lasted long enough for one performance; for much of it, he simply sat in a chair as his partner gyrated around him in a feathered leotard. And though the judges were cruel—"You looked like you were sitting on a toilet!" said Italian choreographer Bruno Tonioli—Carlson seemed unfazed. He credited Tonioli for "kind of an artful put-down" and overall seemed giddy about the experience: "I can't believe I just did that! I loved it, actually!"

It was almost as if Carlson had decided, in real time, to embrace a reality culture that favors a certain type of figure—bold, showboating, fearless, aggressively of-the-people. Some of the biggest stars in politics today—figures like Marjorie Taylor Greene—have parlayed those same qualities into elected office and fundraising success. 
While I don't know if his brief turn on DWS truly influenced his current TV persona, it certainly underscored his willingness to do what was needed to make a buck.
---
At a minimum, there is no denying that there has been a string of GOP pols who have emerged from or headed towards reality shows as a means of reinvention (or simply revenue generation). I also see some interesting shared elements between cable news styles and reality TV (and, to a degree, with wrestling, which is also a kind of reality TV).
Broadly cast, I think perhaps some of this can be connected to the populist turn in GOP politics that people like Palin and Trump clearly represent, but as I think through what I find most problematic about the thesis of the Politico piece is that it does not distinguish between reality TV as entrance ramp and exit ramp.
Trump is the only successful example of parlaying a reality show career into elected office. Jenner is trying (but how seriously is, to me, an open question–not to mention it would be an utter miracle if she won). The rest (Palin, DeLay, Perry, Scaramuchi, Omarosa, etc.) used reality TV as a means to a post-government paycheck. Also, the linkage of so many of on this list to the Trump administration specifically makes a lot of this about the kind of people Trump was willing to employ. That Tucker used it as a bridge from one part of his TV career to another just underscores that he is an entertainer.
I think the argument in the piece would be stronger if it had more examples of people using reality TV as an on-ramp to politics, than the other way around.
From an analytical point of view, the more interesting question is probably about understanding the populism that both Palin and Trump represent within the current evolution of the GOP.
I will say that Trump's run on The Apprentice was far more of a positive to him back in 2015/2016 than I thought was the case. To me, it was just a further example of his clownishness, but it does seem that that show did help create a persona that many in the public truly liked.*
---
*If you haven't read it, I would recommend this 2019 piece from The New Yorker: How Mark Burnett Resurrected Donald Trump as an Icon of American Success.