Joe Rogan, Experienced
Out of a sense of fairness, I gave a listen.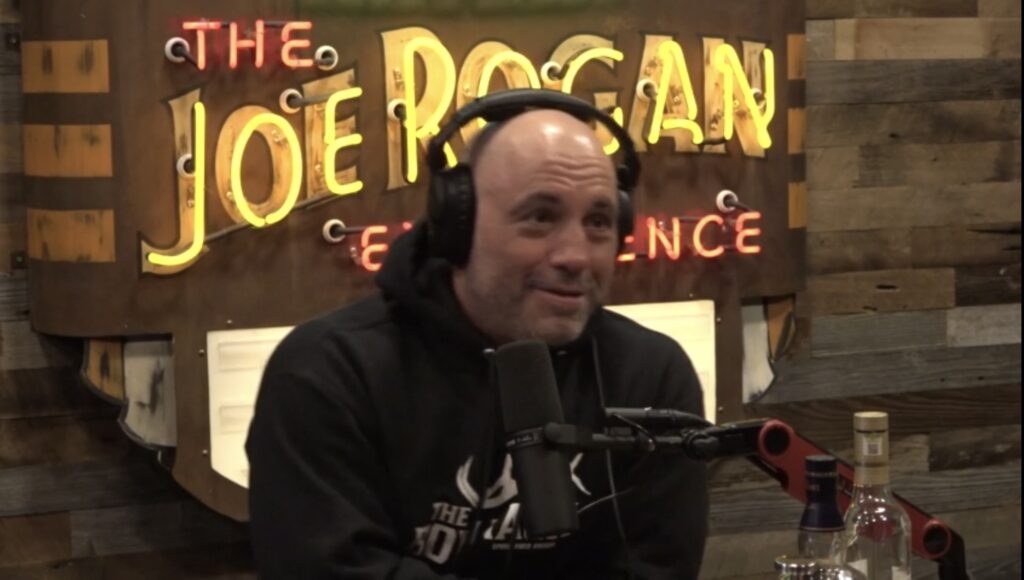 So, due to a combination of a statement made by regular commenter Andy, as well as an acquaintance with whom I recently had a conversation, I decided to listen to the Joe Rogan Experience on the notion that it is not fair to draw substantial conclusions based on second-hand evidence. As a friend quipped to me when I said I was going to listen, I did my own research. In all seriousness, it seemed reasonable that if I was going to form an informed opinion, I should listen to the program.
I initially decided to partake of episode #1761, Jim Gaffigan, which I listened to in its entirety. I picked this one because I like Gaffigan and know him to be non-crazy, but also since he is a comedian that whatever Rogan did, or did not say, about covid, politics, etc. would emerge organically as opposed to being driven by a covid-specific guest. Indeed, I was curious if having an entertainer on would mean that the topic would only be passingly discussed at most. Also, the episode was from January 11, 2022, making it recent but before the controversies became a major story. For additional research, I decide to listen to about 15 minutes of the H.R. McMaster episode (which was a pretty standard interview) and then a substantial (over an hour) of his October 13, 2021 interview with Sanjay Gupta, which was heavily focused on covid.
While I have seen and heard clips, I had not had any previous prolonged exposure to Rogan. I have been aware of him for years, but only vaguely. I will say that the show was less bombastic than I expected (I imagined a more Limbaughesque FM radio DJ vibe). It was fairly "bro-y" with a significant "dudes chatting at the bar" vibe (which I suspect is part, if not all of, the appeal). He does appear to be a genuinely curious individual and he has legitimate interviewing skills (keeping multi-hour conversations going, even with interesting people, requires some level of skill, which he displays). I will confess, however, I am not sure why he is the podcasting sensation that he is (although I suppose if I did, I, too, could make hundreds of millions of dollars).
So, as I noted above, I picked Gaffigan because I find him entertaining and was curious as to how much covid would even come up. Well, it came it pretty immediately because Rogan commented on the fact that Gaffigan had had it. This provided fairly immediate (with the first 4 minutes) assertions by Rogan that masks don't work and that tests produce a lot of false positives.
Most of the first hour was not all that different than other comedy-based interview podcasts I have listened to over the years (with a host and guest who are both comics). However, right around the 58-minute mark, Gaffigan suggests that they should give their predictions about the next ten years.
Rogan goes first and starts offering a narrative about how people are currently afraid of not getting vaccinated for fear of ostracization. Moreover, this has created a circumstance in which the vaccinated are classified as the "good" people and the un-vaccinated are the "bad" people. He believes that this perception can be used by the government to induce compliance and could lead to the establishment of a "social credit" system which apparently exists in China (Rogan is no fan of China). An example was given about this possible system: if you don't pay your taxes, you won't be allowed to go to the movies because you lack sufficient credits.
The basis of the social credit system will be vaccine passports. "It's letting you slowly get integrated into this system and the benefits that you get from it" and then "they have their hooks in." I am pretty sure that the "it" in question is vaccinations or vaccine passports (although maybe even the "social credit" system) and "they" is the government. In this discussion, he asserted that "social psychologists" are terrified of these developments, and they will lead to a future that is "dystopian at best."
I must confess, this all sounded more than a bit conspiratorial, if not straight up cuckoo-for-cocoapuffs.
To bolster this position he cites an article he "saw on Yahoo" about the potential of loan companies linking better rates to customers who are willing to share their browser history. This is supposed to be an example of the "social credit" structure that he is concerned about. Indeed, he gets his producer to pull up the piece from a financial news website MoneyWise: Your credit score may soon depend on your web history
research posted to the International Monetary Fund (IMF) website suggests companies will soon be looking at a lot more data to get an accurate picture of the risk you pose as a borrower.

[…]

Lenders could soon use data from your browsing, search and shopping history to create a more accurate credit score, researchers say.

Much of that information is publicly accessible, while some might need to be provided to credit bureaus. Taken together, that data forms your "digital footprint."
To be honest, this does not sound to me like the coming authoritarian apocalypse. Nevertheless, I found it instructive because it fits his "I am curious and just ask questions" and "I do my own research" self-narratives. I am also sure that it impresses his audience because he is at least producing an article, which means he isn't making it up out of thin air (even if his interpretations are more than a bit suspect).
As it pertains to this specific story about credit ratings, I would note that he got some of it significantly wrong: the story is talking about using primarily publically available data, while Rogan intimated that one would be induced to turn over private data for cheaper loan terms (that's not what the article says–still, at 1:01 he talks about people "allowing access" to browser info so that they can get better credit–which is not what the article says). Further, this is a report about a report on a hypothetical outcome and is hardly evidence of much of anything.
Back to the googling, this was done several times during the interview, often over minor things, like one might do at a bar drinking and talking with buddies to confirm what year Tom Brady won his first Super Bowl or somesuch. Further, the sophistication of information sorting was not much better than a B-/C+ undergrad who knows they want information on, say, the history of the sugar trade (a real topic from the show) but really has no idea how to sort through the results of a search for quality information.
Again, if this is how he does his covid research, no wonder he ends up where he does. However, and I will reiterate, I am sure that this kind of thing is convincing to a lot of listeners because Rogan appears to be actually looking beyond himself for information. But what are the odds that most listeners then go and look at the links to assess their quality or to determine if they say what is claimed? (Likely only a weirdo would do that).
I could say more about the Gaffigan interview (such as Rogan stating that Obama was "the greatest president of our lifetime," a lot of bothsiderism, and his preference for the next POTUS: Tulsi Gabbard), but should note the Gupta interview as well. I skipped about 30 minutes on marijuana and listened to an hour-plus on covid, which emphasized to me that Rogan is not getting a bum rap in the press about covid misinformation. Some defenses have suggested that he is "just asking questions" and that the bad info is from his guests. Well, there is little doubt he was advocating against vaccinations for the young/healthy and offering up a number of anecdotes that would help fuel the general anti-vaccination narrative. (And there is his social credits theory from above).
He also engaged in some similar google-fu with Gupta, pulling up articles and reading excerpts that Gupta was not always prepared to rebut given the limited amount of information about the excerpts at his disposal. Indeed, Gupta had the distinct disadvantage, from a debating POV, of being the one who was unwilling to assert didactic conclusions if had not fully examined a given claim. Rogan, however, is quite certain about his claims.
He personally knows, for example, two (IIRC) people who got strokes immediately after getting the vaccines. He know numerous people who got sick even though they wore masks. He has anecdotes such as one, which I don't think a linked story was produced, about a 19-year-old girl who had to get a heart transplant after the shot and subsequently died, etc (TBH, I listened to that anecdote twice, and I still don't fully understand the claims being made). He made a host of dubious claims about death, illnesses, transmissibility, and so forth. He likewise was promoting the efficacy of ivermectin while also preferring simplistic notions that if people were just healthier they wouldn't have to worry about covid, and so forth.
For some additional examples of covid-related claims by Rogan, here are a few run-downs:
So, at the end of the day, I can say with first-hand authority that yes Rogan clearly is promoting any number of problematic, if not dangerous, theories about SARS-CoV-2, the public health response thereto, and the vaccines in particular. Further, it is not unreasonable for artists hosted on Spotify, and the customers who use the service, to complain to the company about his exclusive deal. I also can see, if I look at the program dispassionately, why he might be appealing to some folks (although I am not sure what it is about him that he attracts an audience big enough to justify the $100 million deal he has with the platform). I will admit, likely to consternation of some readers, that I do not find him so odious that I will be canceling my subscription to Spotify (but explanations of that position would make a very long post even longer).
So, yes, I have done enough research to confirm that there is a substantial basis for the criticisms that Rogan has received. Moreover, I have experienced as much of the JRE as I plan to.
I do not know if this exercise has been of use to anyone but me, but here it is.
A parting PS is this story from WaPo that I noted Sunday morning: Joe Rogan apologizes for 'regretful and shameful' past use of the n-word.