John McLaughlin, McLaughlin Group Host, Dead At 89
A precursor to modern cable political news with an interesting past has passed away at the age of 89.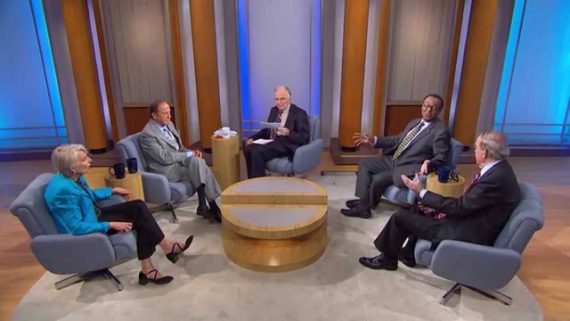 John McLaughlin, the often pugnacious host of the long-running McLaughlin Group that was perhaps the first example of the pugnacious style of television politically punditry that has become commonplace today, has died at the age of 89:
John McLaughlin, a former Roman Catholic priest who became an aide to Richard M. Nixon in the White House and parlayed his fierce defense of the president into a television career as host of "The McLaughlin Group," the long-running Sunday morning program of combative political punditry, died on Tuesday at his home in Washington. He was 89.

His death was announced on the program's Facebook page. The columnist Eleanor Clift, a longtime panelist on the show, wrote in The Daily Beast that he had been treated for prostate cancer for some time and that it had spread

Mr. McLaughlin had been absent from the show this last weekend for the first time in more than 34 years. "I am under the weather," he wrote to viewers in a note that began the broadcast, adding that his voice was "weaker than usual" but that his "spirit is strong."

As creator, executive producer and host of "The McLaughlin Group," which began in 1982, Mr. McLaughlin helped reinvent the political talk-show format by injecting unabashed partisanship and a dash of entertainment.

His program, broadcast on select CBS and PBS stations, inspired a generation of pundits, although few quite adopted his self-exaggerated, blustery persona. His penchant for giving nicknames to his panelists, his riffling through the week's topics and his prosecutorial questioning became fodder for comedians, notably Dana Carvey on "Saturday Night Live," even while policy makers tuned in for the political observations.

The show always ended with a prediction by each of the panelists, with Mr. McLaughlin getting the final word, even if seemingly with tongue in cheek. In 1989, for example, he predicted, "Within weeks, Delaware will authorize public flogging for drug trafficking." (It did not.) His trademark signoff was a robust "Bye-bye!"

Mr. McLaughlin, who left the priesthood in 1975, "proved that you could be provocative and an advocate and entertaining, and bring a larger audience to public affairs programming," said Tammy Haddad, a former vice president of political coverage for MSNBC. Ms. Haddad was also an executive producer of "Hardball With Chris Matthews," whose host got ample exposure on Mr. McLaughlin's weekly round table earlier in his career.

"The early success of CNN," Ms. Haddad noted, was based on its "political food fights" by the likes of Robert Novak and Patrick J. Buchanan, both of whom were founding "McLaughlin Group" panelists.

While in the White House, Mr. McLaughlin, well-informed but prone to tirades, would "sometimes almost become a cartoon of himself" when reporters called, said Bob Schieffer, the CBS News Washington reporter who became host of the CBS Sunday show "Face the Nation." But as a talk-show host, Mr. Schieffer said, Mr. McLaughlin changed the industry with his shouting.

Combativeness was part of Mr. McLaughlin's style from the beginning. As a Jesuit priest, he had been in frequent conflict with his superiors, who disapproved of his 1970 run for the United States Senate in Rhode Island as a Republican calling for a rapid end to the Vietnam War. Father McLaughlin, who had resigned as an editor at the Jesuit magazine America and switched his party affiliation, was believed to be the first active Roman Catholic priest to run for the Senate.

He stood in sharp contrast to his fellow Jesuit Robert Drinan of Massachusetts, who was given permission to run for the House that same year as an antiwar Democrat. Father McLaughlin, who was chastised by the bishop of Providence, R.I., for his Senate run, lost by a wide margin to the incumbent Democrat, John O. Pastore.

Father McLaughlin went to Washington anyway, joining President Nixon's speechwriting team in 1971. Nicknamed Nixon's Priest, he gave frequent speeches in defense of the president's conduct of the Vietnam War, including bombing missions into Cambodia.

As the Watergate crisis deepened, Father McLaughlin became one of the president's most visible supporters. At one news conference, he dismissed Nixon's use of profanity as "emotional drainage." Less than two weeks before the president resigned, Father McLaughlin warned in a speech at the National Press Club that the nation would face a "parade of horrors" should Nixon be impeached. (On July 31, 1973, Father Drinan became the first congressman to call for impeachment in a House resolution.)

After Vice President Gerald R. Ford succeeded Nixon in August 1974, Father McLaughlin's speechwriting position was abolished.

Father McLaughlin had maintained a high profile in Washington, living at the tony Watergate complex rather than in the austere Jesuit residence at Georgetown University where Father Drinan lived. This led his church superiors to rebuke him in May 1974, summoning him to a period of "reflection."

Instead, in 1975, Mr. McLaughlin successfully petitioned Pope Paul VI and was released from his vows.

(…)

John Joseph McLaughlin was born in Providence on March 29, 1927, to the former Eva Turcotte and Augustus H. McLaughlin, a regional salesman for a furniture company. After graduating from LaSalle Academy in Providence and studying for the priesthood in Massachusetts, he was ordained a priest in 1947

He earned master's degrees in philosophy and English literature from Boston College, and a doctorate in philosophy from Columbia University. He then taught at the Jesuit-run Fairfield College Preparatory School in Connecticut.

After leaving the White House, he and his wife at the time, Ms. Dore, founded a media relations and public affairs consulting company. In the early 1980s, Mr. McLaughlin hosted a weekend talk program on the Washington radio station WRC. After a stint as the Washington editor and columnist for the magazine National Review, he founded a television production concern with the backing of former Nixon allies and persuaded NBC's Washington television affiliate, WRC-TV, to broadcast a new type of weekend political talk show and to let him host it.

At the time, TV round tables of journalists like "Agronsky & Company" and "Washington Week in Review" dissected the week's developments in a sober, nonpartisan style. Mr. McLaughlin envisioned a more animated, argumentative format including a panel reflecting conservative, moderate and liberal views, with him as moderator.

From its debut in 1982 "The McLaughlin Group" took on the flavor of a barroom debate, pitting a largely white, male cadre of columnists and political insiders against one another as they gave vent to views from the hard right (Mr. Novak and Mr. Buchanan) to the center-left (Morton Kondracke of The New Republic and Jack Germond of The Baltimore Sun). Ms. Clift, a Newsweek correspondent at the time, and the Chicago Tribune columnist Clarence Page, who is black, later joined the group as more liberal regulars.

Regardless of the panelists' political persuasions, Mr. McLaughlin, whose own politics leaned decidedly right, would often fire off questions and cut them off, shouting "Wronnnng!"

When the cameras were off, the panelists often feuded. Mr. Novak left after a falling out in 1988 and founded a similar program on CNN, "Capital Gang." In an interview on PBS in June 2007, Mr. Novak said of Mr. McLaughlin, "He may not be pure evil, but he's close to it." Mr. Germond, another of the original panelists, called the show "really bad TV," and said he had stayed on only because he needed the money to pay his daughter's medical school tuition.
More from The Washington Post:
For more than three decades, Mr. McLaughlin sat in judgment of national political trends on "The McLaughlin Group" and goaded journalists and pundits into moving beyond fact into the argumentative terrain of ideological talking points and rhetorical hyperbole. He corralled guests into critiquing political decisions and probabilities on a sliding scale of 1 to 10 — with 10 representing "metaphysical certitude."

At times, "The McLaughlin Group" felt more like a cross-talk show than a talk show, with the host interrupting his guests' trains of thought or bellowing "Wronnng!" to express disapproval of their statements.

His approach forever changed audience expectations of public affairs programming. Mr. McLaughlin's impact can be glimpsed almost any night on cable news channels, for better or worse. And although no one ever mistook Mr. McLaughlin for a digital visionary, his show's staccato approach to wringing opinions from guests previewed the Internet's addiction to fast and unprocessed news bites.

"Look at 'The McLaughlin Group' now and it looks positively quaint," said Syracuse University television historian Robert Thompson. "The kind of thing McLaughlin was doing is being done in so many places."

Although "The McLaughlin Group" dominated his later life, Mr. McLaughlin had a three-act career that started in the priesthood. He worked his way into politics, running unsuccessfully for a U.S. Senate seat in 1970 and later landing a job in the Nixon White House. As a speechwriter for the president and one of his fiercest defenders through the Watergate scandal, Mr. McLaughlin attracted media attention upon which he capitalized to get into television.

When "The McLaughlin Group" launched in 1982 on WRC (Channel 4) in Washington, D.C., political chat shows were unrecognizable by modern standards. "Washington Week in Review," produced by the public television outlet WETA, was a cerebral and quiet product. "Agronsky and Company," on WUSA (Channel 9), occasionally veered into shouting and political showmanship but not with a great degree of reliability.

Mr. McLaughlin saw an opening in the market for TV blather. "Energy, tempo and bonhomie," he said, were a few of the vital ingredients he sought to infuse in the program, along with "first-rate reporting and straight opinion."

The program's format, like its inspiration, remained steady over the show's run, with Mr. McLaughlin sitting alone in the middle of the set and liberal and conservative commentators tethered in his orbit.

Those guests regularly fielded not so much questions from Mr. McLaughlin as demands. In a September 1998 show during the debate over President Bill Clinton's pending impeachment inquiry resulting from an affair with a White House intern, the host posed this typical "McLaughlin Group" formulation to his interlocutors:

"On a survival probability scale of zero to 10 — zero, Mr. Clinton leaves office, he's out, almost overnight; 10, Clinton stays, he finishes his term till January 2001 — rate the survival probability level of Bill Clinton as president," he said.

The gimmickry worked. Mr. McLaughlin's best-known guests — then-Newsweek writer Clift, the late Baltimore Sun columnist Jack Germond, conservative commentator Patrick J. Buchanan, and Washington-based journalist and editor Morton Kondracke — thrived in this corral. They often shouted over each other to present their opinions.

"Next to 'McLaughlin,' all the rest of the shows are 'Mister Rogers' Neighborhood,' " Clift once said.
In many ways,  The McLaughlin Group constituted the precursor of the style of political "debate" we see on cable news channels today, with talking heads pushing to get their point across while an anchor tries, and usually fails, to keep some semblance of order. The difference between the two is that the cable news producers seem to have forgotten the other reason people tuned into shows like McLaughlin's for so many years. Yes, it was entertaining to see Jack Germond and Pat Buchanan got at it while McLaughlin sat in the middle, or to see people like Clarence Page, Eleanor Clift, Fred Barnes, and Morton Kondracke bantering back and forth with each other, but there was always something informative about the show itself and it was typically a half-hour well spent. The biggest reason for that, of course, was McLaughlin himself. Politics aside, he had a particular skill in guiding the show in the way he wanted it to go even over all the back-and-forth banter, and he usually ended up having the right instincts too. In later years, the show largely faded into the background as cable news became bigger and bigger, but the fact that it managed to survive for more than three decades is a testament to McLaughlin himself. On a personal note, this was a show that I used to watch on a regular basis but had largely lost interest in after regulars such as Germond, who was a perfect foil for Buchanan and McLaughlin no matter how much he may have personally disliked the format, left the show and were replaced with younger faces that we were already seeing on cable news on a daily basis. Not too long ago, though, I was channel surfing and ran across the show again and watched it to the end. The guests had changed, but it was good to see the McLaughlin hadn't changed one bit.
You can find videos of the show from recent years at the show's YouTube channel and, of course, there were also the famous Dana Carvey Saturday Night Live parodies, such as this one:
Or this one that includes a surprise appearance near the end:
Although I think this one with Phil Hartman is my favorite: