Jon Huntsman 2012?
Jon Huntsman is running for president. Who the hell is Jon Huntsman, you say?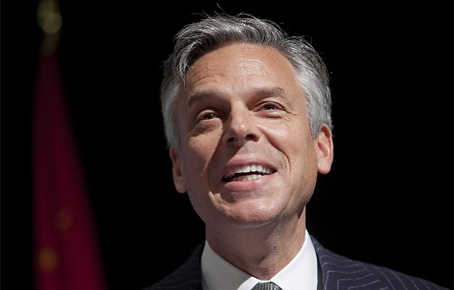 WaPo's Chris Cillizza reports, "U.S. Ambassador to China Jon Huntsman (R) appears to be leaning toward a run for president in 2012 and a team of political operatives and fundraisers have begun informal talks and outreach to ensure he could rapidly ramp up if he decides to run."
When I first saw this news, via Taegan Goddard, my reaction was:   Who?
Granted, there has been minor speculation about a Huntsman presidential run the past couple of weeks but, seriously, I'd never heard of this guy before said speculation commenced.   And I pay a hell of a lot more attention to American politics — and, certainly, American foreign policy — than most citizens.
His resume is actually fairly impressive:  He's a former two-term governor of Utah, albeit his second term barely commenced when he was appointed to his current post by President Obama.  Previously, he'd briefly served as ambassador to Singapore under President George H.W. Bush.   So, he's got a solid background as an executive and yet has solid credentials in foreign affairs, too.
Can a guy with next to zero name recognition in the January before a presidential year contend for the White House?   I don't know that it's been done.   Jimmy Carter is probably the closest analogue in modern times.
Among his positives — aside from not being tainted by scandal, having failed in previous runs, or being widely considered an idiot — is that he comes from money.  He may not have the ordinary fundraising hurdles that would normally doom an unknown.
Among his negatives — aside from being unknown, of course — is that he's a devout Mormon.   Recall that a poll from around this time last cycle showed that Americans are much more likely to elect a black man or a woman president than a Mormon.  The poll proved prescient, in that Mormon Mitt Romney crashed and burned whereas Barack Obama won the White House, having narrowly defeated Hillary Clinton in the primaries.