Jon Huntsman For Secretary Of State?
Another name may be on the short list for Secretary of State.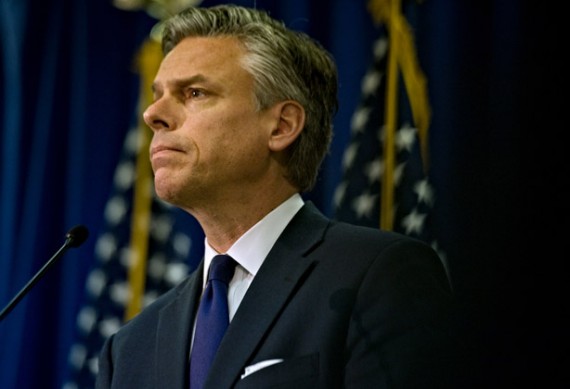 The Associated Press is reporting that another name may be added to Donald Trump's short list for Secretary of State:
President-elect Donald Trump is reportedly open to expanding his short list of candidates for secretary of State to include former Utah Gov. Jon Huntsman.

Huntsman was one of the possibilities reported by The Associated Press on Saturday night, citing a source close to the Trump transition.

Huntsman, who ran for the Republican presidential nomination in 2012, previously served as ambassador to China and speaks Mandarin.

The AP reported that Trump is moving away from the two front-runners for the secretary of State position, former Massachusetts Gov. Mitt Romney and former New York City Mayor Rudy Giuliani.

Trump has twice met with Romney, the 2012 GOP nominee who criticized Trump's candidacy, but some of the president-elect's aides and allies have slammed Romney as a potential Cabinet pick.

Questions have also swirled over the international business ties of Giuliani, an adviser to Trump during the campaign who has openly campaigned for the secretary of State position.

Huntsman vocalized concerns about Trump during the campaign, and was among Republicans calling for him to drop out of the race in October in the wake of the tape showing the businessman making lewd comments about women.
Of all the names that have been mentioned to date, there's a strong case to be made that Huntsman may be the most qualified to serve in the role of Secretary of State in a Republican, or Democratic, Administration. In addition to serving nearly two full, and successful terms, as Governor of Utah, Huntsman also has extensive foreign policy experience with particular emphasis on experience with China and Asia. He was, of course, Ambassador to China under President Obama for more than two years before resigning to run for President. Under President George H.W. Bush and, briefly, Bill Clinton, he served as the American Ambassador to Singapore. Prior to that, he served as a deputy Secretary of Commerce for trade and commerce with East Asia, also under the first President Bush. Since the 2012 election, Huntsman has been a frequent guest on television news discussing foreign policy issues, particularly issues related to China, North Korea, and East Asia. Currently, he serves as Chairman of the Atlantic Council. Politically, Huntsman has been an advocate for bipartisanship and compromise and has been affiliated in the past with the "No Labels" movement, which has stood in opposition to the political polarization that currently plagues American politics. In 2016, he remained largely silent during the Republican Primary and, for the most part, the General Election although he did say in the late stages of the GOP primary cycle that he could potentially support Trump, only to call for Trump to drop out of the race after the Access Hollywood tape showing Trump making sexist remarks was released in October of this year.
The fact that Huntsman's name is being released at this relatively late date, after we've been through several weeks of speculation about potential Secretaries of State, suggests one of two things. Either Trump truly hasn't made up his mind about this position and hasn't been entirely pleased with the names that have been floated so far (Mitt Romney, David Petraeus, Bob Corker, and Rudy Giuliani), or this is part of a deflection effort by the campaign to keep the press guessing about who the ultimate choice will be. In that regard, Reince Preibus, the incoming White House Chief of Staff, said this weekend that the final decision on the position could be as much as two weeks away, a possible indication that a final decision is nowhere near despite previous indications that the list had narrowed to as few as two people. Whatever the case, as I've said before, of the choices that have been mentioned, Romney and Petraeus would seem to be the best, with Senator Corker a close second to both of those two. If Huntsman truly is a potential candidate, though, I'd argue that he's probably the best choice overall, especially given the importance of Asia policy and China in coming decades and the need for someone who understands the Chinese leadership and how to understand Chinese statements and actions from that leadership. That, as well as his foreign policy experience in general, should put him at the top of this list.