Jon Stewart As Edward R. Murrow?
Is Jon Stewart the next Edward R. Murrow? No.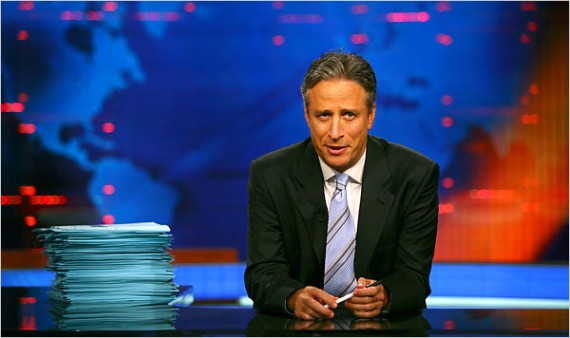 When Republicans in the Senate used parliamentary procedure to block a bill to provide health benefits for 9/11 First Responders, a story that the media all but ignored, Jon Stewart used the last 2010 episode of The Daily Show to bring the full force of ridicule to the story:
Stewart also interviewed several of the First Responders involved in advocating for the bill:
Today, The New York Times compares Stewart's role in getting the bill passed to the journalism of Edward R. Murrow:
Did the bill pledging federal funds for the health care of 9/11 responders become law in the waning hours of the 111th Congress only because a comedian took it up as a personal cause?

And does that make that comedian, Jon Stewart — despite all his protestations that what he does has nothing to do with journalism — the modern-day equivalent of Edward R. Murrow?

Certainly many supporters, including New York's two senators, as well as Mayor Michael R. Bloomberg, played critical roles in turning around what looked like a hopeless situation after a filibuster by Republican senators on Dec. 10 seemed to derail the bill.

But some of those who stand to benefit from the bill have no doubt about what — and who — turned the momentum around.

"I don't even know if there was a deal, to be honest with you, before his show," said Kenny Specht, the founder of the New York City Firefighter Brotherhood Foundation, who was interviewed by Mr. Stewart on Dec. 16.

That show was devoted to the bill and the comedian's effort to right what he called "an outrageous abdication of our responsibility to those who were most heroic on 9/11."

Mr. Specht said in an interview, "I'll forever be indebted to Jon because of what he did."

Mr. Bloomberg, a frequent guest on "The Daily Show," also recognized Mr. Stewart's role.

"Success always has a thousand fathers," the mayor said in an e-mail. "But Jon shining such a big, bright spotlight on Washington's potentially tragic failure to put aside differences and get this done for America was, without a doubt, one of the biggest factors that led to the final agreement."

Though he might prefer a description like "advocacy satire," what Mr. Stewart engaged in that night — and on earlier occasions when he campaigned openly for passage of the bill — usually goes by the name "advocacy journalism."

There have been other instances when an advocate on a television show turned around public policy almost immediately by concerted focus on an issue — but not recently, and in much different circumstances.

"The two that come instantly to mind are Murrow and Cronkite," said Robert J. Thompson, a professor of television at Syracuse University.

Edward R. Murrow turned public opinion against the excesses of Senator Joseph McCarthy in the 1950s. Mr. Thompson noted that Mr. Murrow had an even more direct effect when he reported on the case of Milo Radulovich, an Air Force lieutenant who was stripped of his commission after he was charged with associating with communists. Mr. Murrow's broadcast resulted in Mr. Radulovich's reinstatement.

Walter Cronkite's editorial about the stalemate in the war in Vietnam after the Tet Offensive in 1968 convinced President Lyndon B. Johnson that he had lost public support and influenced his decision a month later to decline to run for re-election.

Though the scale of the impact of Mr. Stewart's telecast on public policy may not measure up to the roles that Mr. Murrow and Mr. Cronkite played, Mr. Thompson said, the comparison is legitimate because the law almost surely would not have moved forward without him. "He so pithily articulated the argument that once it was made, it was really hard to do anything else," Mr. Thompson said.
There were a lot of factors at play in the debate over the First Responders Bill, of course. Not the least of them being the pledge that Republicans had made to block any legislative action until a deal had been reached extending the Bush tax cuts. Nonetheless, it's largely true that the media was ignoring the bill itself as well as the GOP filibuster. Once Stewart did a show on it, though, that changed, although it was largely the case that the media was reporting on Jon Stewart doing a show about the bill rather than the bill itself. Would the bill have passed without Stewart getting involved? We'll never know that, of course, but it certainly seems likely that it's true
There is a problem with Stewart's approach to this issue, of course. both segments from the December 16th show are little more than a emotional appeal that boils down to the question how dare we not give money to these people? As James Joyner noted earlier this month, though, there are some serious questions about a bill like this notwithstanding the emotional resonance of September 11th:
I happen to think that the costs for city workers whose health was damaged in the line of duty ought to be the responsibility of the city rather than federal taxpayers. And I opposed the massive compensation package we paid to the families who were the victims of the attacks, reasoning that they're no more deserving of federal money than other murder victims.
I tend to agree. Of course, given the emotionalism of the Stewart argument, that just makes someone sound like a heartless bastard. That's not journalism, it's activism. I happen to be a huge Daily Show/Colbert Report fan, but when people start mistaking what they do for serious journalism, we've got a problem.