Jon Stewart Drawing More Viewers Than Fox News Channel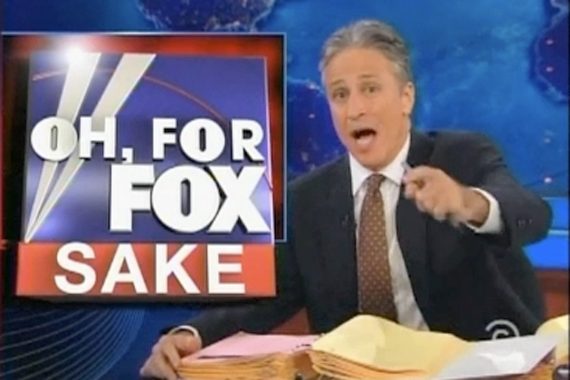 It turns out that 2011 wasn't the best of years for Fox News Channel, but it was a great year for The Daily Show:
By losing 9% of their audience in 2011, Fox News' prime time lineup now averages fewer viewers than Jon Stewart's The Daily Show.

According to TVNewser, Fox News averaged 1.868 million total viewers in prime time compared to 2.3 million for The Daily Show.

The audience erosion continued over at Fox News as the network lost 8% of its total viewers and 14% of their viewers in the 25-54 demo. The total number of daytime Fox News viewers slipped to 1.073 million.

"Red Eye" was the only Fox News show to post ratings gains in 2011. Bill O'Reilly, Sean Hannity, and On The Record With Greta Van Susteren all lost viewers. In the morning, Fox and Friends remained flat. Fox News still showed its dominance by having the top 13 rated cable news programs, but a certain program hosted by a comedian that Fox News loves to hate on Comedy Central blew past most of the Fox News shows in the ratings.

According to Comedy Central, The Daily Show with Jon Stewart averaged 2.3 million viewers per episode in 2011. Unlike Fox News, "The Daily Show" was up in total viewers (+7%) and all key demos: adults 18-49 (+6%); men 18-34 (+2%); men 18-24 (+4%)." The Daily Show was also the top cable late night talk show in terms of total viewers, and was generally dominant. While Fox News was losing 14% in the demo in 2011, Jon Stewart was gaining 6%.

Jon Stewart has become Fox News' #1 media nemesis. To put Stewart's ratings into a head to head context, The O'Reilly Factor tends to hover around the 3 million viewers range. Hannity is at around 2+ million, and On The Record with Greta Van Susteren varies between 1.1 million and 1.5 million as an average. This means that The Daily Show is more popular than both Hannity and On The Record, and trails O'Reilly by about 700,000 viewers.
So basically, The Daily Show averages more viewers than any show on Fox News Channel not hosted by Bill O'Reilly, and only trails him by 700,000 viewers. Perhaps more importantly, Stewart is stronger among the age demographics important to advertisers, while Fox News seems to be most popular among people on Medicare.
Perhaps this is why we've heard recently about Roger Ailes rethinking the ideological tone that his network has taken over the past three years.