Judge Strikes Down Wisconsin Collective Bargaining Law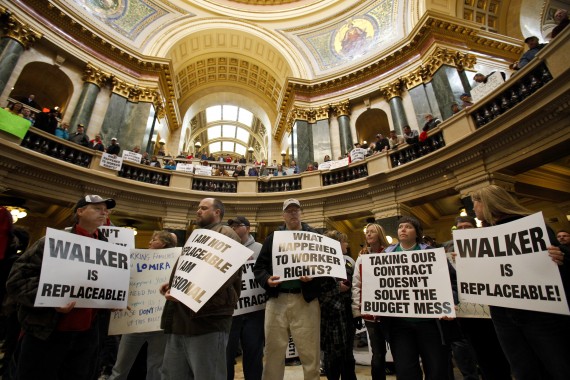 Several months after putting the law on hold, a trial court Judge in Wisconsin has struck down the Badger State's new collective bargaining law because the legislature failed to comply with the Open Meetings Law while debating it:
Wisconsin's law taking away nearly all collective bargaining rights from most public workers was struck down Thursday by a circuit court judge but the ruling will not be the final say in the union fight that brought tens of thousands of protesters to the Capitol earlier this year.

The state Supreme Court has scheduled arguments for June 6 to decide whether it will take the case and Republicans who control the Legislature could also pass the law a second time to avoid the open meeting violations that led to the judge's voiding the law Thursday.

Gov. Scott Walker pushed for the law as a way to help balance the state budget. His spokesman had not seen the ruling and had no immediate comment. Spokesmen for Republican leaders in the Legislature also did not immediately return messages seeking comment.

Walker and Republican leaders have said they would pass the law again as part of the state budget next month if necessary.
Of course, doing so would likely reignite the public debate and protests we saw earlier this spring, and might even cause the Senate Democrats to skip out of town once again to prevent the body from reaching a quorum. Additionally, there are not several Senate Republicans facing recall elections later this year because of the movement that grew to protest this law and any effort to bring this issue back before the legislature is likely to cause them problems come election time.
Not being at all versed in Wisconsin law, I'm not going to comment on the merits of Sumi's decision. However, it is worth noting that the decision does point out again the importance of the recently concluded race for Wisconsin Supreme Court. While there's no guarantee that Justice Prosser will vote to uphold the law, he does seem more inclined to do so than MaryAnn Kloppenberg would have been. As always, stay tuned.
Update: Here's a discussion between Wisconsin radio host Charlie Sykes and Marquette University Law Professor Rick Esenberg discussing the ruling, it's legal merit or lack thereof, and where the case goes from here.
In the meantime, here is the text of the opinion:
Wisconsin et al v. Fitzgerald et al