Judiciary Approves Barrett Despite Democratic Boycott
Chuck Schumer and company sent a signal to their base against a fait accompli.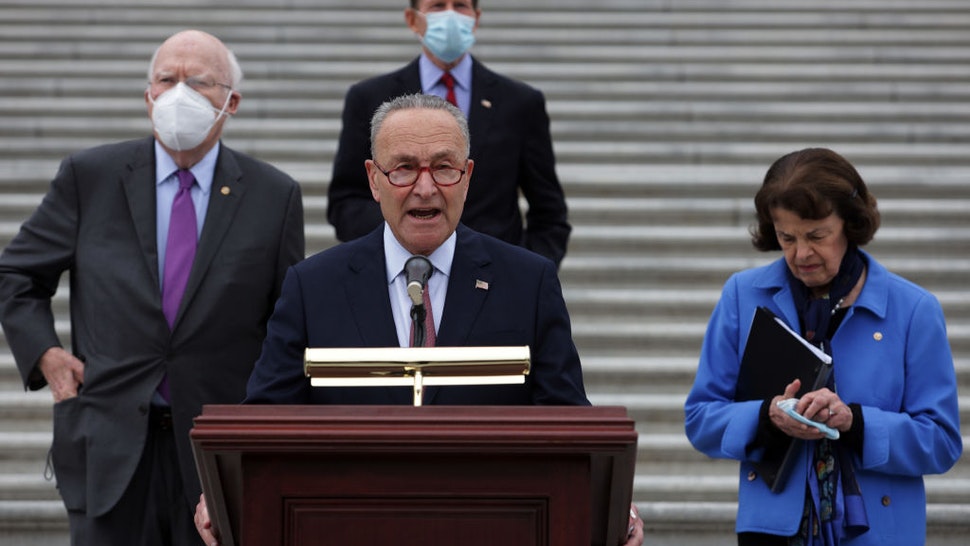 The Democratic members of the Senate Judiciary Committee boycotted yesterday's vote on Supreme Court nominee Amy Comey Barrett because, well, because.
"Throughout the hearings last week, committee Democrats demonstrated the damage a Justice Barrett would do – to health care, reproductive freedoms, the ability to vote, and other core rights that Americans cherish," Senate Minority Leader Chuck Schumer and Democrats on the Senate Judiciary Committee said in a statement announcing their boycott. "We will not grant this process any further legitimacy by participating in a committee markup of this nomination just twelve days before the culmination of an election that is already underway."
That she's a conservative doesn't make her illegitimate. Neither does the timing: there's a vacancy, the President has nominated a qualified judge, and his party has the votes to confirm her. (The juxtaposition with GOP treatment of Obama nominee Merrick Garland in 2016 is obviously a different matter; but that's not the point Schumer made.)
Further, not only did these Democrats participate in the hearings but ranking member Dianne Feinstein praised how they were carried out.
"This has been one of the best set of hearings that I've participated in," said Sen. Dianne Feinstein (D-Calif.). "It leaves one with a lot of hopes, a lot of questions and even some ideas perhaps of good bipartisan legislation we can put together."

If that wasn't enough to anger Democrats — who have spent this week trying to paint Barrett's nomination process as a sham — Feinstein also thanked the committee's chair, Sen. Lindsey O. Graham (R-S.C.), and then walked across the room to wrap him in a hug.
But Feinstein, too, participated in the boycott.
Regardless, the Republicans who showed up had the votes, unanimously voting to pass her on to the full Senate.
All 12 Republicans on the committee voted in favor of Barrett, a conservative judge. No-show Democrats left behind posters at their desks of Americans they say have benefited from the Affordable Care Act, now being challenged at the high court. Senators plan to convene a rare weekend session before a final confirmation vote expected Monday.
Still, conservative legal analysis Henry Olsen gave the Democrats grudging respect for the maneuver ("Democrats' boycott of the Barrett vote was egregious. It was also their best move."):
Democratic senators faced a difficult choice as the confirmation hearings commenced. On the one hand, they knew that Democratic voters — especially core party activists and progressives — were furious at President Trump's appointment and scared about a future court in which conservative justices hold a 6-to-3 majority. On the other hand, they knew that a protracted and highly public effort to stop Barrett's nomination was likely futile and could backfire by scaring away moderate voters who intended to back Democrats in November's election.

The decision to protest the legitimacy of the appointment and then abstain is a political masterstroke. It satisfies the base by showing that Democrats will not assist in something they contend is a charade. It lays the blame for the Barrett appointment squarely on Trump and Senate Majority Leader Mitch McConnell (R-Ky.), which Democratic partisans were already inclined to believe. But it also doesn't rise to the level of activity that will gain the attention of moderates who do not prioritize court appointments in their voting. The daily fixation on Brett M. Kavanaugh's fitness was the defining feature of his nomination, and it arguably hurt Democrats in the run-up to the 2018 election. Abstention and relative public quiet about Barrett's nomination avoid that potentially calamitous result for this year's races.
Still, he contends, Democrats are actually losing the larger argument:
Polls show Americans aren't buying the Democrats' arguments. Both a Politico-Morning Consult poll and a Gallup poll found a majority of Americans support Barrett's confirmation. The Politico poll and another from the New York Times and Siena College also found that nearly 50 percent believe it's proper that she be assessed now rather than wait until after the elections, as Democrats have argued. Those who say the hearings should wait until after the election, according to the Politico poll, are strongly tilted toward the party's base: liberals, strong opponents of Trump and Democrats. The Times-Siena poll also found it was overwhelmingly Democratic voters who supported delaying the confirmation. Independent voters backed immediate action on Barrett's nomination by a 49-40 margin, even as they supported Joe Biden by a 46-37 gap.
That a majority approves of Barrett's nomination and confirmation despite Trump having been underwater in his approval ratings his entire tenure—and losing badly to Biden in the polls—is interesting, indeed. It's actually an encouraging sign of a public being able to distinguish that which is normal—elected officials carrying out their duties as one would expect—from that which is not—pretty much everything else Trump has done while in office.