Kagan Backtracks On "Meaningful Discussion Of Legal Issues"
Elena Kagan's interest in vigorous and open confirmation hearings ended roughly the moment she was sworn in by the Senate Judiciary Committee.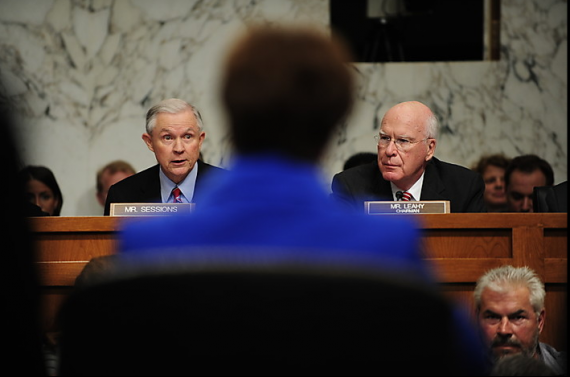 From the beginning of today's first round of questioning, it became clear that Elena Kagan was no longer quite so supportive of her 1995 call for more open Supreme Court confirmation hearings:
WASHINGTON — At the opening of questioning in her Supreme Court confirmation hearing on Tuesday, Solicitor General Elena Kagan quickly backpedaled from her past call for nominees to speak more openly about their constitutional views.

Under questioning by the chairman of the Senate Judiciary Committee, Senator Patrick Leahy, Democrat of Vermont, Ms. Kagan said she thought it would be inappropriate for her to talk about how she might rule on pending cases or cases "that might come before the court in the future" — or to answer questions that were "veiled" efforts to get at such issues of current or future controversy.

Moreover, she said, she also now believed that "it wouldn't be appropriate for me to talk about past cases" by essentially grading Supreme Court precedents, because those issues, too, might someday come again before the court.

In a 1995 book review, Ms. Kagan wrote that recent Supreme Court confirmation hearings had taken on "an air of vacuity and farce" because nominees would not engage in a meaningful discussion of legal issues, declining to answer any question that might "have some bearing on a case that might some day come before the Court." She called on senators and future nominees to engage in a much more open and detailed discussion of legal issues.

Ms. Kagan attributed the idea that her 1995 book review went too far to Senator Orrin Hatch, Republican of Utah, saying he had counseled her in a private meeting earlier in the confirmation process to be more cautious in her testimony. Senator Hatch was not in the hearing room on Tuesday when Ms. Kagan mentioned his advice.

"I basically said to Senator Hatch that he was right, that I thought that I did have the balance a little bit off and that I skewed it too much towards saying that answering is appropriate, even when it would, you know, provide some kind of hints," she said. "And I think that that was wrong. I think that — in particular, that it wouldn't be appropriate for me to talk about what I think about past cases — you know, to grade cases — because those cases themselves might again come before the court."

As the morning unfolded, Ms. Kagan repeatedly refused to offer an opinion about Supreme Court rulings — even the 2000 case of Bush v. Gore, which the Supreme Court itself said was limited to the facts of the disputed 2000 presidential election and had no precedential value. She said that it remained possible that the larger issue of whether or when the court should intervene in a disputed election could still come up.
This isn't entirely surprising, of course.
For one thing, as James Joyner noted only a few days after Kagan's nomination was announced, the White House was hinting that she no longer held the same views about the judicial nomination process that she did in 1995. The fact that this change of heart happened to coincide with her nomination to the Supreme Court was, presumably, just coincidental.
For another, it would be entirely inappropriate, and perhaps even a violation of the Code of Judicial Conduct, for Kagan to answer questions in a way that would constitute pre-judging either a case or an issue that would potentially appear before her once she is a member of the Supreme Court. Which is why, I think, that Kagan was entirely correct to refuse to answer questions about Bush v. Gore, although she did make an exception for one case in which she had something of a personal stake:
Ms. Kagan made an exception for this year's ruling in the case of Citizens United, in which the conservative bloc on the court struck down legal limits on corporate spending to influence elections. Democrats on Monday repeatedly raised that case in their opening statements, portraying it as "conservative judicial activism," and Ms. Kagan — who had argued the case in defense of the campaign finance rules — said she had convinced herself in preparing for those arguments that the position she had taken was correct.
This is understandable. As Solicitor General, it was Kagan's job to defend McCain-Feingold before the Supreme Court and the Citizen's United case was heavily litigated, and in fact argued and briefed twice, before the Court. It's not surprising that Kagan would come to think that she was arguing the right side of a highly-charged case. Of course, Kagan went on to say that Citzens United was not settled law and entitled to be respected as precedent, so we've got absolutely no idea what she'll really do once on the bench.
This isn't entirely the fault of either nominees or the Senators questioning then, it's a reflection of the fact that, starting roughly with the Court's decision in Roe v. Wade, the Supreme Court has become a frequent political target for both the left and right. If this had not happened, it's possible that Senators would be able to ask nominees questions about judicial philosophy without wandering off into politicial grandstanding by Senators and bobbing-and-weaving by nominees. Until then, this is what we're stuck with.