Kamala Harris or Susan Rice?
Joe Biden has either narrowed down his choice for running mate down to two women or he hasn't.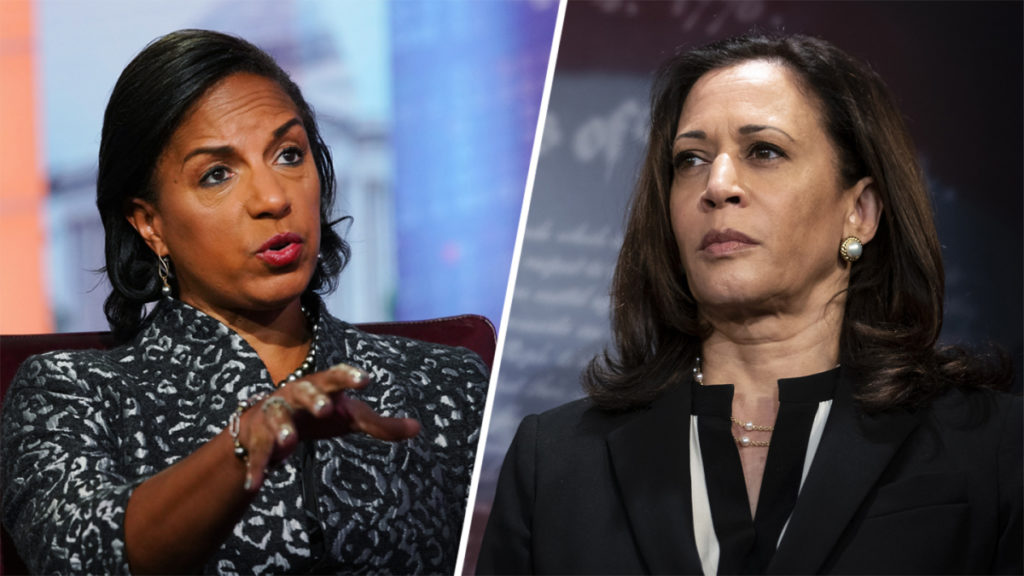 The gang at Axios reports that, despite earlier promises that we'd know the Democratic Vice Presidential pick this week, we're now going to have to wait until the convention kicks off ten days from now. But it's probably down to Kamala Harris or Susan Rice.
Confidants of Joe Biden believe his choices for vice president have narrowed to Sen. Kamala Harris and Susan Rice — and would be surprised if he picks anyone else.

[…]

The campaign is now in methodical mode as it finalizes vetting, looks at internal polling results on potential picks and talks to finalists one-on-one. In third place is Rep. Karen Bass (D-Calif.), who had a faltering performance on the Sunday shows after revelations about her past views on Cuba and Scientology.
It's not going to be Bass. She's an unknown member of the House, rather on the old side (she'll be 67 on Election Day) for a successor, and something of a nut.
Since Amy Klobuchar's implosion, Harris has seemed the obvious choice. While she's not as seasoned as I'd prefer in national politics, she's been in the Senate nearly four years and ran a national campaign for President, forcing her to bone up on the complexities of the job. She's held big-time jobs at the state and local level. She'll be 56 come Election Day, more than young enough to run in her own right in 2024 or even 2028.
Rice seems a weird choice to me. She's brilliant—a Rhodes Scholar with an award-winning Oxford doctorate—with an impressive resume in the foreign affairs arena. She'll turn 56 shortly after Election Day. But, not only is her preparation unusual—she's never held elective office—but she's incredibly controversial, even within Democratic circles.
That said, I'm befuddled by those, like S.E. Cupp, who claim they'd vote for Biden if Harris is his pick but not if he goes with Rice.
Indeed, while she does a solid job of rehashing why Donald Trump is unfit to be President and why giving him a second term would be a disaster, she doesn't explain why Rice would be deal-breaker.
There is, for example, a massive difference between Harris and Rice. For me, it's likely the difference between Biden getting my vote and writing someone else in. Harris would have my vote. Rice would not.

Not only do I need to know who Biden will pick, I need to know why. I need to know what he or she envisions for the country. His vice president will not just be a Biden rubber stamp, but a guiding force in his administration, and potentially his replacement. It won't be enough to hear a boilerplate stump speech from his running mate. I need details.

With just under three months left until the election, time is of the essence. For moderates like me who are looking for reasons to vote for Biden, we need to know who's on that ticket, and soon. I'm hoping, for the sake of the country, he chooses someone I can support.
Aside from literally offering no rationale as to what's wrong with Rice, this is just nonsensical. Cupp, after all, was an enthusiastic supporter of Sarah Palin, a noted ignoramus, when she was John McCain's running mate, only breaking from her when she endorsed Trump. But she'd deny Biden her vote if he picked Rice, who's probably indistinguishable from Harris on the issues?